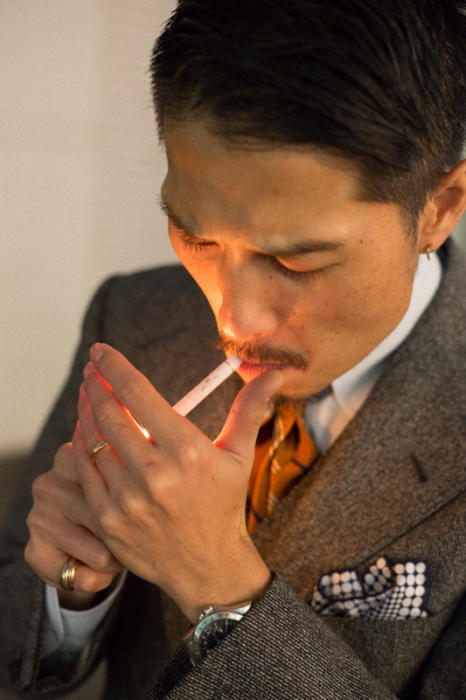 Although I still like writing practical pieces, I don't do as many as I used to. One reason, I think, is that it's easy to feel that you are giving the same advice over and over again.
As I looked through old posts in the process of cataloguing this site, I kept on coming across pieces that I liked, particularly around colour combinations and pocket handkerchiefs. In order to present a comprehensive guide, but not repeat exactly the same text, I've summarised a few of my favourite posts on colour and linked to the more detailed posts.
1 – Autumnal colours usually work well together. Browns and greens, burnt oranges and bright yellows. See how it's done with Paul Stuart in 2012 and 2008 posts.
2 – You know which colours are harmonious, you just don't realise it yet. When picking out a tie or pocket handkerchief, consider the other colours you turned down elsewhere. This is harmony.
3 – My three favourite and unusual combinations are pink/green, purple/yellow and blue/brown. Tone is key to all of them. It's much easier if one of them is much paler than the other.
4 – For sweaters under suits, consider purple or bottle green under navy, burgundy under a mid-grey, and anything bright under hairy tweed.
5 – Green is the most versatile colour of sock. It works particularly nicely under a navy suit with deep-brown shoes.
6 – Black is for evening, for glamour. Even then, navy often works better as has deeper colour. And it's always preferable to black at any other time of the day.
7 – Charcoal is the only colour that should not be worn with brown shoes. Presuming of course that you have read point six, and are not wearing a black suit. And here's how to wear brown shoes. (Thirty-one comments on that post!)
8 – Don't forget the 'Rules and how to break them' series. Particularly, in the case of this post, where and how it is ok to wear brown in town.
Image: Taka from Liverano & Liverano, courtesy of The Armoury. Note that the handkerchief and tie could easily be swapped and create a different, though similarly stylish, ensemble