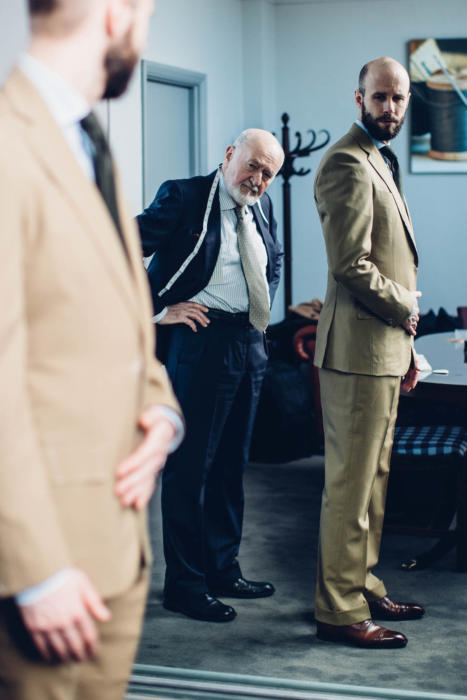 Earlier this year I started a bespoke summer suit with tailors Manning & Manning. They are a small operation comprising old Row cutter Bryan Manning (above) and his son, with the making outsourced to various coatmakers and trouser makers.
Rather like other tailors covered recently, such as Whitcomb & Shaftesbury, I was interested whether Manning & Manning could provide an entry-level bespoke experience, given their low costs but experienced cutting.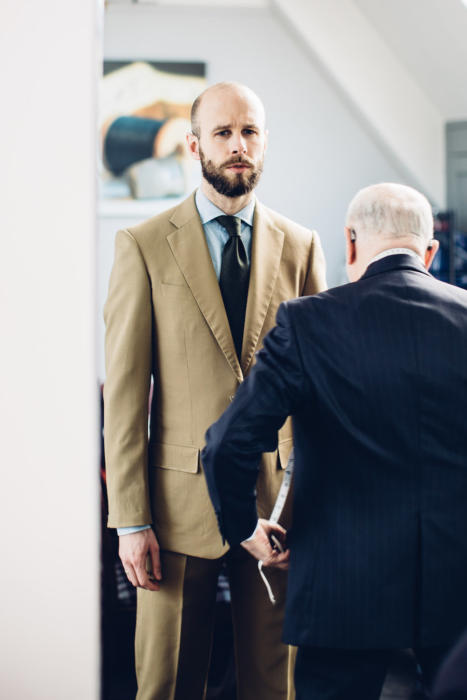 Bryan has an interesting background, having worked for many film and TV operations making period suits. He won an Emmy in 1985 for his work on the suits for 'Wallenberg: A Hero's Story' starring Richard Chamberlain.
Bryan came from a family of tailors, apprenticed at Kilgour French & Stanbury and became a trainee cutter there a few years later, in 1959. In 1970 he opened his first shop on his own, and had outfits on St Christopher's Place, Savile Row and Maddox Street.
In the early 1990s Bryan shifted to being a travelling tailor, and was joined by his son in 1997. He sees clients in the Holland & Sherry showrooms on Savile Row.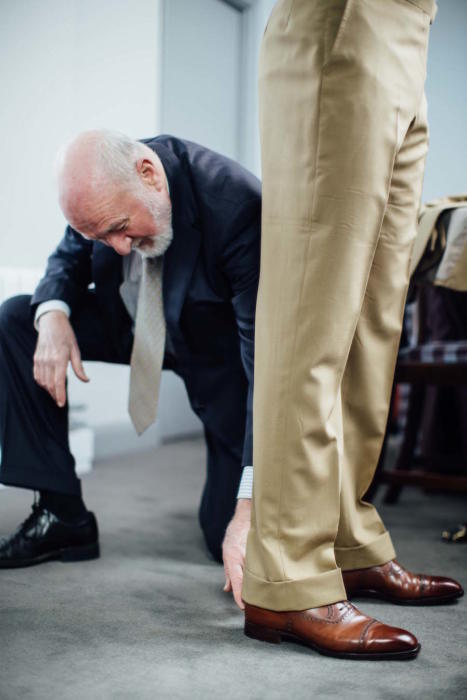 In yet another twist on the standard Row model, Bryan offers two services: Semi-Bespoke and Full Bespoke.
Both are cut by Bryan to a fully bespoke paper pattern, but the former has a fused chest piece and the latter a floating, hand-padded one.
Semi-Bespoke with a fused interlining costs £1000. It's hard to recommend that, given that you can get a Graham Browne floating interlining for the same price. But the Full Bespoke costs only £1350 (both inclusive of VAT).


For the commission, I went for a summer-weight wool – the Cape Horn bunch from Holland & Sherry. (Number 1323, 8.5 ounce.)
It's a high-twist fabric, so like Fresco it can have a slightly open weave and wears cool in the heat. It is also pretty crease-resistant, making it good for travelling. Hard creases will need to be pressed out, but that's the same with most high-twists.
It isn't as coarse as Fresco, which makes it nicer against the skin, although not as hard wearing (not much of a concern for me as it's unlikely to be an everyday suit).
I liked the colour as it is a muted tan, with a touch of olive. Not too classic and colonial, but definitely a summer suit.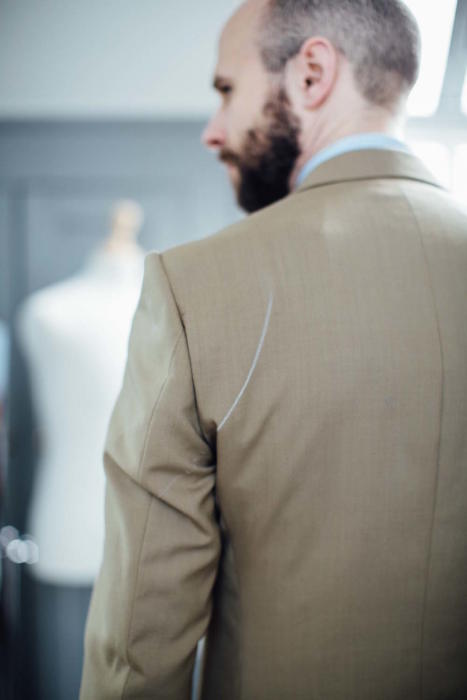 The photographs here are of the second fitting. Bryan likes ready-made fitting jackets alongside measurements, which some people sniff at but several high-end tailors (including Camps de Luca) also use.
He makes use of that system to go straight to a forward fitting, with no baste. This works well if fundamental things like balance are correct straight from the off, but involve more work if they are not. In my case, the front-to-back balance did need some alteration.
The second fitting was good. Just a few minor things to clear up here and it should be ready.
Bryan's style is solidly English military, with a built-up shoulder, structured chest and longer jacket. (By comparison to the French and Italian tailors, rather than others around the Row).
Photography: Jamie Ferguson @jkf_man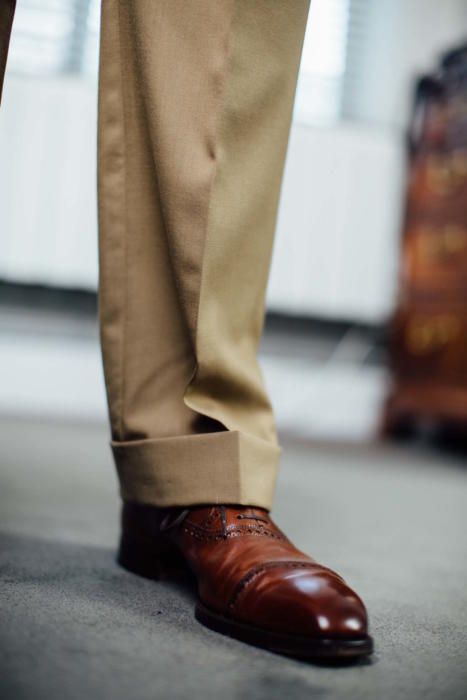 Shirt: Luca Avitabile
Shoes: Bespoke, Stefano Bemer
Tie: Green cashmere, Howard's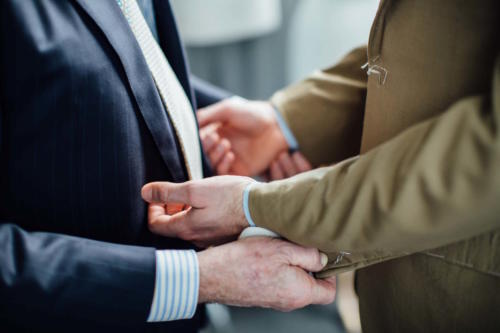 A couple of years ago the Royal Academy asked Bryan to comment on Moroni's well-known painting of a tailor. There are a few nice points in the video create, here: