This is the second post we've done highlighting our favourite cloths from new seasonal bunches. The first, on Spring/Summer 2018, is here.
Unfortunately the bunches come in late in the season, but there's still probably time to use these recommendations for pieces to wear this winter.
And it does at least avoid the situation where I have a jacket made up, write about it in January, and when readers try to get the same cloth, it has sold out.
In these pieces we focus on the seasonal Italian bunches, because they're the ones that will be largely be gone at the end of the season. The plan is to gradually add posts on the broader offerings from other mills too, like the linen guide we did in the summer.
You can read more about the seasonal rotation on that first Spring/Summer piece.
Loro Piana
Jackets and trousers bunch
Loro Piana is often a good source for luxurious jacketings, like cashmere and wool/cashmere mixes. Their sense of colour is great, and each season there are interesting new weaves and textures, while always subtle.
This season some of the herringbones are actually relatively stark in contrast, but there are some really nice ones in there too. My favourite was the green herringbone below, N685013 (315g).
The brown/grey shade twill, N685032 (315g), is also very nice - though will require very dark or very pale trousers.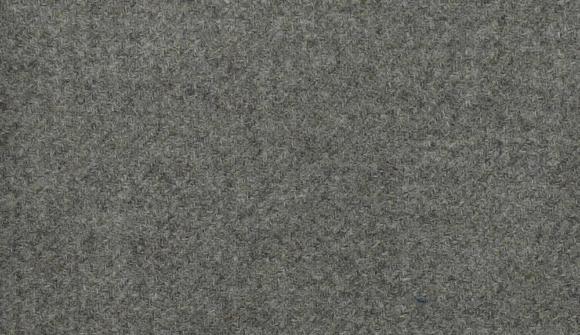 In the trouser selection there is a great range of colours in corduroy (which could also happily make a suit). They are natural, more earthy tones than you get from English mills or Brisbane Moss.
They are rather light in weight, and I'd generally recommend something heavier for corduroy.
But if you want lightweight, then these work well because of the small amount of wool Loro Piana includes, plus a tiny bit of stretch (and only horizontal stretch - not vertical).
My picks would be from the range of greys, such as N685044 and N685048 (both 350g) below.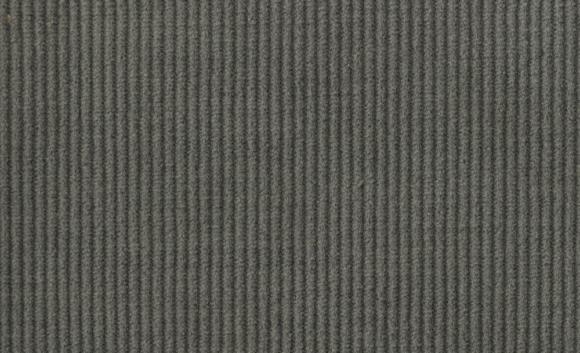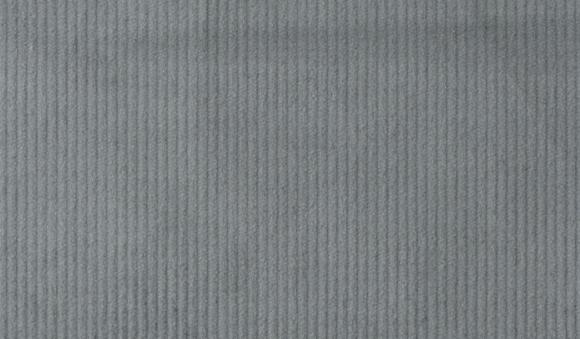 Drapers
Lady San Felice/Flannels
I highlight the flannels from Drapers for the same reason as the cords above from Loro Piana: the natural-feeling colour range.
Most flannels are intended for more formal wear, and therefore are pure, colder shades of grey and navy, with the occasional green or brown thrown in.
The Drapers range is light in weight again, but has some lovely casual shades - such as 8955 and 8956 (311g).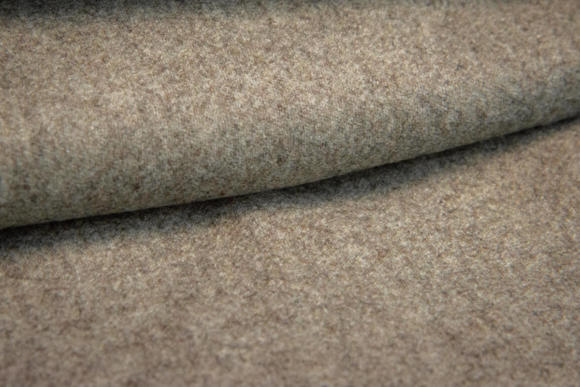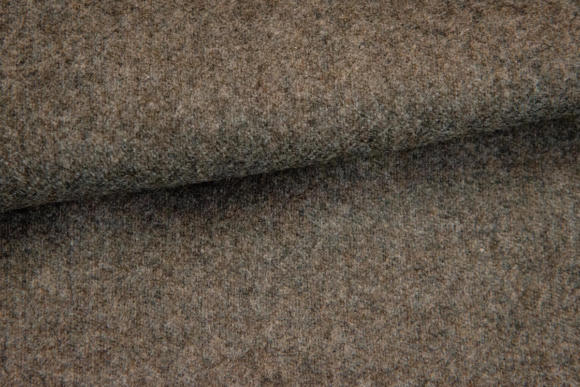 Pure Cashmere
Interestingly, the 'pure cashmere' bunch from Drapers is the opposite of the flannels: heavier than average, and sumptuous as a result.
It has a big range of colours in two weights - 15.5oz and 18oz.
Knowing the Italians, that's probably because they intend them for overcoats, but 15.5oz is a great weight for a cashmere blazer. Although it will wear warm, it will also last longer than lighter weights.
In fact, I'm rather tempted by an 18oz navy-cashmere for a jacket (6808, below). It wouldn't be very versatile, but God it would feel nice.
The only other thing about these cashmeres is that they all have the same 'ripple' finish, which makes them feel luxurious but also rather smarter than, for example, the Loro Piana options.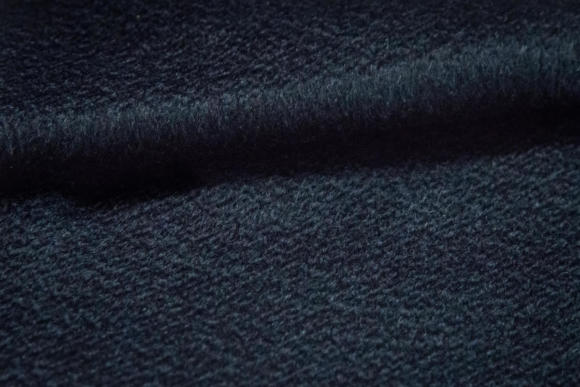 Caccioppoli
Jackets
I still remember when English tailors started to carry Caccioppoli for the first time. I saw them in Thom Sweeney first, and they were a revelation. Such lovely, casual wools in the winter, and wool/silk/linen mixes in the summer.
This season's collection is a little brighter than usual, and there is less I'd pick out as a result. I've also never particularly liked the donegal patterns that have primary-colour flecks in them - as the ones in this bunch do.
But among the checks there are some subtler options, such as 580126 (320g) which has a subtle purple overcheck running through it. And 580122 (380g) among the larger checks is also nice.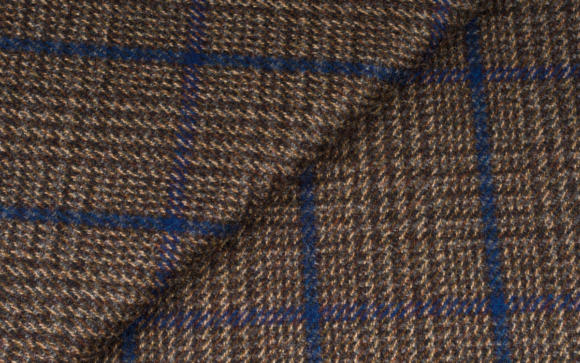 Lanificio Ermenegildo Zegna
Anteprima Autunno Inverno 2018-19
As in other recent collections, the seasonal jacketing range from Zegna is dominated by variations on burgundy, deep green and French blues.
Each page of the Anteprima book has a handful of variations around a theme, like burgundy checks, or plain green wools. The nice thing about this is that you can pick out the most subtle of the options, if that is your taste (as it is mine).
Some of them have quite a retro feel, like 69027 (250g, below), but my favourites are in the section mixing grey and brown checks (eg 69030, 250g).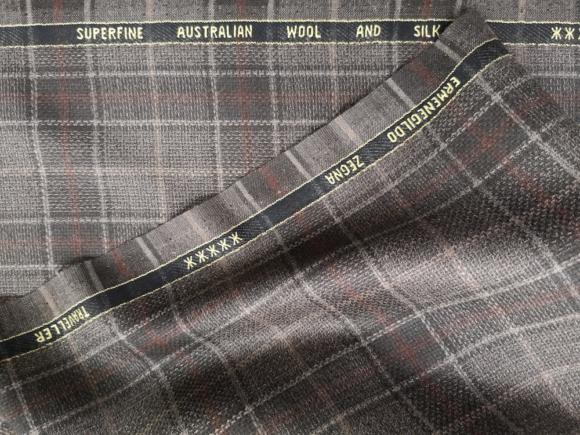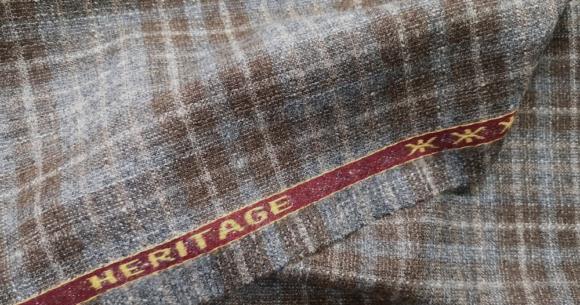 There are also some nice Zegna jacketings that use 20% of linen in the fibre mix to add some slubbiness.
This is particularly useful when you want a plain-coloured jacket, but a flannel or similar doesn't have enough texture. My pick is the green 69039 (330g).
With the same aim in mind, there are some cashmere jacketings with a chunky weave that add texture, like 69044 (320g).
I wouldn't necessarily highlight anything from the suitings or overcoats as I'd always go for heavier weights there.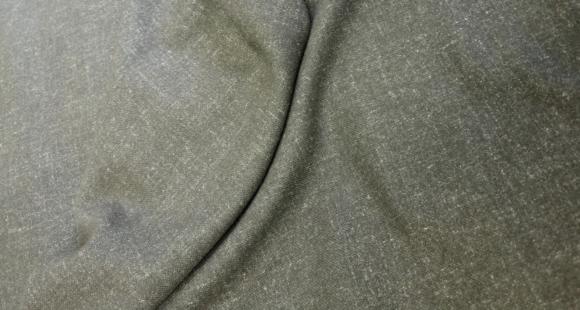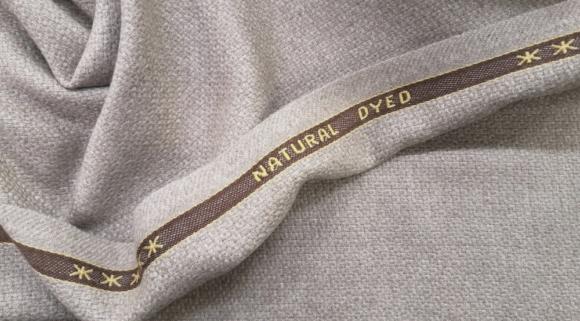 Ariston
Last in this list is Ariston, which I'm including for the first time following a request from a reader. This also replaces Solbiati, which we included last time but is a linen specialist and therefore more suited to the summer edition.
Ariston has a large range of bunches, a lot of which are very dandy (indeed, that is the title of one of them) and perhaps showy. If that's your taste, and you want something a little unusual, I'd really recommend trying to get hold of them.
As with a fair few Italian mills in recent seasons, they have quite a bit with bouclé yarn. This can create an appealing, natural-feeling texture and stretch, but I dislike it when it's combined with strong colours or patterns. I quite like the Prince of Wales options P082-1 and -2 below, though (both 320g).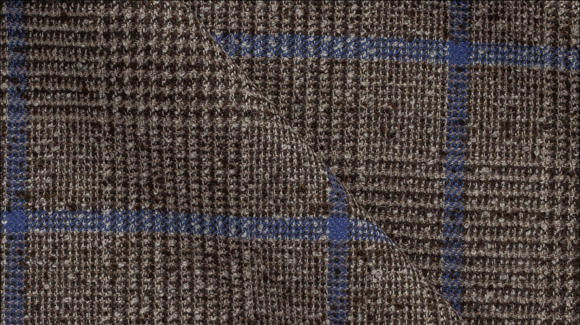 And, I personally suggested one of the donegals in here to my father, who had it made into a suit by Whitcomb & Shaftesbury (charcoal, A579-16, 320g).
I'd seen it made up into a suit before, and the result in my father's suit managed to be lighter than most donegals and yet not bag or lose its shape.
I'd recommend it as a more year-round version of my jacket from Steven Hitchcock.