Personally, the best part of yesterday's opening party was about half an hour before, when Graham of Optimo hats (below) told me how well the first two days had gone for him. 'Really exceeded expectations' were the words he used.
It was the best part because, lovely as it is seeing friends, and meeting readers, my biggest concern with the pop-up is always the brands.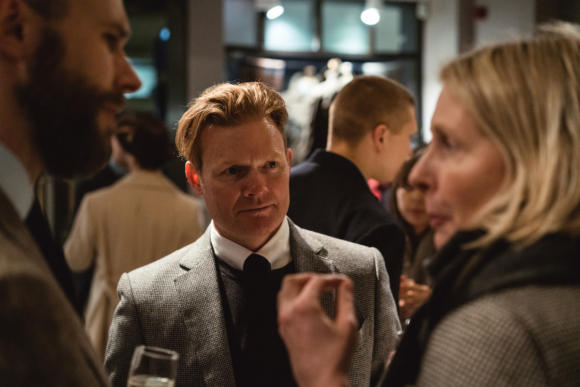 They've taken a punt on me to travel halfway across the world and stand in a shop, and I worry every day that it's not working out for them.
So, wonderful that Graham was going well.
The Rake had been round and talked about coverage; everyone had gone through the process of trying hats that suited their heads; and Graham was talking about how often he could come back.
Kristie at Joshua Ellis was also doing a sterling job – particularly in the technical questions she was getting from Graham and everyone else.
We had a long conversation about different types of cashmere, and how the product had got finer over the years (a good and a bad thing – it's great quality but there were some advantages to coarser cashmere too).
Joshua Ellis have a nice range of scarves out, including some lightweights I hadn't seen before.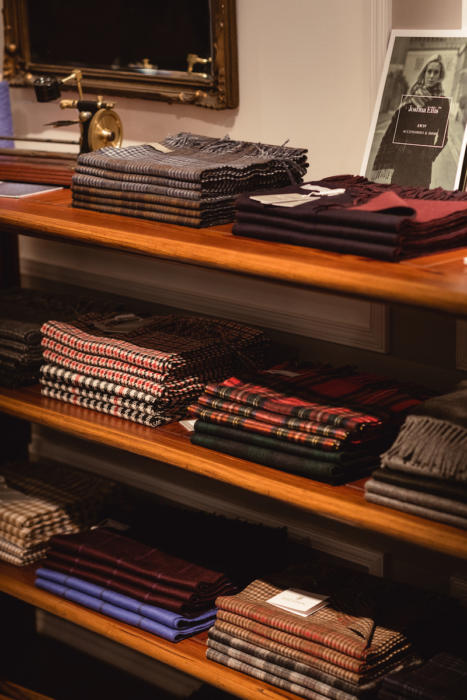 And both Jerry and Chris from Prologue were there (below). Chris flies back today, leaving Jerry in charge for the duration, but he seemed happy enough (much to my relief).
I collected my first jacket from them, a green/grey summer jacket in a wool/silk/linen mix, which was good. I wouldn't compare it to the top-end bespoke makers, but it's still fantastic for under £1000.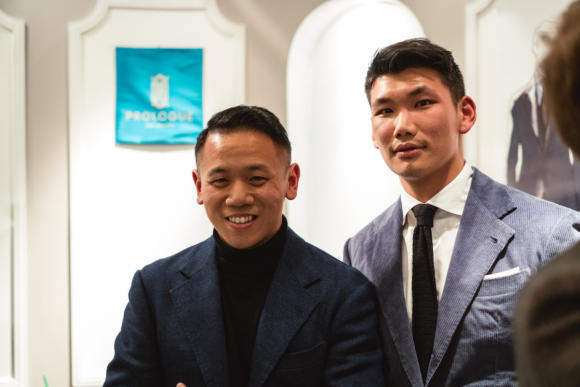 The Prologue guys also had an interesting mix of new projects: samples of shoes made in a Chinese workshop that looked very good – machine sewn except around a hand-sewn waist.
And there was some little pieces of ready-to-wear, including Mandarin jackets in interesting hand-dyed cloths.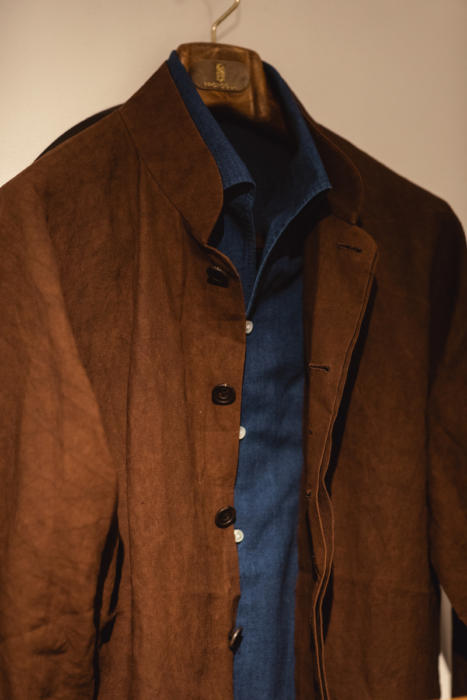 James Girdwood and I, meanwhile, pottered on with our products, picking up a few sales from regulars.
James's watch straps and cordovan products are always popular (brand J.Girdwood) as are his Coherence coats and teba jackets
He also has a nice selection of fabrics to make tebas out of now – I have my eye on a lightweight beige wool with a thin maroon overcheck.
And readers came in to try on bridge coats, to pick up watch caps for these chilly mornings, and to try denim shirts (which have just arrived, in light and standard Everyday Denim).
Perhaps the nicest part for me on the product side was talking to shirtmaker Wil Whiting about the PS oxford cloth, which he says he can't find an equivalent for anywhere. Wil was also being fitted for a hat with Graham – as were many people by the end.
Thank you everybody for coming over the first two days, and for coming and sharing a drink in the evening.
As a reminder, the shop is open at 37 Savile Row until Saturday featuring these brands (none of which are otherwise available in the UK) and then re-opens for the second week on Tuesday, with a new set.
All details here.
Photography: Milad Abedi