Thom Sweeney is a bit of an outlier in British tailoring. First because it's a high-quality bespoke workshop with a stylish, effective ready-to-wear brand as well (something no one else seems able to achieve).
And second because their bespoke genuinely mixes traditional Savile Row with younger silhouettes and softer tailoring. Which again, many have tried but few do well.
They don't get talked about much in bespoke circles at the moment, but I think that's partly because the RTW has been so strong. The bespoke deserves to be constantly in mind.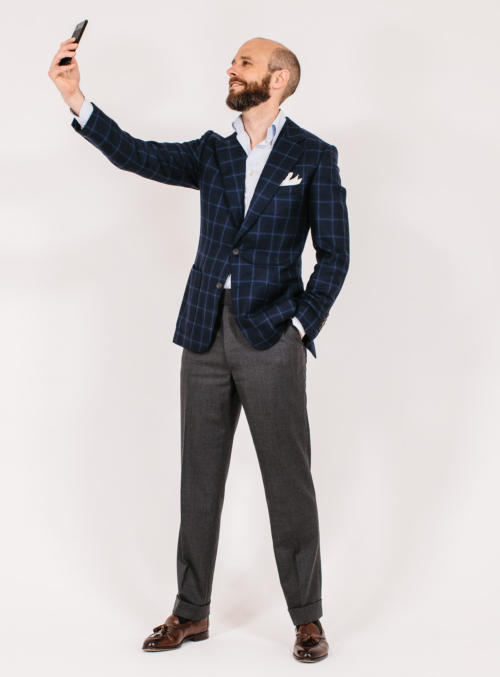 House: Thom Sweeney
Address: 1-2 Weighhouse Street, London
Site: www.thomsweeney.co.uk
Cutter: Thom Whiddett
Price of jacket (at time of writing): £2000
Price of two-piece suit (at time of writing): £2850
This jacket was cut for me by Thom Whiddett in 2011, one half of the founding team alongside Luke Sweeney.
I really liked the jacket, particularly as it was so different to what I'd had from more traditional tailors. A good bit shorter, a much narrower sleeve, and actually the first place I ever saw Caccioppoli cloth.
The cloth I chose was probably a mistake though. Even though the windowpane check isn't that strong – being blue on navy, rather than white or some contrasting colour – this kind of big pattern just isn't me.
It still gets worn, but not as much as a plain blue or navy would have been.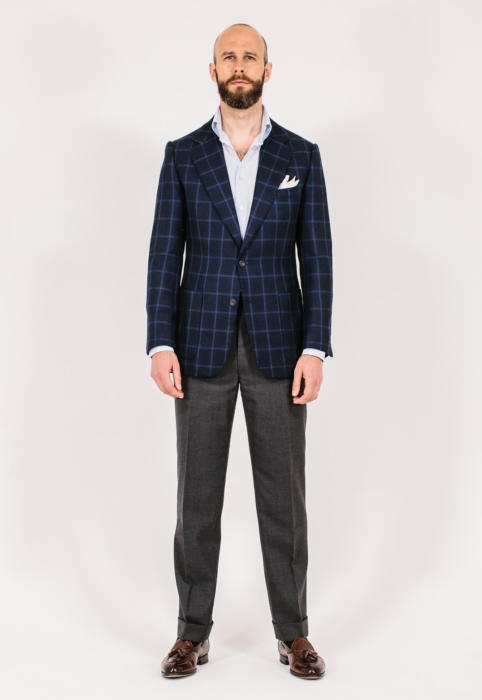 The cut is very similar to what Thom Sweeny offer today, but a little more extreme. The approach has softened over the years.
So they still cut a shorter jacket than most on Savile Row would ever do, but not quite this short.
This has a back length of 29¾ inches, which is less than even the shortest Neapolitans in this series (Solito was 30½). It's the shortest jacket I have by almost an inch.
That goes for the sleeves too, which are very narrow, ending in a 10½ inch cuff. I remarked on my original post that I could feel the material very much in the crook of my elbow when I bent it. This is also less pronounced today.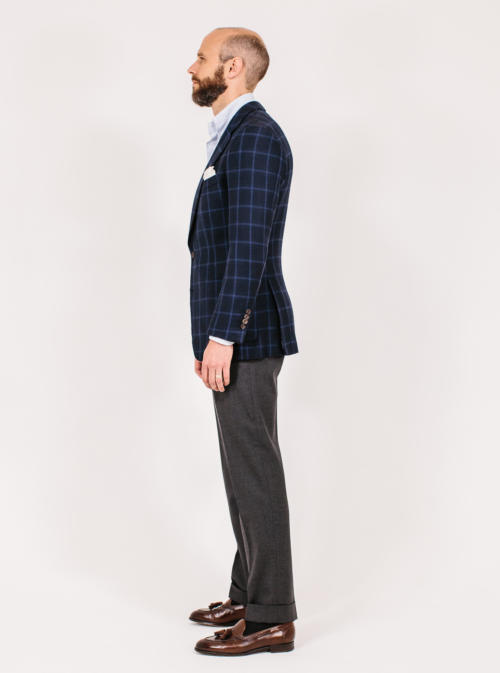 However, other areas of the style haven't changed, and certainly aren't extreme.
The shoulders are the same as most Neapolitans (5¾ inches), for example. The back is close but not as tight as, say, Cifonelli. And the chest has no drape but isn't cut close either.
In fact, the overall aesthetic is not aimed at being close, but rather at exaggerating proportions.
So having a short jacket and a fitted waist, but decent shoulders and a broad lapel, makes the top half of the body look rather bigger. The contrast is greater.
The same goes for the open quarters and the relatively low buttoning point: 19½ inches is very low as a proportion of the total jacket length.
The shoulders also look a little bigger because they have some decent roping.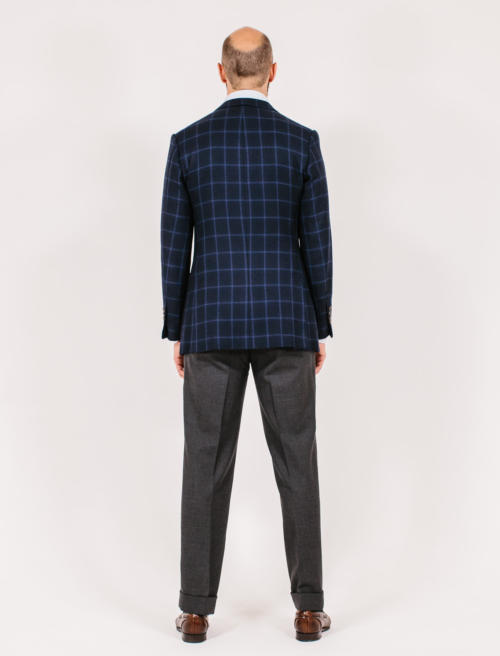 The length of the jacket means it doesn't cover my seat, which these days I wouldn't go for. But if it was an inch longer it would do, and the proportions elsewhere would still make the upper half seem big.
If you wanted a relatively shorter jacket, this would be the way to do it.
The other things I might change would be a slightly wider sleeve (as in fact I think that adds to the impression of strength, rather than detracting from it). And a slightly taller collar.
But those are both things that can always be changed through bespoke consultation – the sleeve in particular.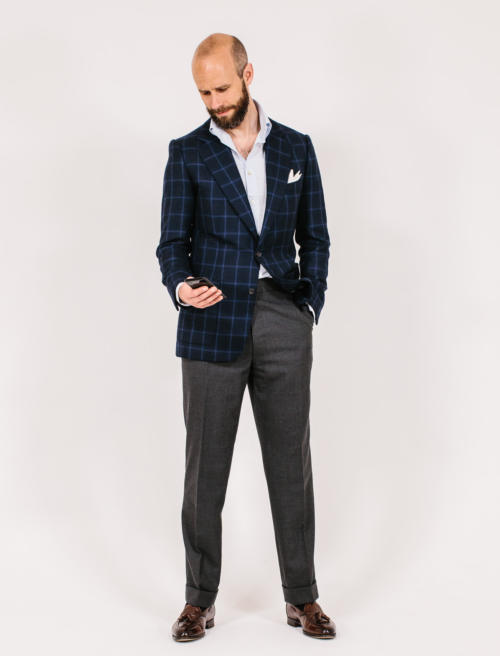 In recent years Thom Sweeney have also done more tailoring with less padding and canvas, making it more of an Italian weight.
But one thing it's important to remember – I think – is that even with those structural changes, this is a long way from being a Neapolitan jacket.
There might be less structure, and the proportions might be rather different, but this is still definitely an English cut. The slight belly to the lapels, the straight line of the quarters and the shoulder line all make that clear.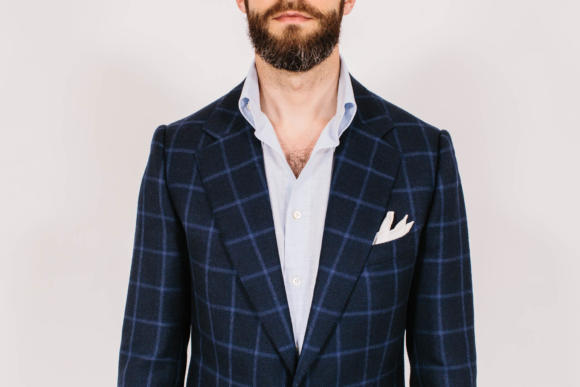 Here the jacket is worn with a bespoke shirt in my PS Oxford cloth – available as cloth and finished shirts on the shop site. It's my favourite shirt in the world at this point.
The white linen handkerchief is from Anderson & Sheppard, the shoes are Belgravia loafers from Edward Green, and the trousers are in Crispaire high-twist wool from The Disguisery.
Those shoes are probably also my favourite pair ever, and I've just got a pair in black cordovan in the same model. I'll do a 'How great things age' post on them soon.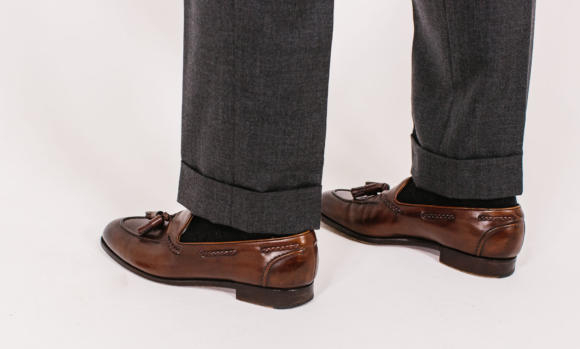 Style breakdown
Shoulder width: 5¾inches
Shoulder padding: Moderate
Sleevehead: Slightly raised
Sleeve: Slim through
Cuff: 10½ inches
Lapel: 3¾inches, slight belly
Gorge height: 4 inches
Drape: None
Outbreast pocket height: 10¾inches
Buttoning point: 19½inches
Waist suppression: Quite suppressed
Quarters: Open, and straight from buttoning point
Length: 29¾inches
Back seam: Suppressed
Vent height: 9 inches
Trouser width at knee: 20 inches
Trouser width at cuff: 17 inches
Photography: Jamie Ferguson @jkf_man
Read the original 2012 feature on the jacket (and grey cords) here. (Be prepared for more hair and rather less beard…)