I first spent time with Willy Wang (@wwc.willy) last year during our pop-up shop on Savile Row, when he was here with The Anthology. (He works in the company's Taipei store, which is also a Bryceland's retailer.)
I had followed Willy for a while online, and liked the way he played around with clothes, mixing together workwear and tailoring in particular. But it was spending time with him, talking about the clothes themselves, that made me follow more closely.
Willy is very modest, but I think he is one of the best guys around for style and genre combinations. He's not afraid to experiment, playing with unusual pieces or colours, and often those that are trending in menswear circles – but he also has a strong sense of his own look, and you can see those pieces get worked into his way of dressing, or get discarded and not worn again. He has an open mind, but increasingly a clear identity.
Willy was one of the people that convinced me I could wear more black pieces, more casually – particularly shoes. His combination of Bryceland's denim shirt and green tweed is the reason I wear mine that way so often.
I've been wanting to include Willy in this series on stylish men for a while. I finally got around to it last month, interviewing Willy over email. Below are his answers; I'm sure you will forgive the lack of fluent English.
Permanent Style: Tell us a little about yourself and how you got into clothes
Willy: I started getting into classic menswear when I was 29-30, which is relatively late compared to many out there. Prior to that, I was a software engineer and clothing was simply a hobby.
Like many others, my friends and I started off without any idea of how to dress well, and just mimicked styles. But gradually I developed my own style and started to express it in how I wore the clothes too.
Dressing for me is never a kind of competition with others. It is about conveying your own ideas and identity.
What aspects of clothing, and outfits, do you find most satisfying?
Be it a garment by itself or an outfit as a whole, the most crucial thing for me is that it has to be comfortable and adapted to daily life.
Then it's about the richness of clothing. My interest is not just classical suiting, but also workwear, utilitarian and even antique clothing. The beautiful story-telling and rich historical context of these clothes gives them not just a superficial beauty, but layers of depth and elegance. It is why I don't get bored delving into the art of menswear.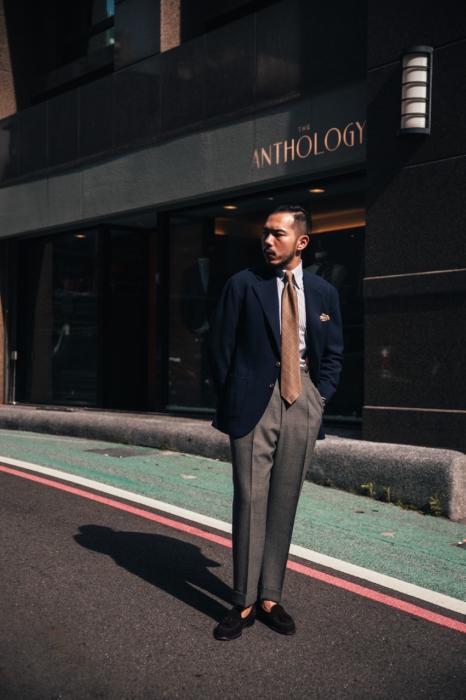 How do you decide what to wear each day? What do you start with?
Deciding on what garment to pick is no different to thinking of what to have for a meal: things can be fairly impromptu, and I don't have a specific component I start with. It can be a bracelet, a pair of shoes or a tie.
A quirk of mine, though, is that I get obsessed with one thing at a time. Once I get the gist of wearing one piece, I tend to have it on me for a prolonged period, trying it out with lots of different looks until all my ideas run out. At that point, I'll leave it aside and let it sit for a while.
A good example is the light-blue denim/linen jacket I received recently. I've tried it with a tie and without, a dark shirt and a light one, and even with just a T-shirt. Moving it through formal to casual.
What mistakes do you think you have made, or lessons learned, in the past?
I would break it down into three stages, and I suppose these are all common for an ever-evolving dresser.
The first stage is wearing strong colours and patterns, or trying very hard to pull off everything in one go – trying to differentiate oneself from the conventional guy.
The second stage is understanding craft – the pitch and balance of a garment – and how it compares to normal clothing. When we have an eye focused on these intricate details, I find most of us follow classic menswear rules quite strictly. Mimicking others is almost inevitable.
The third stage is the best one: returning to the original motive, understanding the bigger picture and not getting too fussy about unnecessary details.
Menswear itself can be a bit of a bubble at times. Adding personal touches and breaking certain rules is the essence of the pursuit of style – when one has a clear idea of their execution. Menswear is at its highest level when the wearer is recognisable even when their face is cropped out of a photo.
The world is an oyster. Every day is a lesson from our mistakes, whether it is in the past or the present. I like doing monthly reviews on my way of dressing, making comparisons with myself a month or half a year ago. By doing that, I realise how my ideas have evolved and moved on from my past self.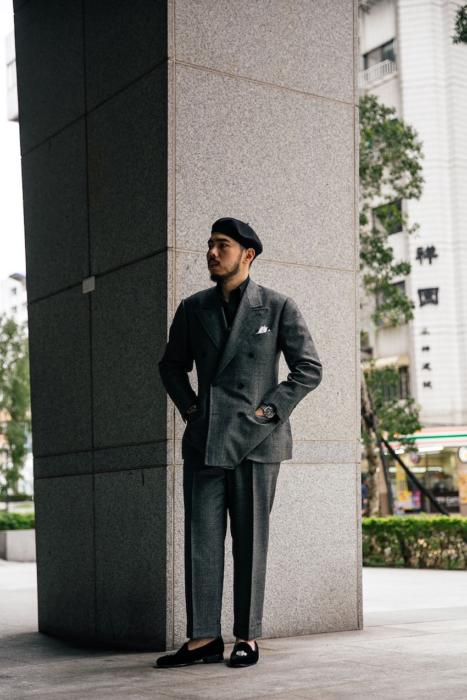 You wear quite a lot of black – black shirts, black shoes – in a non-business way. Why do you like that colour, and what do you think it works best with?
Black and white are two of my many favourite colours. And denim is always a good medium between them.
The reason I enjoy the strong use of black and white is that they make me look slimmer (just kidding!) No, black compliments many things – it always has a strong reaction with other colours, brings out one's maturity in style, and I think balances other things well.
On top of that, when black is worn over time, the creasing and fading of the particular material offer a stronger sense of character, in my opinion, than other colours.
Because black is commonly associated with formalwear, when it is juxtaposed with more casual clothes it leads to unique combinations. I enjoy wearing oxford cloth, linen and moleskin in blacks, for example, mixed with denim.
Amongst all combinations, black loafers, white socks and jeans are my standard ensemble.
I also love dark brown as a colour. In the world of classic menswear, black, white, blue and grey are the most popular colours. Dark brown for me is a good substitute. It has a profound warmness and substance, and comes in a variety of fabrications such as worsted wool, linen, tweed and many more.
This breadth of options allows one to dress in this the colour both formally and casually, without losing any style.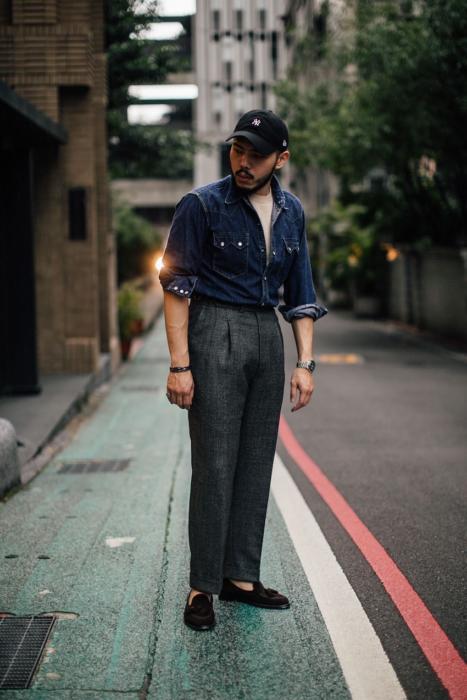 You mix formal and casual clothing together a lot. What advice would you have for others trying to do the same? What would you not mix together?
Start with the basics: wardrobe essentials such as a grey or navy suit, shirt and tie, dark long socks, and oxfords. Then start making small tweaks gradually.
For example, replace a conventional tie with something textured; spice up the look by swapping a normal shirt for a turtleneck sweater, a polo, a rayon/Cuban shirt, or even a t-shirt (when the fit is right); replace your oxfords with a pair of loafers; upgrade your plain weave jacket to hopsack or basketweave, from wool worsted to tweed, cotton and linen.
These are a few of many tiny things one can experiment with. Just take time and slowly gauge what suits your lifestyle. Building a wardrobe is an neverending journey.
Another piece of advice is never blindly follow trends, and what is currently hyped up. These things come and go. With style, it is more important to find pieces that suit your age and identity.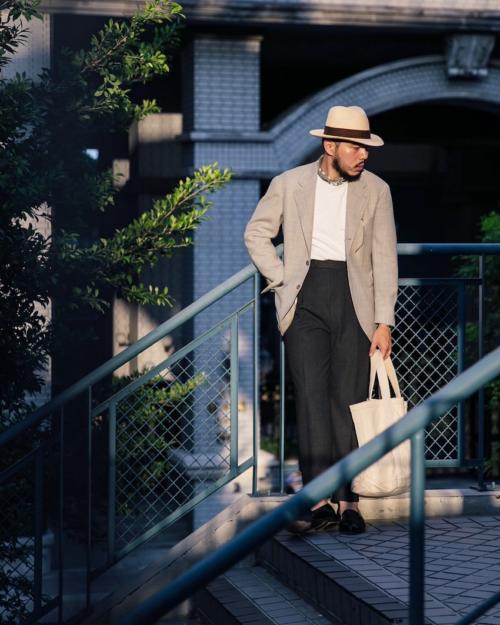 You also wear quite a lot of different headgear – watch caps, baseball caps, berets, panama hats. Which do you think looks best with which other types of clothing?
It all comes from personal experience. A barber I've used for years once said, 'the most stylish person in the room is always the one who knows how to wear a hat, not the one who knows how to do his hair.' His statement has stayed with me ever since.
I started to integrate more headgear into my clothing a year or two ago. I realised that the use of a fedora or a baseball cap can make an outfit look entirely different. Hats are that powerful.
Panamas and fedoras are ultimately the most stylish choices, and suitable for both formal and casual wear. However, they are a big statement and certainly not for everyone. Baseball caps and watch caps are more versatile and subtle.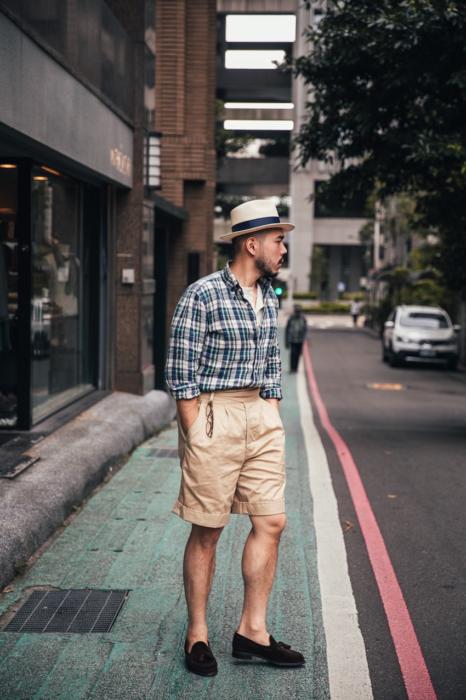 How do you cope with heat in Taiwan? What are your favourite clothes for hot weather?
Comfort is crucial, because without comfort a person cannot enjoy his or her garment. Thus, pure linen, cotton/linen shirting, lightweight cotton or our knitted t-shirts are all things I wear often.
Regarding bottoms, open weave trousers such as high-twisted wool, linen or cotton chinos are practical choices. Of course, shorts are also be a sensible choice if one's working environment allows.
I don't specify anything on jackets here, simply because wearing a jacket outdoors in our part of the world is rather difficult. However, if one works indoors with good air-conditioning, you can really express yourself.
In Taiwanese summer I wear quite a lot of full linen suits, or shirts with shorts and loafers. I also like to layer a white t-shirt or neat underwear beneath my shirt to balance the strong colours of a shirt, or to create interest through layering.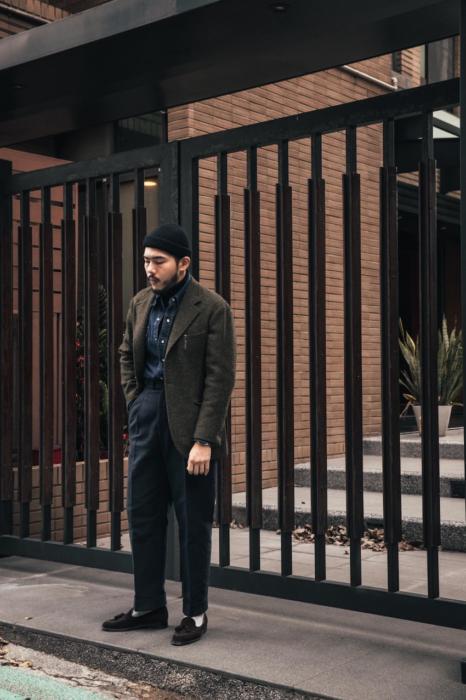 Talking of layering, roll necks under shirts seems to have become a popular style. What other styles have you adopted recently? Why do you like them?
I always find this an interesting topic. It does seem like when a trend arises, the whole industry raves about it, even if people have their own slightly different interpretations. It's interesting to watch them come and go.
In terms of other styles, over the years I've acquired the habit of mixing denim into tailoring, be it a shirt, a jacket or jeans.
I think the mix of denim and classic menswear (suiting specifically) is one of the coolest yet relatable in a person's daily life, because most men have at least one pair of jeans sitting around, be they washed or unwashed, straight or slim. It is just the most common and accessible thing in a man's wardrobe.
Denim is a strong cultural garment, and has evolved for almost two centuries. When worn with tailoring, I think it can be seen as the perfect mix of America's roots, the elegance of an English gentleman, the carefree attitude of Italians and the thoughtfulness of the Japanese.