Richard Burke: Style hero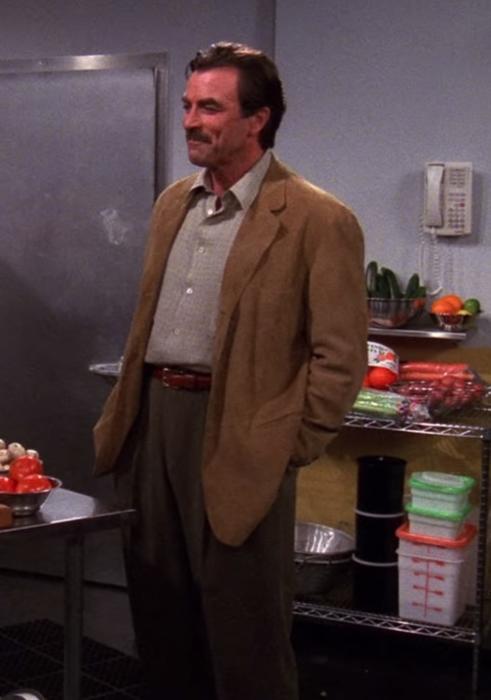 There's this one outfit worn by the character Richard Burke in Friends, played by Tom Selleck, that has stayed with me for years.
It's in the penultimate episode of series six. Richard comes to Monica's restaurant to try and win her back. He walks casually into the kitchen, hands in pockets, in his ever-so-easy manner.
He looks amazing: sophisticated colour combination, luxurious materials. Both, I'm sure, in deliberate contrast to Chandler and the rest of the friends. This is an older guy who knows what he's doing, and is comfortable in his clothes.
He wears a pale-grey shirt with a faint check; roomy, pleated olive trousers; a chestnut-brown belt with brass buckle; and over the top, a sand-coloured jacket in what is clearly a fine, lightweight suede.
I love the combination for the reasons readers will expect: it's subtle and muted, yet unusual. It would scream taste if it wasn't so subdued.
Combinations like these look easy, but they aren't. If the shirt were darker grey, it wouldn't be as good. If the belt were a brighter colour - more caramel - it would't be as sophisticated.
It's so much easier to be conventional. To wear a blue or white shirt instead of the grey. A dark-brown belt instead of the chestnut. These would all be fine (in fact they'd look great) but they wouldn't be the stand-out look this is. Something would be lost.
I'm not sure I can really call Richard a style hero. He's fictional, after all, and only appears in a handful of episodes. There's not much of a wardrobe to emulate.
But what is there has stayed with me for 25 years, long after the menswear in most other TV faded. And it feels very current, with the relaxed silhouettes, Armani colouring and smart/casual aesthetic.
My other favourite outfit comes from earlier, when Richard is first going out with Monica.
For their date, he wears a grey/green soft-shouldered suit, black shirt buttoned to the neck, and a black leather belt with silver buckle (above). All topped off with gold-framed reading glasses.
It's very toned-down and simple. Without the belt it would all be a little plain, but that belt draws it together.
It makes me think I should try and put belt loops on some of my trousers again, given I wear ties so much less.
Those two outfits come together, in a way, with another grey/green combination in the following episode (above).
The suit here is a similar murky green, but this time he wears a dark-grey shirt and a braided chestnut belt similar to the first outfit. The black belt would have looked just as good, but more formal - and perhaps that's appropriate, given this is a house party, not a date. The shirt is unbuttoned at the neck too.
These grey/green shirts reappear in other, more casual outfits, but not always as successfully.
In the first outfit below, one is worn with pale-blue denim and a black western belt. Kudos on the belt, but the shirt isn't so great with the blue jeans. Particularly as it's a fairly smart shirt with a covered placket.
A better match for the jeans is a paler colour of shirt worn later - almost a khaki colour (second image above). This also has no covered placket and two chest pockets. It's much more fitting.
My favourite combination of this type is the last picture above: the same khaki shirt but with black jeans and black hiking boots.
Of course, it's no coincidence that these colours recur. Costume designers generally use a narrow range of clothing for characters, particularly minor ones. It's part of their identity. Only bigger characters, with more complicated stories, get more complicated wardrobes. And then only over time.
The costume designer for Friends, Debra McGuire, has talked about how she established colour palettes for each of the characters.
Monica, for example, was "in this black-white-gray-burgundy world for a long time". She also talks in that interview about her desire to keep things smarter than just jeans and a T-shirt - to give Friends more style.
Now can Richard do black tie? Of course he can.
His very first appearance is in a double-breasted dinner jacket, cut just as big as the suits and buttoning low on the hips.
The lapels are generous without being over the top. They're grosgrain rather than satin, but with a satin binding. This is reflected in the satin bow tie, which is framed neatly by a collar of similar proportion.
The shirt is pleated, with nice mother-of-pearl buttons. I'd prefer a covered placket or studs, but that's just me. It still feels very on-character, the black tie that Richard would wear: the best possible combination of stylish and comfortable.
The only thing that undermines this outfit is Selleck's habit of putting his hands in his pockets. The jacket is ventless, and using trouser pockets with a ventless jacket is not a great look. Everything bunches up at the back.
Later, bare-lipped, Richard demonstrates how good a navy raglan coat looks over his grey/green suiting, in the scene in a video-rental store (top image above).
A brown scarf works nicely over the collar of the coat too, as does the black tie with a jaunty geometric pattern.
Interestingly, the one time we see him in a formal suit and tie (last image above) the jacket is much more square-shouldered and padded. Which could be more appropriate, given its worn over a white shirt and silk tie, at a restaurant.
Richard also does a really nice line in 50s-style cardigans, piped dressing gowns and much-loved old T-shirts (all above).
Almost the only outfit I dislike is the last image: a teal button-down and jeans. If I was being fussy, I'd also like him to undo one more button on that shirt. He's certainly got the chest for it.
Below are a couple more shots of my favourite outfit, where he's at home without that sand-suede jacket. And, for the sake of completeness, the one outfit that was particularly popular with female viewers: wearing nothing but Monica's pink dressing gown.
Other sitcoms of this era such as Frasier and Seinfeld have much more classic-menswear to talk about. But they're also covered more. I've never seen Richard Burke given his due, so here it is.