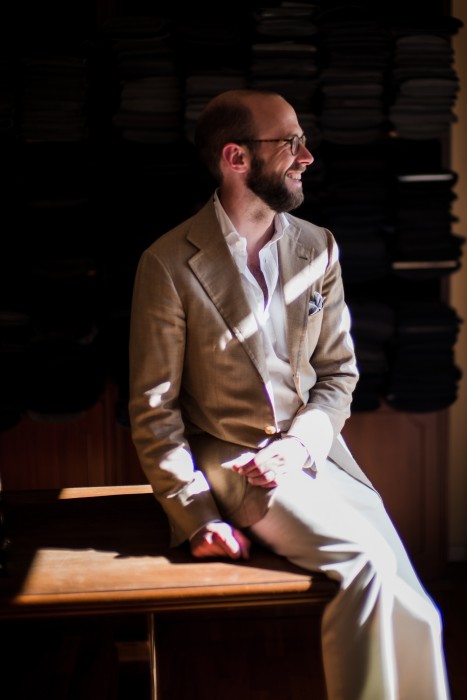 Summer outfits often involve white somewhere, as it's nice to reflect the brightness of the weather – particularly if you're in Italy and the sun is that much more consistent than it is in the UK.
Combining more than one white – or cream – tone can be difficult, and is best achieved by separating them, if only partly. Here a white shirt and cream trousers are separated by the tan jacket, and even though the two will abut each other when the jacket is open, the separation is sufficient. Just don't take the jacket off.
The Simonnot-Goddard handkerchief from Trunk, a current favourite, is dove grey with white edging, which saves having one more white in the ensemble. And the shoes are a rather different type of tan (it covers too much, that word).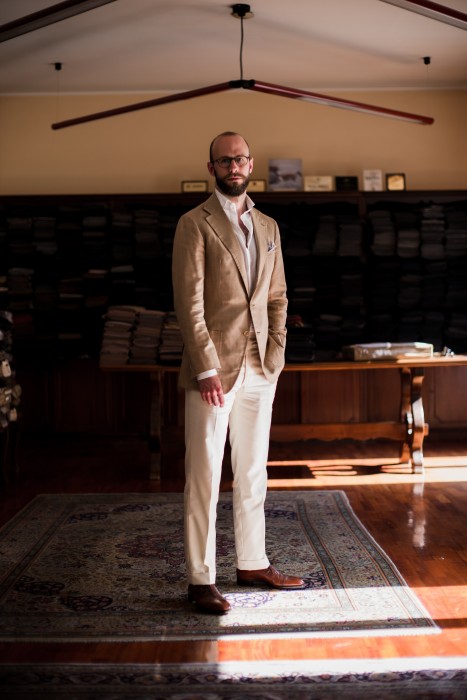 The shirt is of a type I have made a few of recently – lightweight, end-on-end cotton but with a polo-shirt front, cut off halfway down. It works well as a summer shirt and a bridge between the formal and casual. From Satriano Cinque.
The trousers, in a cream wool-gabardine, come out rarely, but were beautifully cut by John Malone at Anderson & Sheppard. Wool gabardine is great for more formal trousers like this, but doesn't have the versatility often attributed to it. For anything even approaching more casual trousers, avoid gabardine (both wool and cotton).
Shoes by Stefano Bemer (more on those soon).
Photos, by Luke Carby, taken at Ferdinando Caraceni, Milan.