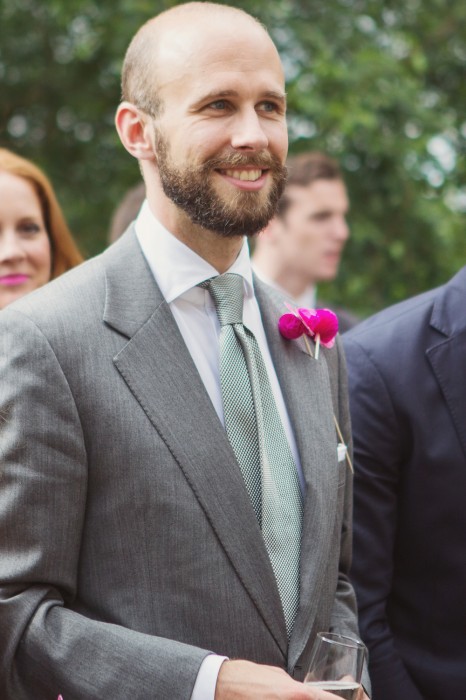 The simplicity of classic wedding attire – in colour, in pattern, in tone – is a reflection of respect for the importance of the event. Business attire, once-upon-a-time, was similarly restrained; but while I can see the argument for relaxing clothing around the office, some formality should be kept for weddings, funerals and other one-off events.
The nice thing about a wedding is that, unlike a funeral, the classic combination is also light and joyful, with a good deal of style to the monotone mixing of whites, greys and miniature patterns. You can see similar examples in the old images produced in linked posts below.
The 'wedding tie' is usually a Macclesfield: woven black and white silk that produces a small repeated pattern and, overall, the impression of a pale or mid-grey. The suit can be grey or blue, but is perhaps most stylish in a similarly mid- to pale-grey, with the background details of white shirt and white linen handkerchief.
In the case of the outfit above, at my sister's wedding earlier in the summer, the seriousness is leavened slightly by the replacement of a boutonniere lost during the day with a paper cocktail stirrer. Still, the pink works rather well.
Suit: Grey 9oz herringbone worsted from Zegna, made by Kent Haste & Lachter (cut by John). Silk tie from Tom Ford; white cotton shirt from Satriano Cinque; white linen handkerchief from Kiton.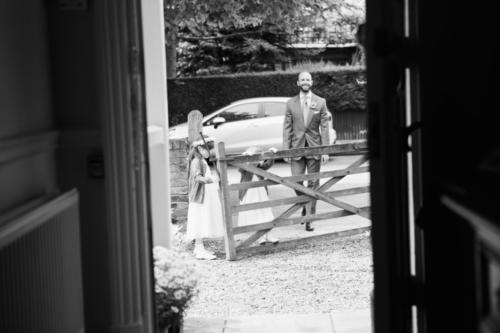 Photography: Cotton Candy (as always, click on images to enlarge)