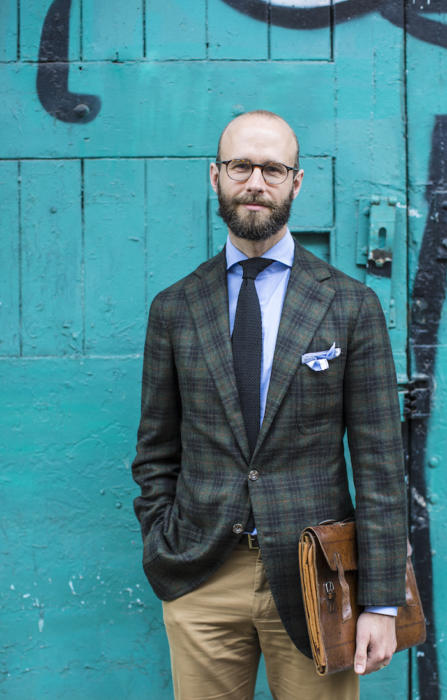 This was taken during a recent photo shoot for Plaza Uomo magazine in Sweden.
I think the only time I have shown the jacket before I wore it open-necked (blue shirt and navy crew neck, with charcoal trousers). It is not an easy pattern to accessorise, though one tie colour that certainly goes is black, going off the colour of the check itself.
Looking for such minor colours in the pattern or weave of a jacket is a good place to look for potential accessories. Sometimes it is more obvious – as here – and other times – as with the weave of my Rubinacci donegal, you have to look a little closer.
It's particularly worth looking for black in trouser cloth, as large sections of black in a twill or houndstooth will often restrict it to being worn with black shoes. Brown just won't look right, but the reason won't be obvious.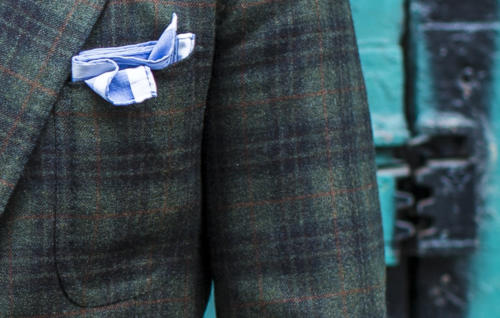 The jacket cloth is from the old Caccioppoli A/W bunch. It was not my first choice – I remember I originally wanted a grey with a brown overcheck that sat next to it, but it was sold out. In retrospect this was the more interesting choice, however.
That grey/brown check would have sat much better with brown shoes and paler trousers, and this one requires blacks, charcoals and dark navy. But once you have learned how to wear something it's no harder to put together. I've learnt that the trousers have to be a relatively strong colour for instance, such as the khaki here.
Interestingly, as with many checks this one is brought alive by its overcheck. The vibrant orange brings the pattern together, lifting the otherwise potentially turgid black and green.
Handkercheif folded square and then stuffed casually, as I like it. One point appears to have twisted downwards, which is a nice accident (or is it?). Vintage folio as featured before, briefly. I'll write a separate post on that next week.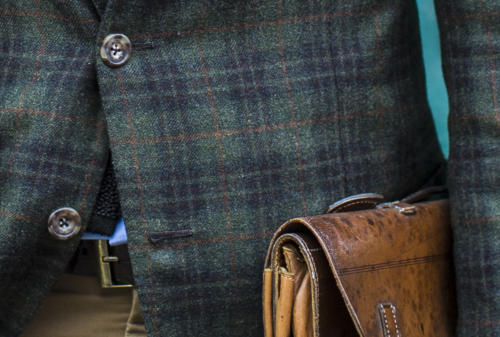 Photography: Jamie Ferguson