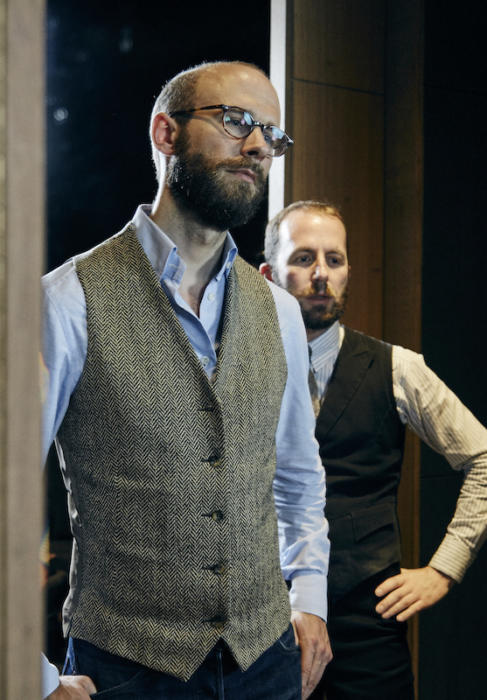 Over the years I've had a few casual waistcoats made. What makes them casual? Well primarily cloth, ideally something with a pronounced texture and perhaps a chunky pattern – in this case, a tan/black herringbone woven from a wool/linen mix.
I also prefer such waistcoats with as few pockets as possible. Sometimes two, but even none – as shown here.
To someone used to a dress waistcoat, the absence of pockets might seem a little jarring, but this deliberate choice moves the waistcoat a little closer to being knitwear – to a sleeveless cardigan, which again I'd usually prefer to be pocket-less.
Another nice, casual element is the extension of a band of the cloth around the back of the neck, as you can see below. It intrudes onto the sheen of the lining and breaks it up, suggesting the collar of a jacket.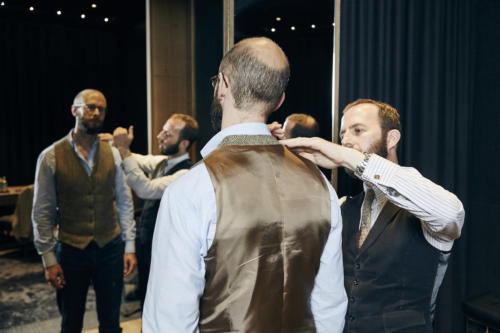 Indeed, I started thinking about this waistcoat recently when I wore it to a fitting for my button-in gilet with Davide Taub (pictured, head cutter at Gieves & Hawkes). Davide reminded me how high the waistcoat had been cut on the neck, up around the shirt collar. A regular dress waistcoat would never be cut like this because it risks pushing out the collar of the jacket.
The waistcoat – cut by Russell Howarth at Graham Browne, several years ago – was also quite high under the armholes, again unlike a normal dress piece. It was nice to be reminded of these points, which I discussed with Russell at the time.
The only thing I would change about this waistcoat now is the back – which I would have in a cotton twill or similar matte-finish material. The Bemberg is simply too shiny for a casual piece.


A casual waistcoat always involves a trade-off in length. Any waistcoat will look best with high-waisted trousers, where it can be shorter and only extend a little below the natural waist.
If it is worn with low-waisted trousers, the waistcoat must be longer to prevent shirt peeking out. But too long, and it loses all proportion. Part of the solution is to have relatively high-waisted jeans or other casual trousers (I normally wear these with my high-waisted bespoke denim from Levi's Lot No.1). Another is not to have too big an opening at the front or sides of the waistcoat.
Oh, and the waistcoats always have in-breast pockets. Only works in heavier cloths.
For any recently joined readers of Permanent Style, read my thoughts on why waistcoats are so logical here:
The logical waistcoat theory (part one)
The logical waistcoat theory (part two)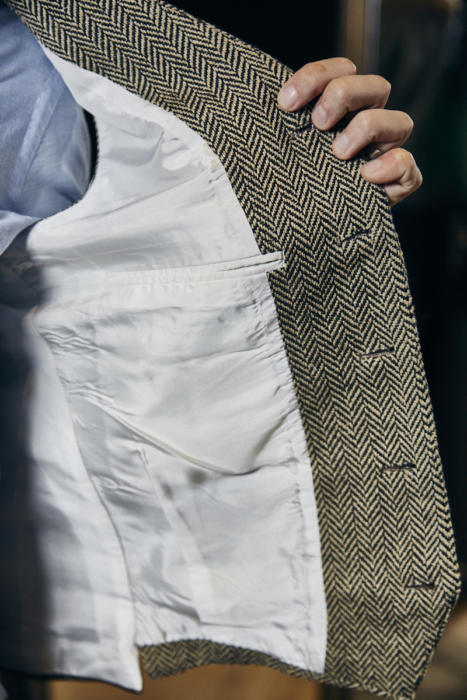 Photography: Jack Lawson