Getting out of Naples early in the morning is not easy. Traffic is intense: bumper to bumper around the mountain roads leading out of the city, and through long, dark tunnels.
By far the best way to get out is by scooter, rather than car. And that's how Germano Albano of Scafora took me one morning a couple of weeks ago: sitting on the back of his bike, small helmet clamped on my head, zooming in and out of the traffic.
I've spent 15 years cycling around central London; I'm used to zipping between cars and lorries. But never at this speed. Never on a four-lane motorway.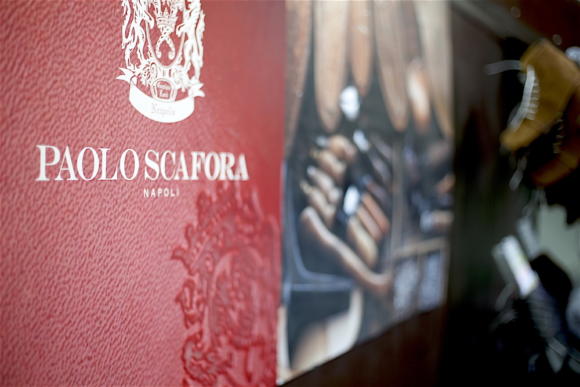 When I arrived at the Scafora factory, the welcome came with the glorious relief of air conditioning, ice-cold water, and sweet Neapolitan coffee.
And some simply beautiful shoemaking.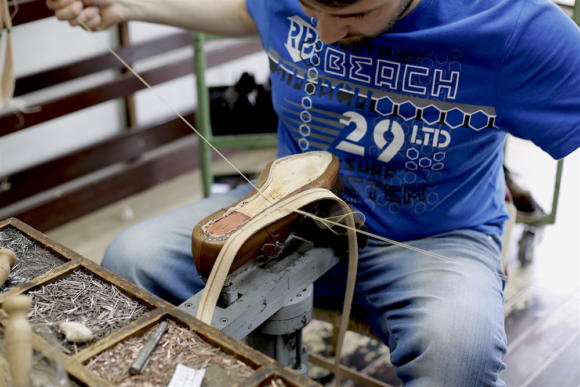 Over time, you gradually realise how unusual and bifurcated the English shoemaking industry is.
On the one side, great Goodyear-welted RTW shoes around Northampton; and on the other, hand-sewn bespoke shoes in London and a few other cities.
Italy is not like that. There are still the traditional bespoke houses, like the English, but many of the factories offer a hand-sewn as well as machine-sewn product, do patina and hand-dying work, and have a small bespoke service.
We saw a bit of this at Enzo Bonafe, which I visited last October. Scafora is similar, but with an even greater range of work.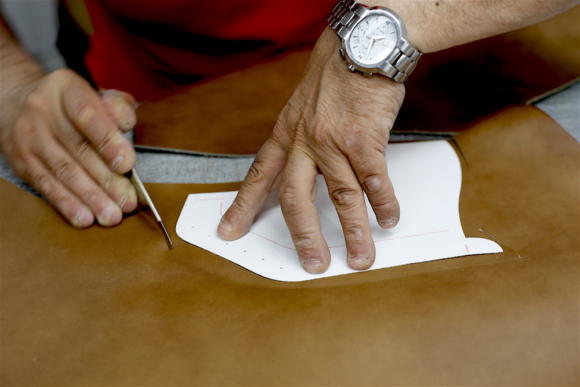 One of the reasons the Italian industry is like this is that much of their work is for designer brands. There are more big menswear brands in Italy, and more of them want to offer a distinct, high-end product.
Around 70% of Scafora's output is for other brands, with one large Italian designer (which will go unnamed) accounting for much of it.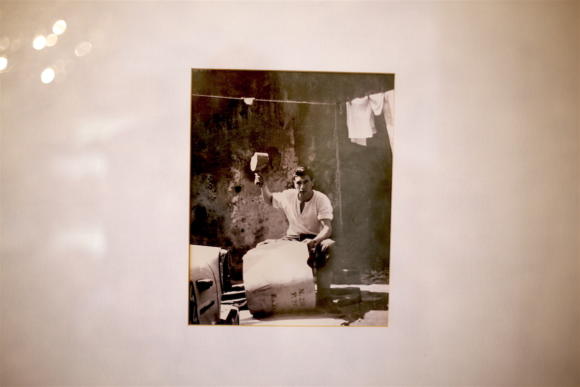 The high-end work at Scafora is relatively new, though.
The family has been making shoes for three generations, but it was only 10 years ago that Paolo Scafora decided to up the quality of the product, adding hand-sewing.
They also own a sole-making factory, and the picture above is of the founder Paolo Scafora, pounding away at some sole leather.
[Note: Paolo, being the first son of a first son, has the same name as his grandfather, who founded the company. Eduardo de Simone, whom we covered last week, was the same. An Italian tradition, but one that is interestingly quite helpful in maintaining brand identity.]
Most Scafora shoes now have a hand-sewn welt, which you can see being done above.
They also often feature various complicated stitches, such as a Norwegian welt. An elongated, square-toed Norwegian style (below) is probably Scafora's best-known model.
The welt is available both all the way round the shoe, and finishing at the heel (half Norwegian).
Equally as interesting is seeing the hand dying that takes place on most Scafora shoes.
A light-coloured, often white leather is first of all coated in a dye using a sponge (shown below).
This is left to dry for 24 hours, before a second layer of dye is added. Often this will be black, to add depth to the brown in the first layer.
Once that second layer is dry, the finishers start adding layers of polish.
I have a pair of Ercolano oxfords (below) from Scafora. The last shape is sleek but subtle, the hand sewing creates an elegant, narrow welt, and the widening of the broguing around the laces is a nice style point.
However, rather like my Saint Crispin's, I have found that hand dyeing on crust leather means the colour fades a little quicker than other shoes, particularly across the vamp.
This just means they need a little more polish over time, and it does mean they get a great, antique look very quickly. But it's worth being aware of.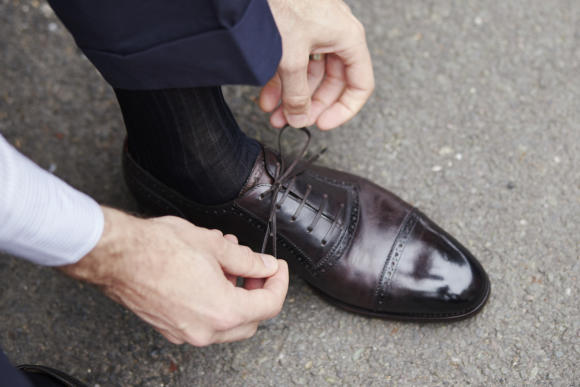 Back in the factory, an impressive technique is the painting of the soles, with dye applied in just two smooth strokes from the waist out over the edges (below).
The same technique is used to paint a 'false' wingtip on the top of some shoe designs - which must take a very steady hand.
Scafora is also one of the few brands that likes to stamp a big, branded logo on the sole of the shoe.
This might seem a bit showy to some people, but it does quickly wear down, as you can see on my sole.
Paolo also likes branding and identity across the things that come with the shoes - the shoe boxes are thick cardboard with deep-brown bags and tissue, and the shoe trees are lightweight and partly hollowed out.
As implied earlier, Scafora does a bespoke service, which Paolo himself offers, in Naples, Milan and New York. (Price from €2300, details and dates available by contacting [email protected])
He also offers a custom and MTO process, largely through those visits. MTO allows the customer to pick leather, design, size, width, last etc, while custom enables them also to amend the last for a slightly better fit (though still not on the level of bespoke).
The mezzanine of the factory, where the hand sewing also takes place, has bespoke lasts running all the way around the eaves (above - in plastic rather than wood).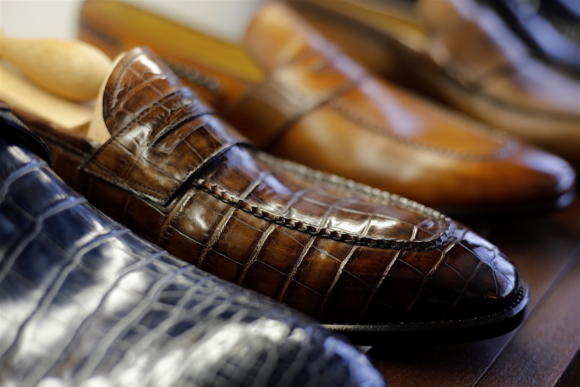 Next door is the showroom, and here we see the full breadth of the range mentioned earlier.
Alongside some fairly distinctive lace-ups are unusual designs like an overlapping double monk (below), exotic skins like shark (tough but surprisingly soft), and several sole constructions that run to some very soft, flexible styles.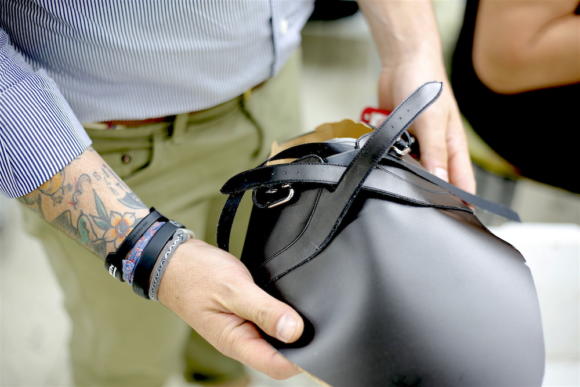 Scafora also offer trainers, hand painted and in a variety of leathers.
Interestingly, they do a sole on some designs that has a leather strip running around the outside (which looks just like rubber) and a leather sole in the same look, with rubber inserts for extra grip (below).
When used on a high-top like the white leather below, it makes for a style that looks just like an old court shoe, but with hugely superior materials and make.
It might be this excellence and range of design that are the best guarantees of Scafora's popularity.
They can make almost anything in any leather, and have a sense of style that is often lacking in similar multi-generation factories.
I saw at least two models - one of the sneakers and a loafer - that I would love to add to the Ercolanos I already own.
By the way, I found Scafora shoes to run quite large, sizing down to an 8 rather than my usual 8½. Many thanks to Gabriel at Skoaktiebolaget for his help and advice there. The full list of Scafora stockists is: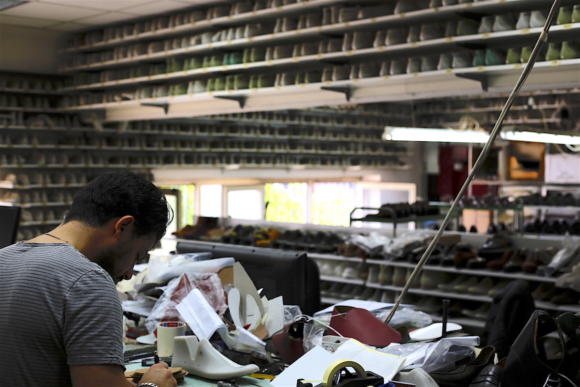 Fortunately, I was spared a scooter ride back into Naples, and was dropped at Frattamaggiore train station, which is a couple of short stops into the city.
Sitting on the platform, the weather hot but with a welcome breeze, my Ercolanos got a few approving glances from the young guys on neighbouring benches - and even one thumbs up. A nice seal to a highly enjoyable morning.
Many thanks to Germano, Paolo and the rest of the Scafora family for their welcome and hospitality.
Finished shoe shots: James Munro