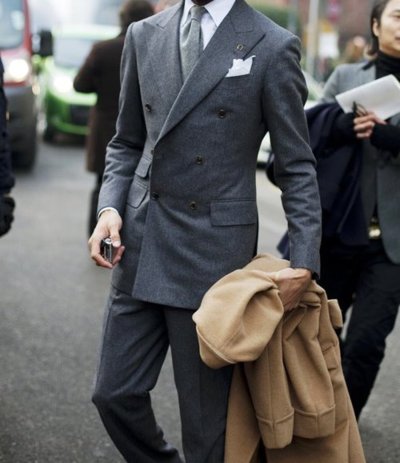 In response to requests in the recent post 'Classics that never get used' here are five essentials of a modern wardrobe. Obviously a man's actual requirements will vary hugely by lifestyle and occupation, but hopefully there will be something here for everybody.
On reflection I decided to make this piece about jackets and tailoring. The rest can take up a future post. You will find examples of the pieces I describe at the various links below.
The navy worsted suit
Some say grey compliments more complexions. They are probably right; but navy is more versatile. No matter what you job or place in life, you will find a use for a great navy suit.
Get it in a mid-weight (around 13oz) so it can be worn most of the year. Get two pairs of trousers and consider adding a waistcoat: a waistcoat and trousers can be a very practical (not to mention stylish) option for day-to-day office wear. And look after it so it lasts.
The cashmere sports jacket
This should be soft, both in material and construction. For bespoke, this means Neapolitan: a shirt-shoulder, a shorter length, curvy patch pockets. To be really useful, it has to be equally at home with flannels and denim. And you don't get that with any kind of structured shoulder or chest.
Mid-grey is the most versatile colour for a sports jacket, preferably with some texture (herringbone, Donegal). Until recently I had been making do with my Permanent Style Tweed model from Caliendo. Now I finally have a cashmere version in the works.
The flannel suit
Flannel is a wonderful cloth. Elegance and comfort are not combined to the same degree in any other material. And a mid-grey flannel suit will be a fantastic foil to that navy worsted. Not for all-year-round, but as a characterful but perfectly professional option in the mild or chilly months (see top image).
Buy two pairs of trousers, again. Perhaps even three: one to give the suit longevity, another to be worn on its own. No, hang that. The third should be in a paler grey. I do love pale-grey flannel. The tailored man's denim.
The overcoat
You need an overcoat, so this is a rather obvious choice. But given that necessity, it is worth working to buy one that is at least equal to the rest of the wardrobe. And work hard on getting a fit that works with both suits and knitwear. Obviously easier if you go bespoke.
For style, I'd recommend navy, possibly double-breasted. There is much joy in the line and drape of a DB, and an overcoat is the easiest way to wear it.
The blouson
The classic casual jacket, a blouson sits on the hips and zips up the chin. Unlike a leather jacket, it often blooms at the waist, though does not have to. I have two favourites: unlined brown suede from Carlo Brandelli's first run at Kilgour, and pale-grey cashmere from Loro Piana.
They are more prevalent in cotton, but search out one in wool or suede. To be worn at the weekend with those flannels and old brogues. Also great for travel.