Gigi doesn't normally talk much. The master cutter at Neapolitan tailors Dalcuore, he normally stands back, silently, as Damiano and Cristina do the talking.
This is both his character and a result of speaking little English.
It was nice to have a translator on hand, therefore, when we visited in Naples, and a good 20 minutes of picking Gigi's brain.
Dalcuore have grown hugely in recent years. They travel for bespoke appointments around most of the world (although not always as regularly as other tailors - in London, for example) and both ready-to-wear and made-to-measure have grown even faster.
"We now make around 800-1000 bespoke suits every year, where it was 600-700 a few years ago," says Gigi. "RTW and MTM, on the other hand, have grown from 200-300 to perhaps 700 today."
"We're very keen to not accept more work than we can deliver at the right quality, though," he adds. "The biggest issue there is people - investing in trainees for the long term."
Dalcuore's atelier used to be on Piazza Vittoria until a few years ago. It's now in a bigger space at the other end of the long city park that runs along the sea front - which is a bit of a walk from the centre (particularly in the summer) but gives them much more space.
There's a big high-ceilinged room in which to see new models (such a new double-breasted for Brio in Beijing, which was particularly striking), to have some decent stock of cloth, and to still have cutting on site (shown above).
Across the street there are then a couple of rooms containing tailors and apprentices - which will soon move to a space out of town.
"We have some good people in that workroom, but there is a constant issue that young people don't want to learn," says Gigi.
This is a refrain that I here everywhere, across a range of crafts.
But it is striking that while there are more applicants than places for Savile Row apprenticeships, and a flood of young people going into bespoke in Japan, there are very few in Italy. Why is craft not fashionable here?
"I think it's the culture. It's much more consumerist in Italy - everyone wants everything now, they're not willing to train or learn," says Gigi.
That's a global trend and a generational one, of course, but it does seem to be stronger in Italy than elsewhere.
One Italian factor is that, particularly in the south, young people often have parents or other relations that are craftsmen - and have not had an easy life out of it.
For example, when we interviewed Marco Cerrato the same day, he was passionate about his craft, his product, and about his extended family that all worked together.
But he would never want his son to become a tailor.
"It wasn't a good life. My parents worked very long hours - they still do - and I would often sleep under the cutting table. It's a real struggle," he said. "I want my son to go to university, to be a professional."
Gigi agrees this is an issue: "It's hard for young people to see the attraction of the work, of the heritage. They see it as something mandatory that friends had to do after school, or leave school at 13 for."
"It's not considered a safe job today, given how quickly the industry changes. Let alone an aspirational one."
Nonetheless, in those rooms across the road there are five young people working alongside the old tailors.
Three came from the Kiton tailoring school (which I covered years ago - back in 2011) and two have been hired fresh into the workroom at Dalcuore.
"Schools like Kiton can be useful starting points, because they give young people rules and a rigour to the work," says Damiano, showing us round (and pictured above in cream suit).
"Because Kiton does small amounts of hand finishing, such as hand-sewn buttonholes, they make sure the trainees do enough of it to get their accuracy and their hand-speed up," he adds.
This is an interesting contrast to the course at Newham College in London, which is sometimes criticised by bespoke tailors for trying to teach everything in a single year, and as a result turning out graduates that can't do anything to a level that makes them immediately useful.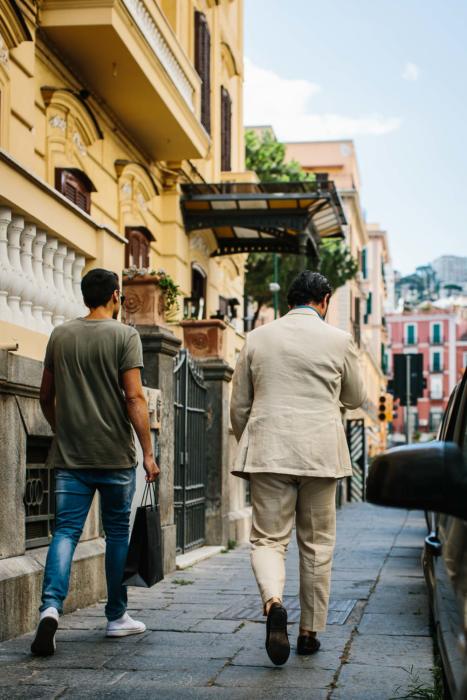 Walking back across the road (via the local mozzarella dealer), we reflected on the challenges of growing a tailoring business.
Bespoke and ready-to-wear have very different drivers - and there are only so many specialist shops like Brio and Bryceland's, or highly engaged Japanese buyers, that really appreciate traditional quality points.
As the number of these shops grows, and makers such as Dalcuore grow with them, it will be interesting to see how big they can get.
Photography: Jamie Ferguson @jkf_man