Begg, J. Girdwood and The Rake (Chapal, Sciamat, 100 Hands, Norman Vilalta…)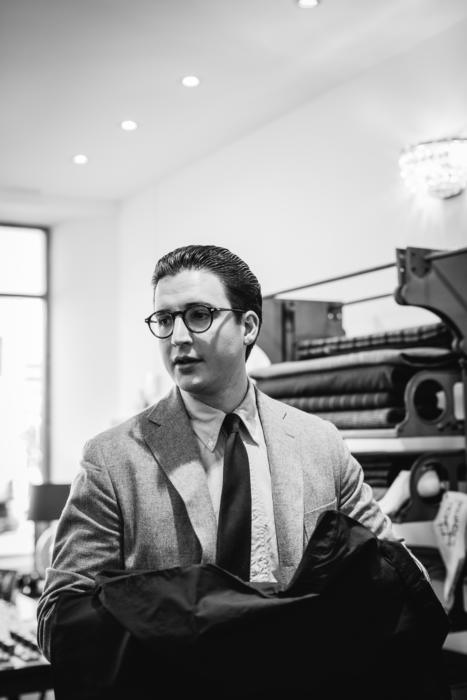 First off, I need to mention that the J.Girdwood website is finally up and active.
Anyone that has been into the first or second pop-ups will have seen James (above) and his J.Girdwood range of products. They include some Permanent Style favourites such as Bresciani socks, Merola gloves, Maglia umbrellas and so on.
James has got his shop site live, at www.jgirdwood.com, yesterday. More details on his aims for it in a week or two.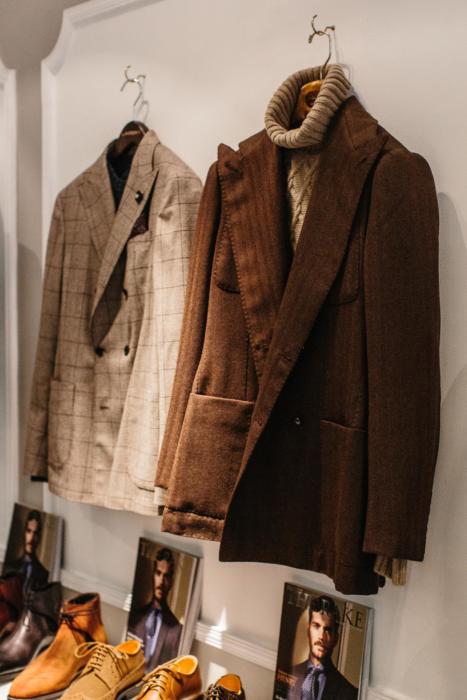 Next, The Rake.
The Rake's online shop has grown so much in the past year that it's been hard to squeeze things into their pop-up space. Even though they're focusing on exclusives.
The good thing about this range is there's something for everyone. So even if Sciamat jackets (above) are too eccentric, there is the quiet precision of 100 Hands shirts instead.
And there are so many brands that, were it not for The Rake and the pop-up, you wouldn't see anywhere in London.
There's Sciamat, Norman Vilalta, Chapal, Marol, 100 Hands, Francesco Marino and many more.
Personally, I'm really proud to have the Chapal aviator jacket on display in the window (£2735).
I wrote two years ago about having my own made to order in Paris, and I know several readers that have travelled to France just to see and try it in person. Now you can in the pop-up.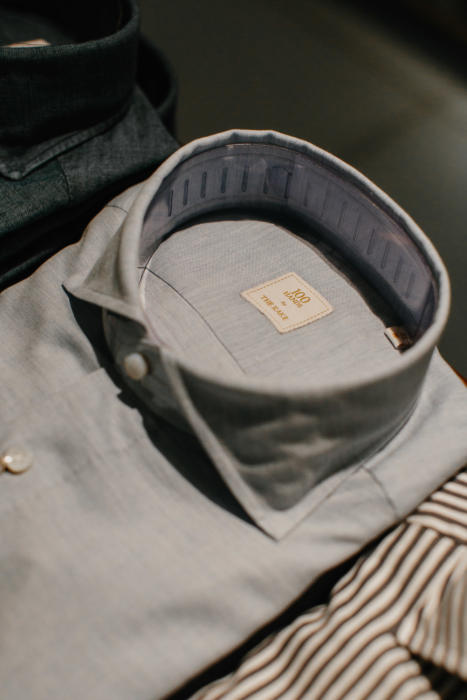 And 100 Hands (above, £300-£400) make simply the best hand-finished shirts anywhere - with all their tiny, precise hand-rolled hems.
They're available in several styles including a denim, a blue jersey, and a striped cotton.
Francesco Marino might be a new name for many readers. An old Neapolitan tiemaker, they do some very well-finished ties including (in the pop-up) a beautiful seven-fold printed gauze (below, ties £100-£125).
Elsewhere, some will want to try the extreme sleeveheads of Sciamat tailoring; there are Marol shirts including their denim dress range; and a range of Lardini tailoring.
Finally, nice to have my favourite Norman Vilalta back, with his swept chelsea boots (£1040) and pebble-grain derbys with super-chunky soles.
The grey in the middle below is the Rake exclusive - a patina that Wei picked out with Norman.
There are details on all the pieces, of course, on the Rake site. In case you want to check them out before visiting the shop.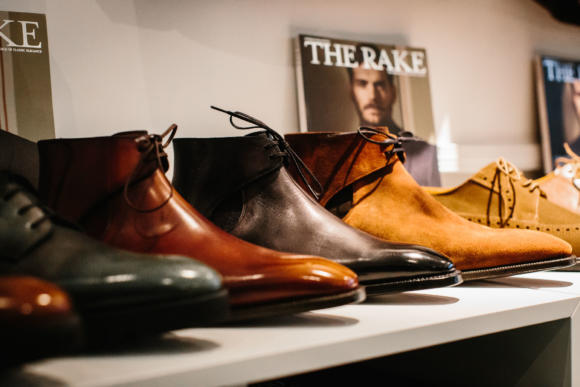 Begg & Co, our third exhibitor in Week 3, will be well-known to readers but remains a wonderful option for Christmas presents.
It's the time of year to wear scarves - and soon the time of year to give them - and even on the first day Begg was selling strongly.
The range in the pop-up includes ultra-thin wispy scarves (above, £245), thicker brushed arran models (£260 or £360), and the more casual kishorns (£175 or £280) - all in masculine colours of grey, navy, olive and so on.
There is also a small range of the PS squares that we designed with Begg last year, and the brass scarf ring developed with Alice Made This (pictured below).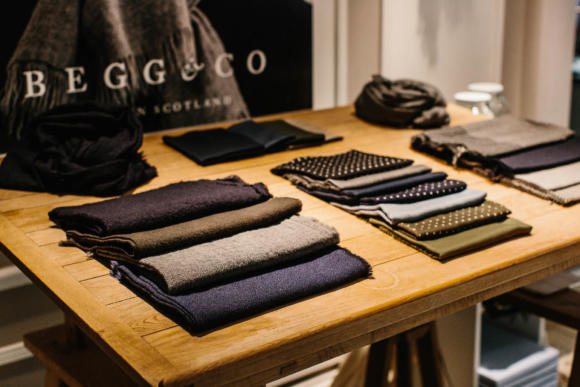 Photography: Jamie Ferguson @jkf_man