Everyday Denim cloth – new batch!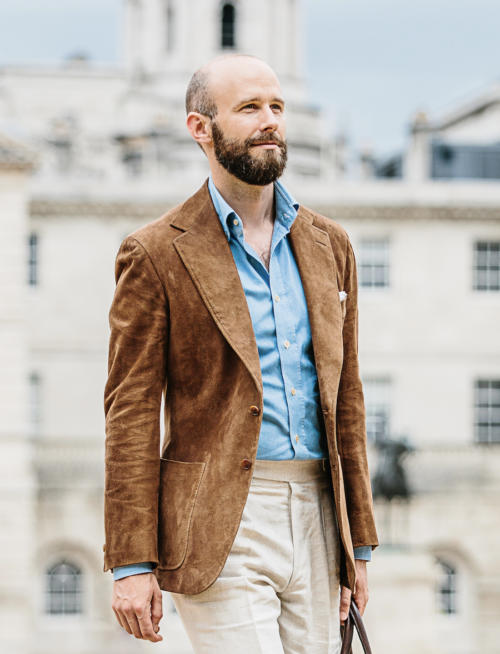 The pop-up store opened last night at Fortnum & Mason, and several readers headed for the new batch of Everyday Denim fabric, which was nice to see. The one I have in it (pictured) remains my absolute favourite shirt.
That denim is now available online as well - on the Shop site - for readers to buy and take to their shirtmaker.
Do let me know if you have any questions or feedback.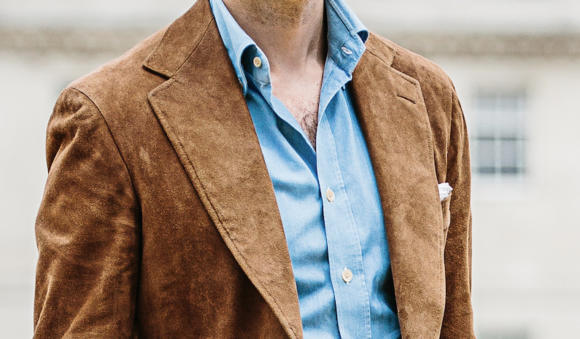 One thing I should note is the cloth has two sides: a face and a reverse. This is common to most denims, and it is the darker side that is the face - your shirtmaker should keep this on the outside.
Most makers won't have a problem with this, but a couple of readers did ask last time, so I thought I'd make it clear.
One relatively new reader did also comment that the denim he received seemed darker than the photos. This is because it is intended to fade - indeed, that's is the main selling point of the fabric.
This is the reason we began offering the fabric originally. It was my favourite denim because it faded, particularly around the seams and edges, and therefore looked more like a ready-made, garment washed denim shirt over time.
We began offering the fabric ourselves when it was no longer available elsewhere.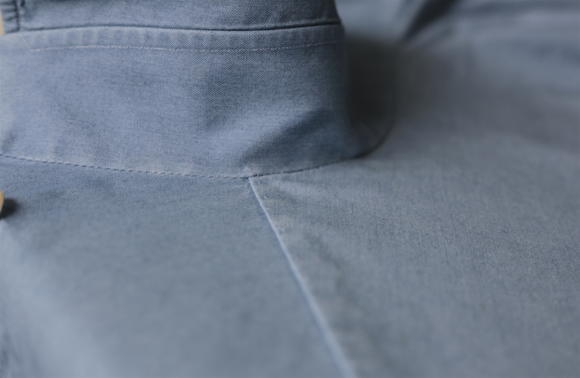 To summarise the key points about this exclusive fabric:
Everyday Denim is a shirting intended for customers to buy and take to their shirtmaker to be made to measure
Once made up, it fades with normal household washing, subtly around the edges and seams, making it look like a normal ready-to-wear denim shirt (which will have been garment washed in bulk to achieve the same effect)
I called it Everyday Denim because it is a shirt a man in a modern office can wear every day, that sits well with a blazer but equally a tweed jacket or a suede aviator
You can read the back story here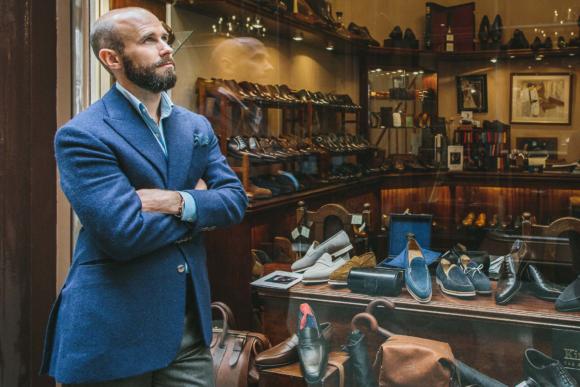 Technical details:
Woven by Albini in Italy, under the Albiate brand
Mid-weight, the same as most twill shirt fabrics
Mid-blue - similar to other denim shirts and slightly darker than a pale, corporate blue shirt
A cotton twill, using 60/2 yarn in the warp and 120/2 in the weft. It softens nicely over time because of that structure
Each length sold is 2m by 1.5m - enough for most men up to 6'3'' to 6'4'' tall
Ready-made shirts in the fabric have also been available (for those that can't reach a shirtmaker) but are now largely sell out. Another batch will be available later in the year.
By the way, if you want the fabric sent to a particular shirtmaker, please put them down as the delivery address and contact them separately to make sure they know it's coming.
This fabric is all now sent from the UK too, so there will be a normal shipping charge if it's going to someone in Naples.
Thanks
Simon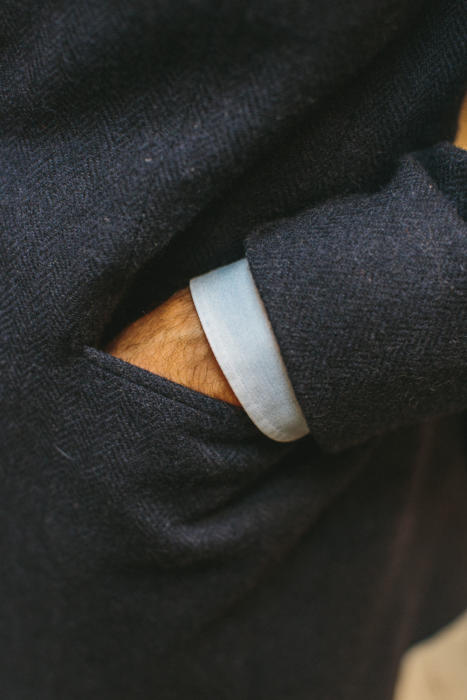 Also worn: Cifonelli suede jacket (top); Disguisery navy tweed jacket (others)
Photography: Jamie Ferguson @jkf_man