Best-dressed non-professional 2019: @Gusvs9
Runners-up: @urbancomposition, @flannels_and_tweed
@Gusvs9 doesn't like people to know who he is. You never see his face on Instagram, and there is no biography.
Such an approach is almost weird in the age of Instagram influencers. Yet it's also a reflection of how he dresses – and, in a way, how Permanent Style has always encouraged readers to dress. Simply but well.
Gustaf is the winner of this year's 'Best dressed' Permanent Style award, which we decided to limit to non-professionals: those that don't work in the menswear industry.
One of the pleasures of Instagram is how much visual inspiration there now is from such stylish men around the world – who don't work for a brand but who wear brands' clothes in elegant ways.
We wanted to recognise that, and celebrate it.
To judge the award, as in 2018, we had a panel. Style is such a subjective area (unlike, say, customer service) that I feel a panel is best placed to judge – it is clearly their opinion, rather than anything objective.
Last year I was joined on that panel by Michael Drake and Jamie Ferguson. This year, I decided to ask winners of last year's awards: Greg Lellouche of No Man Walks Alone (which won the customer service award) and Ethan Newton of Bryceland's (who won the best-dressed award).
Greg, Ethan and I had slightly differing opinions, but we all loved Gustaf's style, and agreed on Peter @urbancomposition and Andreas @flannels_and_tweed as very worthy runners-up.
On Gustaf's style, Ethan said: "Gustaf is simply elegant. He uses some of the best tailors in the world and dresses beautifully." While Greg commented: "I've been admiring his impeccable style for years. He has amazing taste and his outfits are systematically well composed."
So, I phoned Gustaf to ask about his style, his tailors, and not playing Instagram's stupid games.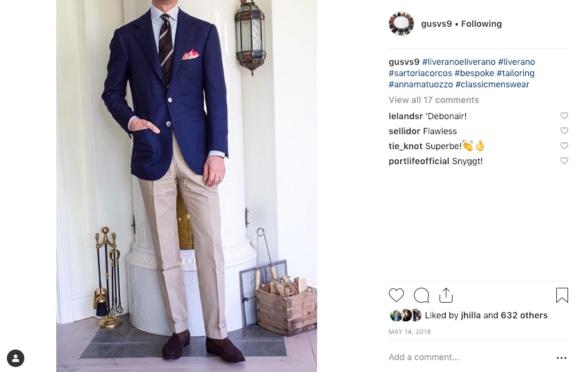 Permanent Style: Gustaf, let's talk about the anonymous point first. Why do you prefer not to show your face?
Hi Simon. I think it's just that I focus on my job a lot, and I don't want that and Instagram to mix. Sweden is a small country, and it wouldn't be hard for the two to connect.
I started posting things on Instagram because I liked seeing what others were wearing, and it's nice if it's reciprocal. I don't think you can't just watch, you have to contribute.
I really enjoy it, but it's just a hobby, a nice way to connect with people.
How did your interest in classic menswear start?
Probably with my father. He was always well-dressed, always in a suit and tie, even wearing a tie at the weekend.
It was part of his generation I guess. I'm in my mid-forties, he was born in the 1940s, and back then he wore a school uniform, then a suit every day.
But there was also a personal interest there, an element of dressing to please himself. He enjoyed his clothes and enjoyed the impression it gave.
At what age did you first get into clothing?
I think I was always quite peculiar and particular about things. Certainly compared to my older brother, who has no interest whatever in clothing.
I remember when I was five, we were living in Cyprus at the time and I dragged my father out to find cowboy boots. It was the late 1970s and everyone was wearing them.
I was extremely stubborn. But fortunately they didn't have any in my size, so I avoided that fashion moment.
And did you discover tailoring, like most of us, when you had to wear it for work?
Yes, exactly. So there was a period when I was a teenager when I wanted to dress the opposite of my father, but when I started working, then I discovered a passion for tailoring.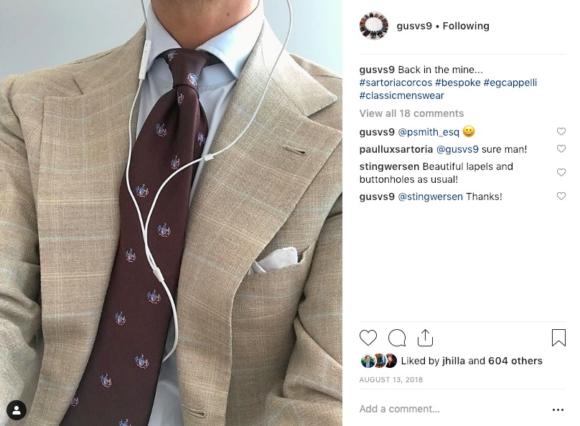 What was your first job?
It was at the Japanese Chamber of Commerce in Stockholm, so it was a very official environment, and particularly so being Japanese. Everyone wore a suit and tie.
I started buying some basic suits, then some made-to-measure – Belvest, for example.
There were only a couple of menswear stores in town and I used to hang out there, chatting to the guys about styles.
Later on, I started travelling to Japan a lot. And while they didn't have much bespoke, they had a lot of menswear, and particularly Italian brands that you would never see in Stockholm.
I bought things from United Arrows, from Sovereign House. And then when we actually moved to Japan later, that's when I started buying bespoke.
Who did you first make with in Japan?
It was a small tailor – I forget the name – that doesn't exist now. I found them through Men's Ex, the Japanese magazine.
However, most significant was that I got to know Liverano. Not Antonio himself, but the brand through the shop-in-shop they had at Sovereign House.
At the time it seemed very classic to me, very traditional. Everything, in Japan and Sweden, was very tight and short. But over time that classic style began to appeal.
So did you end up buying bespoke from Liverano?
Only a while later. First we moved back to Stockholm, and there wasn't any bespoke here really, apart from AW Bauer and that wasn't to my taste.
But later we went on our family holiday to Florence, and that was when I popped in to Liverano. And met Taka. The Japanese connection helped a lot, and I quickly decided next time I'd come back and have my first suit made by them.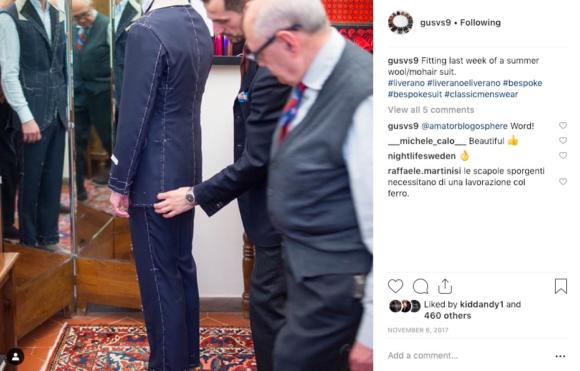 When did you end up going back?
My first Liverano? Actually let me check, I have the jacket here… it was completed in 2012.
And how many do you have today?
Ah, there's the question. Eleven I think. Quite a collection, but built steadily over the years. They were cheaper back then too – before The Armoury brought them to wider attention.
I think I fell in love with the Florence silhouette. It suits me well, and I adore the lines. It's no coincidence that the other tailor I've ended up using a lot – Sartoria Corcos – is also in Florence and also Japanese.
And I've recently placed my first order with Sartoria Cresent in Milan – again Japanese – after carefully reading your article on him on Permanent Style.
It's interesting that you've stuck with so few styles. Most men today take the opposite approach, and want to try everyone.
Well, I have tried one or two others. I have used WW Chan, and I did try the Neapolitan style with Napoli Su Misura, when they were coming to Stockholm. That was actually before Liverano.
They were very much hyped on Style Forum – I was reading it a lot at the time – and I managed to get them to come and see a few of us.
It was OK as an entry-level bespoke I guess, but it was the same story as many tailors, particularly Neapolistans – as they got too big, the quality started to suffer.
I'll be interested to see what Cresent is like, as I've never had anything Milanese. And in the future I might try something English, probably Anderson & Sheppard.
But it sounds like you've found your style, and enjoy the best aspects of bespoke – the relationship that develops, and the perfection of a look you like.
Yes, and to be fair the Florentine style suits the more formal environment I'm in most of the time.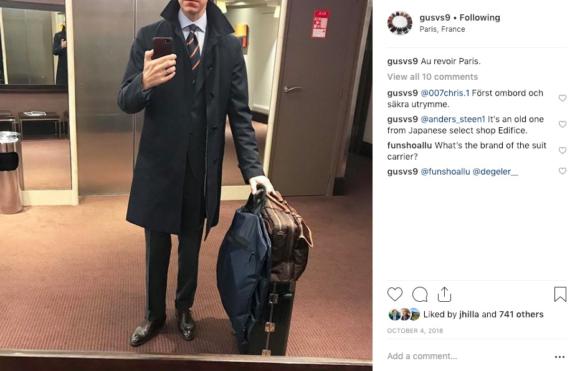 Do you still work with the Chamber of Commerce?
No, I now work for a large industrial company, actually headquartered in the UK.
And how do people dress there? Are any of your outfits we see ever a little too smart for them?
In London most of the senior management wear a suit and tie, but in other offices – as everywhere – it's becoming more casual, and most people wear just a suit and shirt. Even just a shirt and trousers is common.
I'll be completely honest, even I sometimes wear just a suit and shirt because anything smarter would be out of place, but I like to always wear a tie.
People say you should dress for yourself, but that's just not realistic in a professional environment, particularly when you meet clients and need to dress for them.
You can do a lot by not wearing showy things though – not a double-breasted suit, not a pinstripe etc.
Do you ever wear a sports jacket and trousers, when a tie would be too formal?
Yes, and in fact that's what I prefer when I'm not wearing a tie. A suit and shirt just feels too odd, as if something's missing.
I'll often add a cardigan or something else under the jacket as well, to add some interest.
You seem to wear a pocket handkerchief in all your outfits though – does that not stand out as much as a tie?
No, I don't think so. I've probably been wearing them so long that it would feel odd to me – and even look odd to others – if I wasn't wearing one. And if I want to be more subtle then a simple white handkerchief in a TV fold is fine.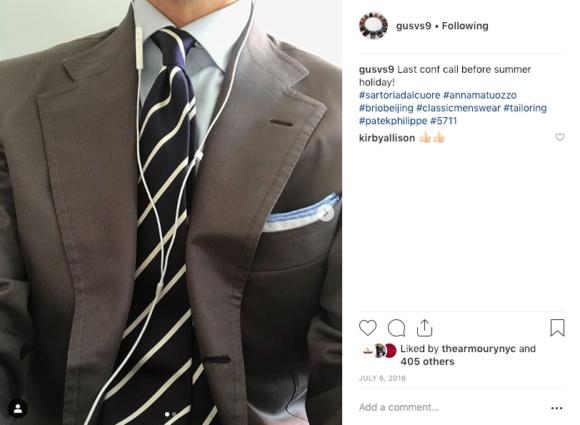 You mentioned you're in your mid-forties with a family – what do you wear at the weekend?
Ah yes. My two children are fairly young, so there's the issue of not wearing anything white at the weekends – but you know, you have young children as well.
Absolutely, and it's something readers ask about a lot. All your pictures are of formal clothing though – are you not interested in casual clothing, or do you just not post images of it?
No, I like more casual things. I like Japanese denim, I always do my research on what I buy. But the interest is not on the same level as tailoring.
And also I want everything I wear to be simple, something I'm comfortable in. You know how it can be in menswear, where it borders on theatre, everyone in their costumes. That's why I generally dress quite classically.
Yes. I think that comes across quite clearly from your feed.
You wear shirts and tailoring that are plain or with very subtle patterns, for example, which means any pattern of tie or handkerchief works with them.
Exactly. My favourite suit is probably a grey pinhead suit from Liverano – I call it the perfect suit. It's the perfect colour, fabric, structure and fit, and it goes with everything.
It's great with a crisp white shirt and a dark blue tie. But it's equally nice with a blue shirt, perhaps in a subtle pattern, and a coloured tie.
And my other favourite is a blue hopsack jacket from Liverano – a little lighter than navy, but not too strong. Again, the fit and make are just perfect.
I often take that one travelling, and take different trousers to wear with it on day two. It's fully lined as well, so I can wear it long into the autumn.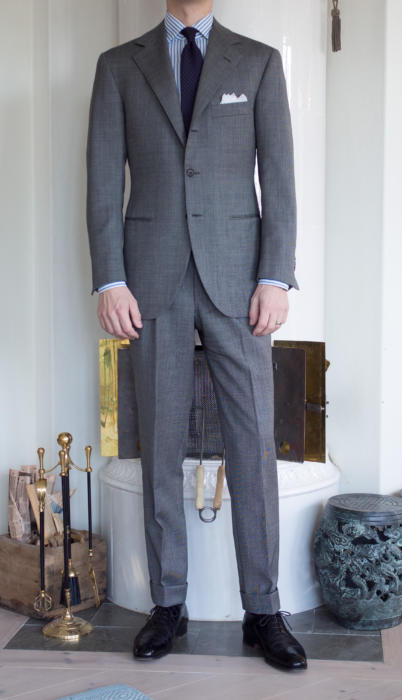 It's interesting, I expected most readers to vote for people that combined lots of different colours, patterns and so on. But actually, your classic combinations are clearly appreciated.
That's lovely to know. I don't feel an urge generally to try different colours – it's very much things that feel natural to me.
I do think Antonio Liverano is the master of colour, and he does encourage me to step outside my comfort zone now and again. But it's rare.
What's the biggest mistake that young guys make with bespoke do you think?
Well, it's the obvious one, something you come back to on Permanent Style a lot – they don't start with the basics.
All of a sudden you have all these options, and want something exciting, so you go for big checks and patterns.
I understand it, I did it myself. And it's not entirely a mistake, as you learn from it. But I'd always suggest someone start with a classic, plain suit. Buying bespoke is when you're investing a lot of money in clothing, and you don't want it to be waste.
Keep it simple. Less is more.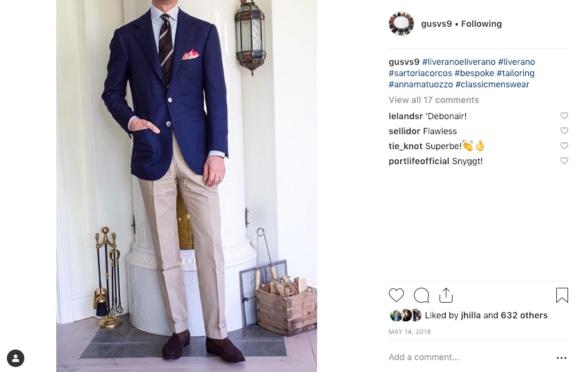 How do you feel about Instagram and the way it works?
I don't like it. There are all the games people play, with liking each other's posts, and trying to work out what the Instagram algorithm likes at a given moment.
I know others that have started to lose followers because they don't do those things, and I guess I'm lucky that I don't care how many followers I have. But it's frustrating that this is how it works.
And of course when you have 18,000 or 20,000 followers, people start offering you things to wear or endorse, which I always turn down.
Sometimes I also get annoyed at other people like me – who are not in the business – who have professional photographers come and take photos of them.
It's fine for those working in it, I think, like yourself or Andreas Weinas, but to do it as a normal person feels fake.
When a normal person says 'Monday morning, off to work' and then has this perfect photo in perfect light, it's just silly.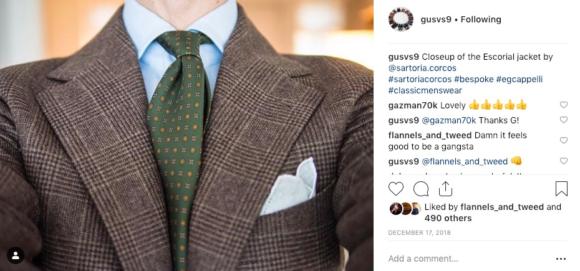 Personally, I find it odd that people don't differentiate between the internet – where a search engine is regulated – and something like Instagram, where they can stop showing your images to people if you don't spend money with them, for example.
Yes, exactly. It all seems rather unclear.
Fortunately I decided I'll never be able to outsmart them so I just ignore it altogether. But it must be more annoying for others that have a business that relies on it.
I'm delighted to see the site is still growing by the way, I'm amazed. Instagram is great for me, but I love the fact that there is still in-depth content too.
Thanks. I always liked the contrast between 'lean forward' and 'lead back' media. I like the idea that a reader is leaning back in his chair and relaxing into it.
Yes, that's a good way to put it.
Well, thanks for your time Gustaf. Congratulations on your award again, and hopefully I'll see you in London sometime soon.
My pleasure Simon, and thanks again.
Photography: @Gusvs9
What to learn more about how Permanent Style is funded? Details here: 'Is this an ad?'