A reader commented recently that if you don't feel comfortable in a piece of clothing, it's clearly not for you and you should move on.
While I agree that feeling comfortable in your clothes is important to looking good – more than many people realise – my experience has been that this comfort can come with time.
If you start wearing a new piece or new style of clothing, it's inevitable that you won't feel as comfortable as in your normal outfits. You'll be conscious of what you have on, even if others aren't, and sensitive to any glance or comment.
That would be as true of me wearing streetwear as it would be of someone else wearing a suit and tie.
The key is to play around with this new piece or style – to give it time and not stress on it. Try it different ways in different situations, and with different things. Don't obsess over one image you've seen of someone else, or over one person's opinion.
By far the most important word in that preceding paragraph, I think, is 'play'. Enjoy the experiment and see where it takes you.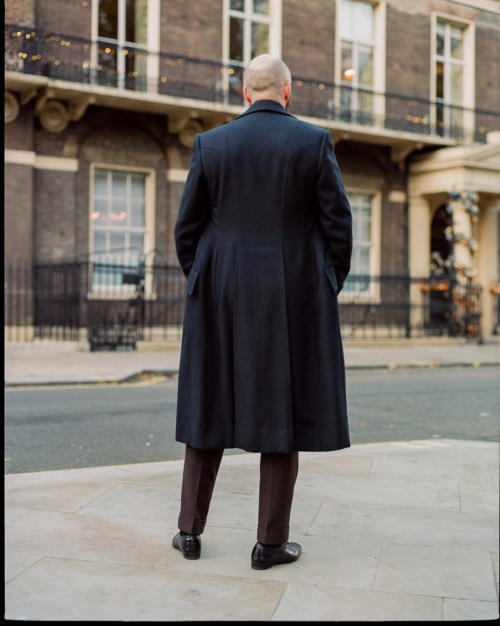 I grew to love my black horsehide jacket in that way, as we discussed a few weeks ago. And I've done the same with this Edward Sexton greatcoat.
The situations were different though.
With the leather, I was anxious to avoid a certain look. With the coat, I think I was striving too hard towards one.
When I look back on images of me in that coat, six years ago, I remember exactly what was going on in my head.
Images of gents were striding across it, with hats pulled down over their eyes, pleats flowing in their wake. There was an occasional hard-boiled detective speaking in clipped monologue; perhaps even a gunslinger in a duster.
They were attractive, dramatic images, but didn't quite match up to reality. It wasn't even just that the look was anachronistic – I wasn't cosplaying very well either. The coat was too big and too long. The small, grey fedora would have been hard enough to wear with a normal coat, let alone this one.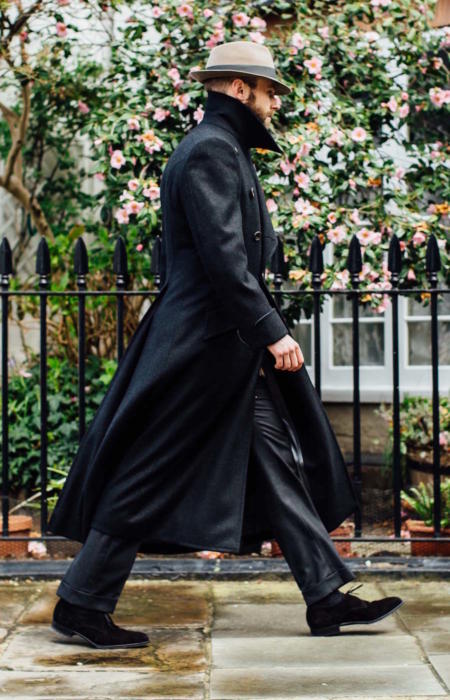 Over time, I realised this but began playing with it in different ways.
Rather than always wearing the collar up, I started wearing it down, just with a scarf poking out of the top. This was easy and simple, and as it meant I wore the coat more, also gave me more confidence doing so.
I also had it shortened by about three inches, so it was more of a classic mid-calf length. This was practical as well as stylistic – it seemed much more likely to get caught on a hedge, a gate, bag, when it was super long.
And I rarely wore it with a fedora, preferring a simple watch cap or nothing at all. This made it stand out less but also, interestingly, meant the subtle beauty of the coat came out more. The reaction was less 'wow, what a big collar' and more 'look at that shape in the back'.
There is nothing wrong with a fedora necessarily, by the way, and I still think men should wear them more. But it is easier to wear with a less dramatic tweed coat, like this.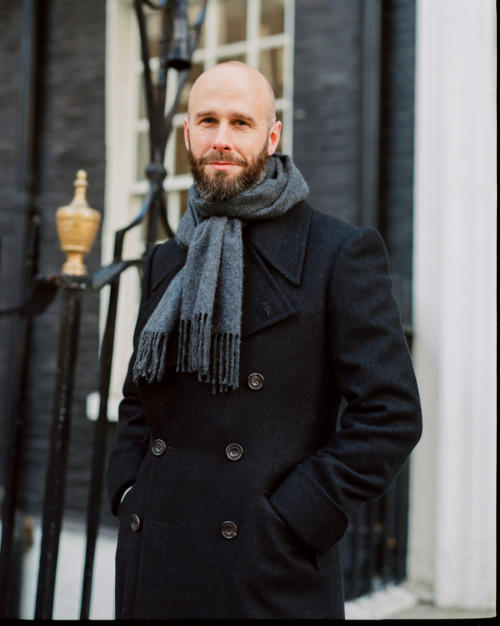 Today's article – reflecting on how this bespoke coat has aged – is intended to show a few ways I prefer wearing it today.
The image at the top of this article shows the coat with the collar down, and scarf at the neck. The attention is so much more on those lapels, the shape created by the cut, and other subtle details like the slim waist of the Cleverley bespoke shoes.
Above is an even more understated example. Tie the scarf twice around the neck on the outside of the collar, and it's messier, asymmetric look makes everything much less sharp and buttoned-up.
When I do feel like showing off that collar, and the lovely roll of the lapel, I do so but without a scarf or hat. Or indeed black-suede shoes.
It's even nice worn open (below). I know that undermines the point of the bespoke cut and make, but it's pleasing in a different way to put your hands in your trouser pockets and push all that flowing cloth behind you, knowing how the shape of the seams and the pleats looks.
In other words, I've learnt how to express myself with the coat, rather than striving for something else. It took a little time, but it feels part of me now, and something I really enjoy.
To be honest I find this is often the way with new clothes, for me. Not necessarily struggling to find any way I like to wear them, but finding the ways I like the most, and the ways they fit with everything else.
It's part of the enjoyment, and the fun. (That word again.)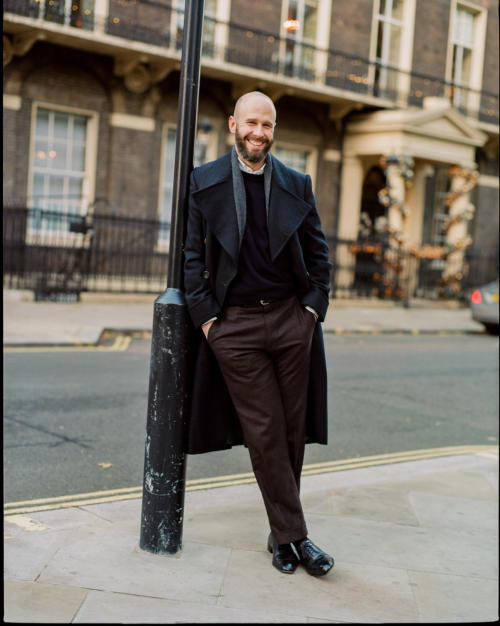 In most other ways, the coat has aged very well. It doesn't get heavy wear, given I have a few coats, but it shows no sign of those six years gone.
The coat is surprisingly warm, given the material is only 21oz. It is a fine wool, and 15% is cashmere, but I think most of the warmth comes from that big overlap on the fronts.
The work was always beautiful – not showy, but very fine – and the only thing I would say there is the functional buttonholes get distorted now and again through use, and need straightening by hand.
The silk lining of the coat was the obvious mistake, and something I've always meant to have changed. It gets caught quite easily, and there are little pulls and marks on it here and there. I should have had a normal bemberg or similar.
Of course, given this is bespoke, and Sexton are local, it's very easy to get any of these changes made. The shortening was simple, and I've had one more small alteration in the past six years too. I can only blame forgetfulness for still not having the lining changed.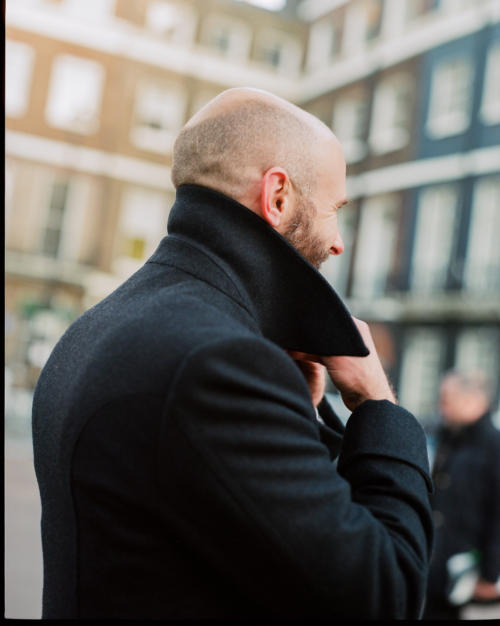 You can read about the commissioning process for the coat, and fitting, on the first post here. The second, showing the final coat with that hat and long stride, is here.
The other clothes shown are char-brown Fox flannels made by Whitcomb & Shaftesbury, a white PS oxford, navy Rubato crewneck, and Begg & Co 'Arran' scarf.
Photography: Alex Natt @adnatt