Reader profile: Andy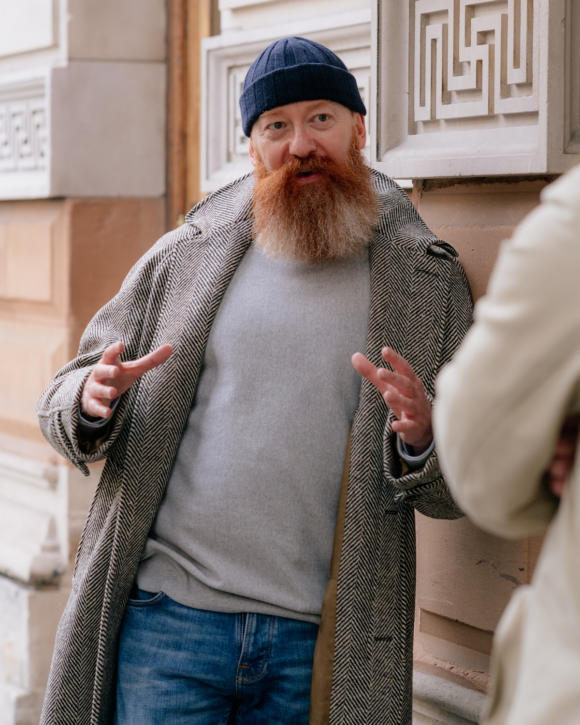 This is Andy. A long-time reader and customer, Andy had led, shall we say, an interesting life. Currently a hydrographic surveyor, he has also been a pilot, a mountaineer, and dabbles as a model (fashion and life).
He is passionate about clothing, with an understandable penchant for more rugged menswear. He's the kind of person who buys a Soundman cagoule from Clutch, but then actually hikes in it round the hills near where he lives in Leicestershire.
These are some of the clothes he wears, and why.
Outfit 1: Smart casual
What are you wearing in this first outfit?
I'm wearing a Crombie sports jacket over a PS chambray shirt, paired with some Hugo Boss denim and Loake suede chukkas.
This is my interpretation of an outfit I saw on a very dapper guy on a flight back from Scandinavia once. Smart casual I guess you'd call it. Actually, I realise that with lockdowns etc I don't wear this sports jacket as often as I used to. This is the typical way I wear it, although I have been known to pair it with a thin black or navy polo sweater.
I do really love the PS chambray shirt. Quite possibly my favourite shirt. So soft and so much character to it, and the PS-designed collar is just wonderful. I could have easily picked my Blackhorse Lane jeans to go with this outfit but I think the lighter wash and slimmer legs of these works better here.
Suede chukkas continue the relaxed vibe. The colour is lovely, although sometimes I wish they were a little less 'pointy'.
Where do you live and what do you do for a living? How does that affect what you wear?
I currently live in Hinckley, Leicestershire. It's a small town and a very different vibe to a big city. You'll go days without seeing anyone in a suit, and although I've not considered this in depth, I think my environment must inform how I dress.
I'm currently a hydrographic surveyor and this means that when I'm working, I'm based on a survey ship and seabed mapping in various parts of the world. This is typically in support of the oil and gas industry, although it's increasingly common to work on renewables such as offshore wind farms.
I work in an air-conditioned office onboard and basically wear the oldest jeans and t-shirts I own for fear of getting anything decent destroyed in the laundry. My life is unusual as it's split between being at sea for a few weeks and then at home for a few.
At home I don't have to consider wearing anything appropriate for the workplace, but I think the combination of plentiful time away from work and a reasonable income makes investing in quality clothing a realistic possibility, as well as meaning I tend toward the casual end of the spectrum.
What have you done in the past? How does that influence your style?
Now this is probably worth a book in its own right. I'll try and be brief for the benefit of readers.
My surveying work has taken me all over the world. I've also trained as a pilot and was a bush pilot in Tanzania flying people to safari camps back in the early '00s. I've been an airline pilot (very briefly), flying long haul out of Heathrow. I emigrated to the States at one point and was living and working in Alaska.
How has this influenced me? Very good question. I think it must have drawn me towards more rugged clothing, and yes I do own a safari jacket!
Outfit 2: Casual
Tell us about the second outfit, and what you think of the various pieces
The second outfit comprises a PS Donegal coat over a Blank Expression sweatshirt and a PS blue oxford shirt. Worn here with Nudie jeans and a pair of Viberg Service boots. Topped off with PS cashmere watch cap.
I think PS readers might recognise how this outfit is influenced by Simon's 'Weekend Capsule wardrobe' article. At heart it's very casual but dressed up by the Donegal coat.
The Donegal is really flexible and works with so many other things. Popping the collar and fastening the second button frames the face so well, and lets the rest of the coat flow in a satisfying way as you walk. It's so interesting to see it in photography as it can look like a textured grey, but I can assure you that the black and cream, with lovely coloured flecks, are very dominant and it doesn't 'feel' grey at all.
I find a plain grey sweatshirt is a really flexible basic and sits nicely in the background, allowing other parts of the outfit to do the talking. The mid-blue wash of the jeans adds to the casual nature of this outfit, and I bought these Nudie jeans to pair with the many navy tops I have, from shetland sweaters to hoodies.
I have several PS watch caps and over the winter it's rare to have a day when they don't get an outing. Rugged yet refined, they a have very strong appeal to me and my wardrobe.
How have you found the Vibergs?
I was Inspired by Simon's article featuring them, and it was quite an investment as they are easily the most expensive footwear I own. I really do like them though and they have got a lot of wear over this last winter. I believe they are inspired by officers' boots and you can see this in that they manage to look somewhat low profile and 'refined' - for work boots.
One thing to note is that I originally ordered my usual size, UK8. These were long enough, but I found their low profile meant that the top was pressing too much on my forefoot. I sized up to a UK9 and they are now spot on.
What brands do you buy from that aren't typical PS ones? What do you like about them?
I have plenty of clothes that aren't typical PS ones. Brands such as Hugo Boss, Ted Baker, Reiss and Nudie for example. It's good to be able get the look you're after without going all out financially every time.
Outfit 3: Most casual
What's the final outfit?
My third outfit features a Soundman Brush Jacket (from Clutch Cafe) over a Real McCoy's 8HU chambray serviceman shirt. Paired with Blackhorse Lane chinos, the Vibergs again and finished with an obligatory PS watch cap.
It's my most relaxed outfit, the urban Ernest Shackleton.. I saw the Soundman brush jacket (mountain-smock style) on the lookbook of the Clutch website and pretty quicky decided I had to buy it. It's based on a Royal Air Force mountain-rescue smock from the '60s. My father was in an RAF mountain-rescue team in Cyprus back then and so its heritage has a lot of appeal to me.
I used to do a lot of hill walking in the past and this piece combines my interest in the outdoors and seeing clothing in terms of functionality and protection, with my more recent interest in the sartorial.
The Real McCoy's 8HU shirt continues the functional theme. Pure workwear-inspired reproduction and something the Japanese brand does so very well.
I really enjoy my Blackhorse Lane chinos and it's great to be temped out of jeans and get some variety in my wardrobe. It's entirely accidental but this outfit owes a lot to Japan. The jacket and shirt are made in Japan and the chino cloth is woven in Japan.
What other hobbies do you have?
Thinking about it now, this has a clear influence on what I wear. I've dabbled with rock climbing and mountaineering as well as hill walking. I think this has fuelled my fascination with outerwear. Seeing clothing as protection from the elements - and if it's stylish too then so much the better.
Totally by accident I've ended up modelling too: I've now got agency representation in the UK and Germany. Obviously, this has me thinking about clothing and exposes me to new clothing. It also makes me a little more adventurous than I ordinarily would be, as I know the more flamboyant items I buy will generally be photoshoot friendly, which can help me get comfortable with them before using them in everyday life.
As a counterpoint, I also do some life modelling and so wear nothing at all. This is incredible for confidence. I always tell myself that if I can do this then what on earth can stop me in life? It's interesting to think that being the one naked person in a room full of clothed people gives me all the power, whereas in other situations we use clothes to boost our confidence and standing in society.
How did you first get into quality clothing?
I clearly remember the first time I came across PermanentStyle.com. I was looking to buy a double-breasted greatcoat as my first foray into quality clothing.
Simon's 'Tips on buying an overcoat' article was very influential and although I had no idea about brands at the time, I ended up buying a Crombie greatcoat for what I considered to be an eye watering amount of money. I opted for navy blue on the article's advice rather than the black I was considering, and am very glad I did so.
What's the biggest piece of advice you'd have for readers, after a few years of buying better clothes?
It's almost inevitable that you'll make mistakes along the way, and buy things you don't end up wearing. Don't be too hard on yourself when this happens - it's all part of the game. And there are plenty of avenues nowadays to sell unwanted clothes.
With clothes as in life it's good to push the boundaries sometimes. Try some things you like the look of but may take time to get used to. Otherwise, your boundaries slowly close in and it becomes increasingly difficult to escape.
Lastly, if you've decided that you're going to start building a wardrobe or refreshing one, you might want to consider starting off with an initial say three items (funds allowing) rather than just one. I've found that looking for just one piece can place too much pressure on that purchase, and you end up not buying anything at all. Buying a small selection takes the pressure off. After that you can take your time and enjoy building your wardrobe bit by bit.
I'd just like to take this opportunity to thank everyone for the interview and being featured, and shooting with Alex and Simon. Keep up the great work with Permanent Style, and all the very best for your future endeavours.
Andy is @andrew__sinclair on Instagram
Photography: Alex Natt @adnatt