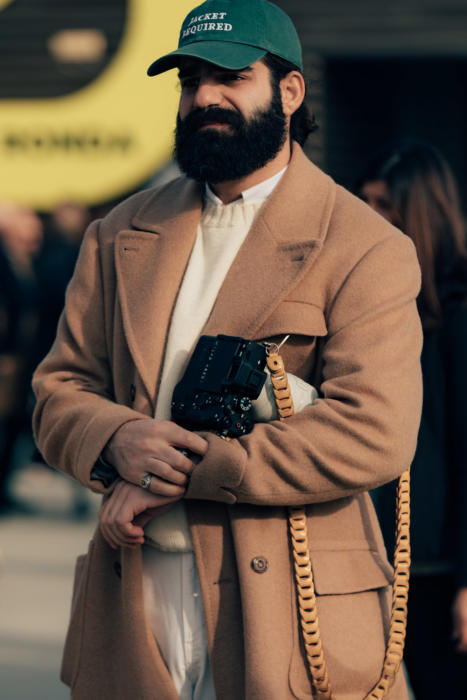 The photographer Milad Abedi is someone whose style I've liked for a long time, but in a quiet way. Whenever we've shot together I've been interested in what he's wearing and found something I liked, but he wasn't the first person I thought about for PS series like this.
That changed when we spent more time together on a trip to Rome last year, and talked more. Although we dress a little differently, we have very similar views on a lot of aspects of style. Milad just tends to push the boat out a little more, wants to experiment and isn't afraid to – even wants to – stand out.
As readers have commented, this is often a nice aspect of these 'How to dress like' articles. Unlike the Reader Profiles, the people featured are from the menswear industry. They often dress in more unusual, more unique ways. It's less likely you'd dress in the same way, but more likely that they'll suggest new ideas.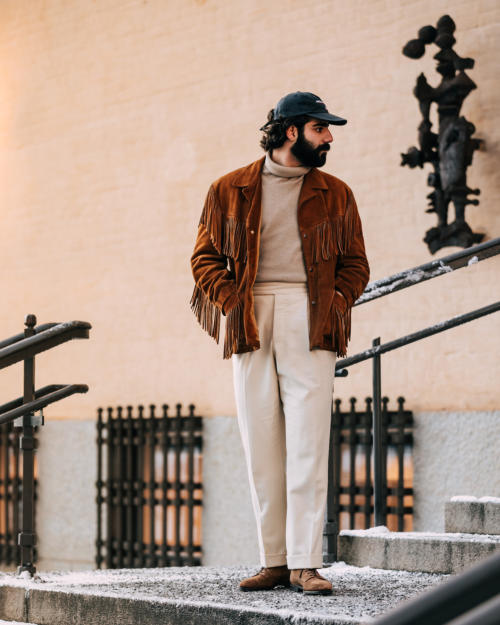 Outfit 1: Working unusual pieces
Ball cap: Vintage RL Polo Sport
Jacket: Vintage Schott NYC, Made in USA
Knitwear: Eidos honeycomb knit
Trousers: Bespoke from Zaremba, in heavy Fox Flannel
Boots: Barbanera
PS: This seems like a good example of your style to start with. Much of this pretty classic – the cream flannel, the suede jacket and boots – but you went for a fringed western jacket rather than something more conventional.
Milad: Yes, I tend to like more unusual and eccentric pieces of clothing like this. I think too often guys are scared and say things like 'I couldn't pull that off', but don't give them a chance. My attitude is I could wear almost anything if I can find the right way to do it.
For example, I saw Tony [Sylvester] with leopard-print Grecian slippers a while back. I don't necessarily dress like him, and I wouldn't wear them that way, but I liked them as individual pieces and I was sure I'd sfind ways to incorporate them into my wardrobe. They turned out to be one of my most used pair of shoes and I wear them with everything, from black tie to pyjamas at home.
Would you be limited by things like skin colour, or proportion?
Those would be my only limitations pretty much, and my usual starting point when deciding on new pieces, besides price! If a colour works on me, or if it has the right proportions for my kind of frame.
That was how I first got into classic menswear actually. Not because I wanted to dress up in a suit and tie, but because I wanted to find trousers that worked for my build – that didn't mean my thighs rubbed together and the crotch blew out.
So I discovered things like pleats, a full cut and a high rise, and It made a big difference. This further reinforced my thoughts about what good design is, and form following function.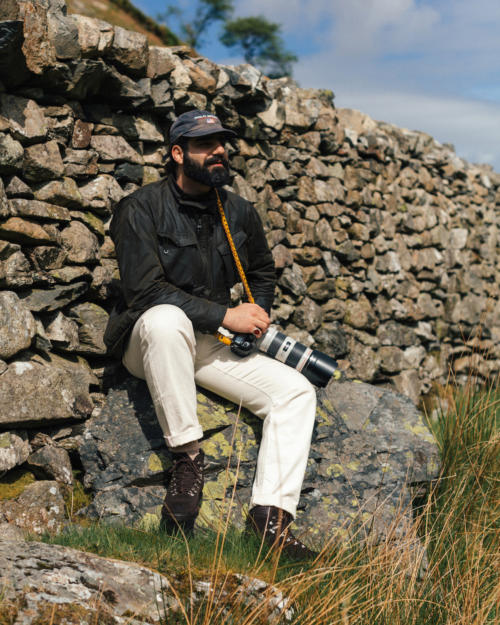 Outfit 2: Working
Ball cap: Vintage RL Polo Sport
Jacket: Private White VC wax Twin Track
Jeans: Cream selvedge Berg & Berg denim
Boots: Morjas
This shot was taken when you were on location shooting for Ralph Lauren. How much does your occupation shape what you wear?
A lot! I spend so much time travelling that clothes have to be versatile, and then I'll be shooting for a lot of the time, so they have to be somewhat practical. I do make sacrifices though.
Today I'm shooting with you but I'm wearing black-suede loafers, because I have a black-tie dinner on Wednesday – for this trip I needed shoes that could work for both.
I often find the key to packing well and quickly is colour palette – decide you're going to wear cream, black and camel during the week, and then everything in those colours work together. Or only take black or brown shoes, just in different styles for different occasions.
It's not all function though and I'm happy to wear less practical things if it makes me feel better about how I present myself. For example, today I'm wearing your camel overcoat from The Anthology, which isn't the most practical thing for shooting. But I don't mind if it gets on the ground a bit. I'll brush it down and like the signs of wear.
And on that shoot with Ralph Lauren, I remember someone noted I was shooting in white jeans, even lying down in the grass. But they're jeans – I'll wash them at 60 degrees when I get home and they'll be fine.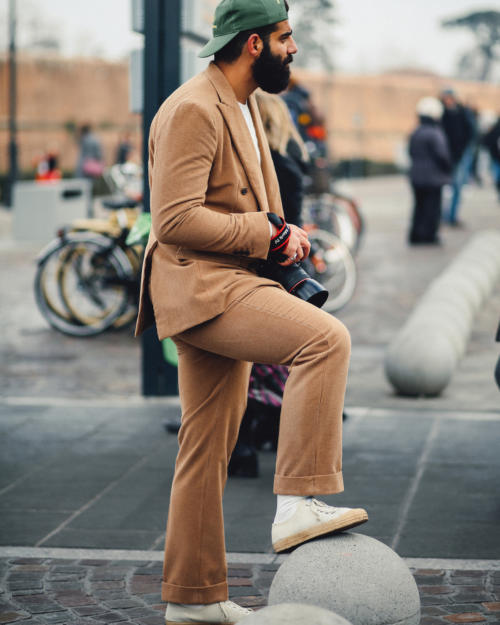 Outfit 3: Proportion
Ball cap: John Deere Merch
Suit: MTM Caruso
Knitwear: Berg & Berg
Shoes: Novesta
I know comfort is important to you too – is that driven by what you do, or is it more a personal preference?
It's a combination of both, and it's only a realisation I've come to over time. There was a time when I was wearing those close-fitting suits, which look fine when you're standing in a mirror, not moving. Like a mannequin in a window with the jacket pinned at the back.
But it doesn't work when you want to do something. I like the outfit above, but the suit is a good example: it was too tight in the sleeves and the thighs and the only reason it worked was because of the soft fabric. I'm bending my arm a lot when I work, and I don't want to have to repress the sleeves every day. In fact, feeling fabric resistance around my forearms when moving is something I hate with a passion
But even if you're not a photographer, I think a bigger fit there is better. Sleeves for instance don't look big when they're by your side – an extra 2cm or 3cm doesn't make much of a difference in silhouette. But it does make it easier for you to live and move.
Do you think attitude to fit is changing?
100%! And of course, it's been different in the past too. If you look at those old Armani ads, the clothes do often look too big, a little boxy with a low button; but when someone's moving in them, they look amazing – the way they drape and flow.
Compare that to a tight suit in a 'modern' cut. It's fine when you're standing stock still, but as soon as you move it clings and rides up.
But you like that suit and outfit otherwise?
Absolutely, the colours are great, and that material was one Loro Piana did, a camel Gobi Gold I think, which had this great texture. They don't do it anymore unfortunately. A real shame, as it's the best cord I've seen and I would really love to have a version that fits properly.
Often texture and silhouette are the two things I look for in clothing, and I find most inspiring.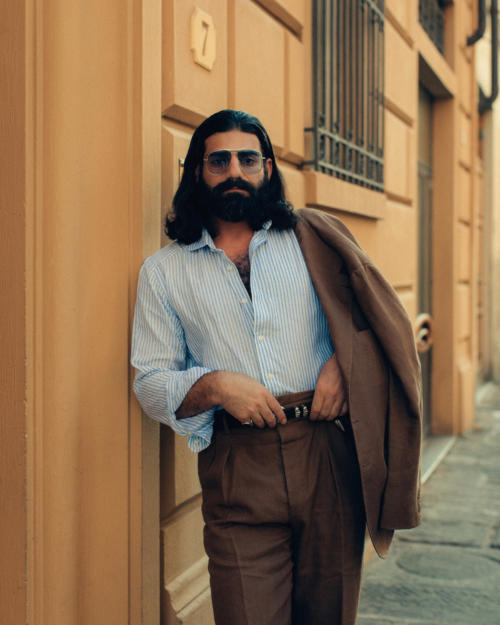 Outfit 4: Accessories
Sunglasses: Vintage Tom Ford
Suit: Bespoke, The Anthology
Shirt: Eton
Belt: Silver Ostrich
This feels like a good example of something which would not be unusual, were it not for the little things you've put it with – the sunglasses and the belt.
That's fair. They're high-waisted Hollywood trousers, but otherwise it's just a brown suit and blue-striped shirt. The glasses and the western belt are the more eccentric additions.
It's easiest to do this with outerwear and accessories of course – things at the edges that you can swap around. And I'm never going to wear full-on western clothing with a cowboy hat and everything else – it's too limiting. You become the guy in the cowboy hat. The point of playing around is to find what you like, rather than completely copying something else.
Do you think your hair and beard – and perhaps height – make it easier to wear unusual things?
Perhaps a little. I haven't always had them and it's possible to dress much more conservatively, but you can wear bigger frames like this for example more easily – the proportions are more in line. They do limit me a little though, the few times when I need to dress conservatively. I think it looks a little off with a navy business suit and tie for example.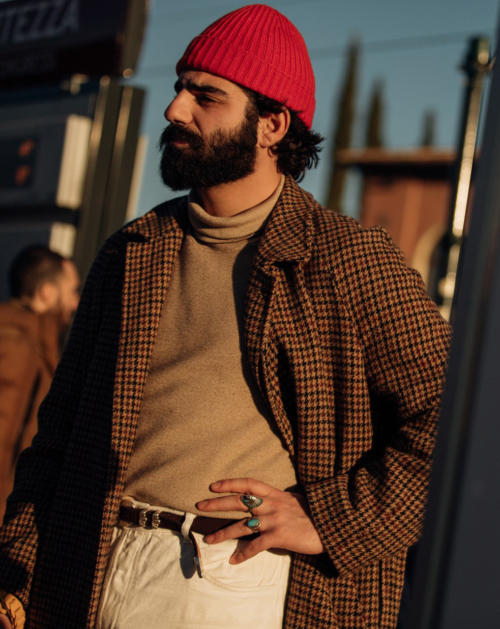 Outfit 5: Black and brown
Beanie: Berg & Berg
Knitear: Eidos honeycomb knit
Coat: Berg & Berg
Belt: Silver Ostrich Belts
Jeans: Berg & Berg
I see you wearing this coat a lot, why do you like it so much?
It's proven very versatile. It's a simple raglan, but the check has both brown and black so it works with brown and black shoes, which is obviously helpful. I've even worn it with black tie.
I struggle a little with roll necks like the one here – because of my beard they get pushed down. I need to find some good mock necks instead.
Just as we said at the beginning, the colour combinations and styles are pretty classic, but you've got little touches in there – the knit tucked into the jeans, the belt and rings, a bright beanie.
Yeah good point, and today with my polo coat I'm wearing the same beanie!
I think PS readers get quite quickly to the stage of dressing simply and well, but it's harder to give advice on being experimental and expressing yourself. What would you say?
I think just try things, that's the only way. If you like a piece invest in it, and workshop an outfit. Men are mostly the same, if they get some validation – from a girlfriend or a compliment from someone they meet – it will give them a lot of confidence.
Realistically, that's helped me over the years. I find myself in places where I get a lot of validation from people who I look up to, other creatives or stylists. It helps a lot – and of course, makes it easier to not give a f**k about criticism!