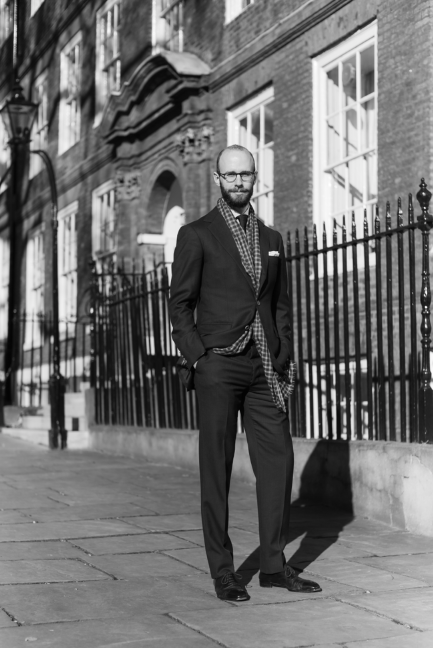 Everything seems to be happening at once at the moment. Next week the Permanent Style magazines should be here, which is probably the most exciting thing. On Monday we held our first Gathering dinner, which everyone seemed to really enjoy. And we're just doing a few last things (captions, end matter) on the Thames & Hudson book.
Thank you so much to everyone that has been a part of this journey over the past eight years. You guys tell me all the time how valuable Permanent Style is to you, but it's equally great having such engaged, enthusiastic visitors. Thank you.
The image above is an outtake from our shoot for the author's page of the T&H book. Unfortunately the style of that section is black and white, but perhaps it enables us to appreciate the line of the Cifonelli shoulder, lightly padded but finishing in that characteristic roping, and the attractiveness of a rather broader lapel. (Both of which, by the way, are things you can watch out for in RTW, or request from any tailor, not just Cifonelli.)
The items are all from the book itself: my navy Cifonelli suit; my first bespoke Cleverleys; a Kiton shirt, a Drake's tie and a Begg scarf.
Wearing a scarf like this under the lapels of a jacket adds a nice touch of texture and colour. It also emphasises the flattering lines of the jacket itself, in and out of the waist. Normally a scarf covers up a jacket, but this accentuates it.
Tying the scarf loosely just below the tie knot is also an effective look, and frames the shirt and tie nicely. But it does risk looking a little too put-together.