Last year I did a Christmas list around this time, collecting together some of my favourite things offered by the advertisers on Permanent Style. We don't do much to shout about these brands that fund everything on PS, so I thought nice to do so again.
First off is some luxury on the cheap(ish). William Abraham, maker of the most luxurious and expensive socks in the world, has been prototyping some new vicuna-cashmere socks (pictured above). The prototypes (perfect in every way) are available for PS readers for $125, rather than the original $425. Only in a (sock) size of 11 and 11.5, but if that's your size they're worth considering.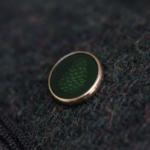 Among the nice things on the spanking new Drake's site, I'd pick out the pins – Mike's being wearing one around for a while and it's delicate and subtle.
If that's an unexpected selection for a tiemaker, equally surprising is the Simonnot-Godard handkerchiefs at Mes Chaussettes Rouges, which come in a fantastic range (grey is my favourite). Exquisite Trimmings is also the best source for Rubinacci ones.
And at The Merchant Fox, I've always loved their leather goods. Bridle leather and brass hardware, just like English accessories should be. Check out the wash roll.
At The Hanger Project I'll return to two previous recommendations: the laces, which I said were a great way to change the look of a shoe, and the Permanent Style 2015 book (still available!)
Edward Sexton has a small line of nice accessories, among which I have the gold collar pin – a key part of Edward's look, and they sell shirts with the appropriate collar as well.
I've always said that Alice Made This offers a great alternative to traditional cufflinks, and my favourites are the Alexander links in brass. Modernist look, precision-turned finish.
Equally ap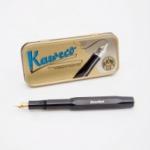 pealing in their simplicity are the Kaweco fountain pens at Trunk. Light, stylish and write incredibly well.
Viola Milano have recently relaunched their site and I'd pick out the white silks. White is not a common colour for a tie, but it is actually quite subtle and yet characterful. Wear with a blue shirt and navy suit.
Tom's friends at Pauw Mannen, meanwhile, have an amazing collection of luxury outerwear, everything from Attolini to Real McCoy's leather jackets.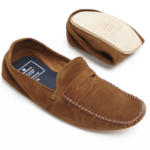 Further down the list, there are my Portegna slippers, which I wear every day, the Ruc Tote at J Panther, which again has worn very well, and my own Begg-collaboration scarves, which I have worn almost every day since we made them. They're just so practical!
What else? Private White is great for workwear or casual jackets made with that touch more design thinking, and better materials. Case in point: the waxed cotton jacket, like a Barbour but better.
It's been nice to welcome back a couple of old advertisers to the site recently. Dent's gloves, who advertised for several years previously (always buy the Heritage Collection, particularly cork peccary) and Lissom & Muster,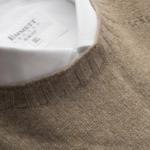 who have a good selection of slightly more unusual British products, like the Cherchbi bags and bridle accessories.
And last but not least, lovely to have Emmet on the site, particularly given how the knitwear and accessories are expanding. I'd point people towards the lambswool crewnecks, which are great value (£145) and come in nice biscuity colours.