The menswear merger: Sportswear and tailoring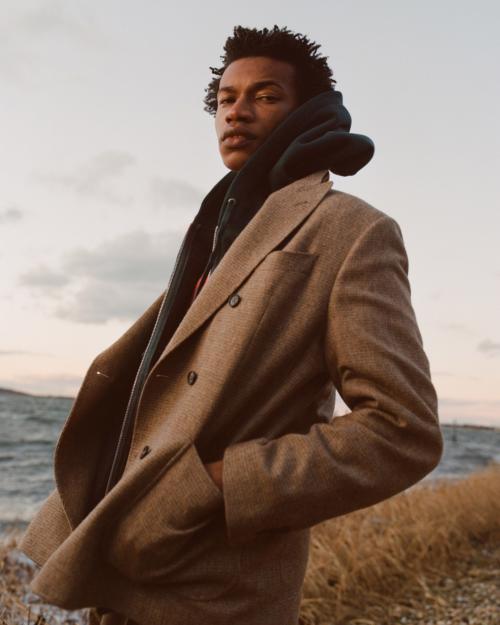 Sportswear brands are adding tailoring to their collections, perhaps as they feel a need to dress up after so many years of sneakers and sweatpants.
Tailoring brands - from the opposite direction - are incorporating more sportswear. This has been happening for a while, admittedly, but it's been accelerated by everyone WFH.
Some of the brands claim not to follow trends, but this clearly is one.
Scattered around this article are looks from Aimé Leon Dore, Noah, Drake's, Beige, L'Etiquette, Rowing Blazers and J Crew - and the thing that jumps out at you is that none of them jump out. They all look related.
Hoodies under tailored coats, sneakers with tailored trousers, blazers thrown over sweatshirts: they've all found pleasing contrast in this mix of high and low.
Compare the Aimé Leon Dore F/W 2020 lookbook to the sportier S/S '20 or A/W '19 to see the direction.
It's important to say early on that this is nothing new.
Mixing sportswear with tailoring was one of the most enduring legacies of Ivy style. The first really innovative designer in menswear - Armani - was fascinated by the combination. Ralph Lauren Polo has done it for years, and it was a big feature of Rugby. You see it every day in high-street brands like Jack Wills.
But that doesn't stop it from being a trend today - and it's a significant one when so many brands that are seen as being new and exciting in menswear are working it.
I don't wear the look as much as friends I know, so I asked them for their views first before reaching my own. (Always good to start open-minded, in art as in life.)
Jamie Ferguson reflected on why the mix-up has been so popular: "There's been blending of styles before, but I think these are probably the two most extreme points - as in opposite to one another - that your average guy on the street can still look at and think 'yeah I can wear that'. It's not too off putting."
Jeremy Kirkland and John Reuter at the podcast Blamo! have been chatting about this for a while. John reflects: "So many menswear and street brands are becoming remarkably similar - so much so that at times all their images and styling could be part of the same lookbook.
"And here's the thing: I'm totally here for it. I love the mixes of classic clothes that feel new and like they've always been around. They remind me of the tailoring/sportswear mixes you could find a young Alan Flusser in (subtler than the bolder cross-genre mixes he enjoys today).
"Folks are dressing down tailoring and dressing up streetwear, and whichever direction they come from it gives them new brands to choose from."
Jamie adds a practical point I hadn't considered: "The veering away from the slim look that dominated the early and mid 00's means that bulkier sportswear items like rugby shirts, hoodies etc can now be worn under a raglan sleeve coat or blazer. There's room for it all."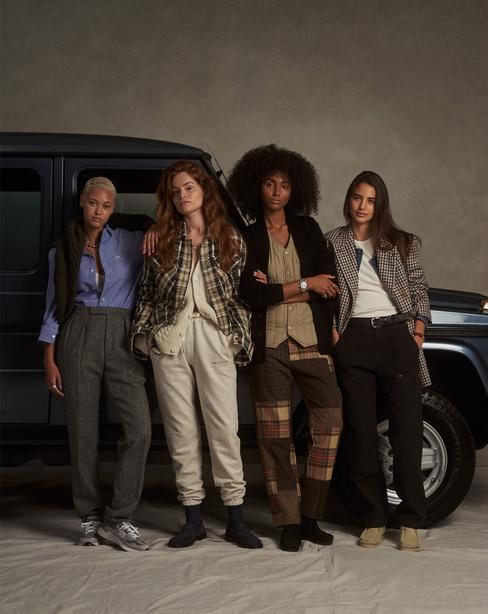 I'm a little conflicted as to whether this is a good thing. On the one hand I love the fact that younger streetwear brands are embracing tailoring, and telling a new generation about the pleasures of a tweed jacket or a camelhair coat.
But I also think it's a shame that Drake's isn't putting out the same style as it was 10 years ago, because I loved that style. It was more about how old-English style could be creative and contemporary, rather than how it combined with streetwear.
This is, inevitably, very personal. My style is more understated, with only single items of sportswear used for high/low contrast, and then only occasionally. Examples include the hoodie with a PS trench coat, and a baseball cap with a tweed jacket (both below).
For how I dress, this is simply using sportswear in the same way I'd work in items from other traditions, such as a Western shirt under a tailored jacket, or a military parka instead of a coat.
I do love mixing sportswear and tailoring in whole looks, but with more refined and vintage-inspired clothing. This is the 'casual chic' that I've written about a few times in the past year, and which I continue to be obsessed.
For me, there's particular pleasure in the artful use of a polo under a crewneck sweater, instead of the more standard shirt. Or a slim, well-made deck shoe and full-bodied knit with tailored trousers.
There are images of these below, featuring Saman Amel and Stoffa. These, along with Rubato and Adret, are the brands that embody this lower-contrast merging of tailoring and sportswear that I like.
Still, I think it says something about my attitude to clothing that I still find these images of Aimé Leon Dore, Drake's and Noah both beautiful and inspiring. If you're actually interested in clothes, I don't think your interest can ever be limited to just things you would wear yourself.
Plus, this open-mindedness can lead to unexpected inspiration. For example, the image below from Drake's makes me think my grey Loopwheeler hoodie would look nice under my Anthology polo coat, even though I'd never wear matching sweatpants.
The second - easy, chatty, great-feeling - shot from Aimé Leon Dore makes me want to try white jeans with grey knitwear and beige outwear. Plus a cap. I'd wear Alden LHS loafers, but it would have a similar feel.
And the third, perhaps the most unlikely, makes me think how great grey trousers would be in a wool that was much hardier than flannel. I wouldn't wear it with a vest of course, but with a T-shirt or knitted polo, maybe.
I've said it so many times before, but people seem to forget just as often: you don't have to copy whole looks, or even any individual pieces. Just take it all in. Inspiration can come from anywhere.
One thing that should be noted about these high/low combinations is that they are inherently risky.
They are instinctively attractive, and the pay-off can be big if you're after a high-impact look. But it's also easy to get them wrong: either forgetting that you don't look like the model in the picture, or that your clothes are slightly (but significantly) different.
I think this is particularly true of looks where everything is very loose and slouchy - the jacket hanging off, the trousers puddled on the top of shoes. It takes both awareness and attitude to pull that off.
But none of that stops me finding these images inspiring. There's simply nothing more stimulating than someone with both taste and talent bringing their perspective to something you love.
Plus, it's been easy to feel in recent years that tailoring has been slipping off the radar. It's great to see people like Aimé Leon Dore bringing it back.
The images are taken from the following lookbooks. Do shout if there are any others you'd recommend: