Carreducker remote-fitted bespoke boots: Review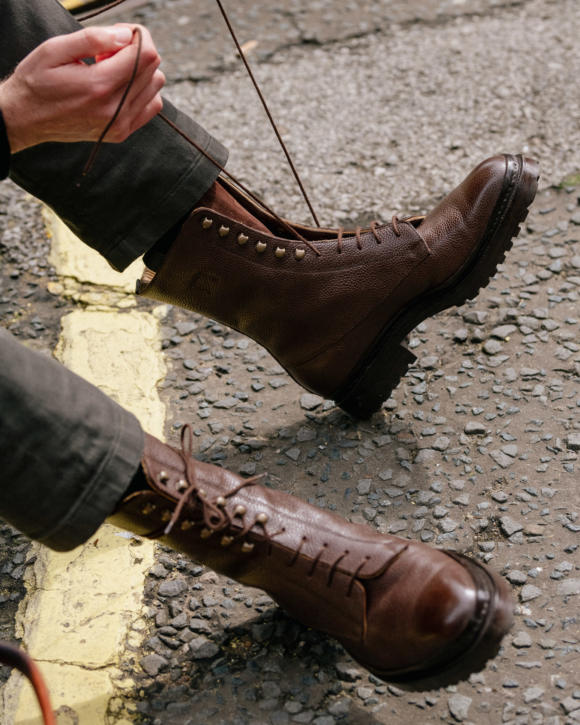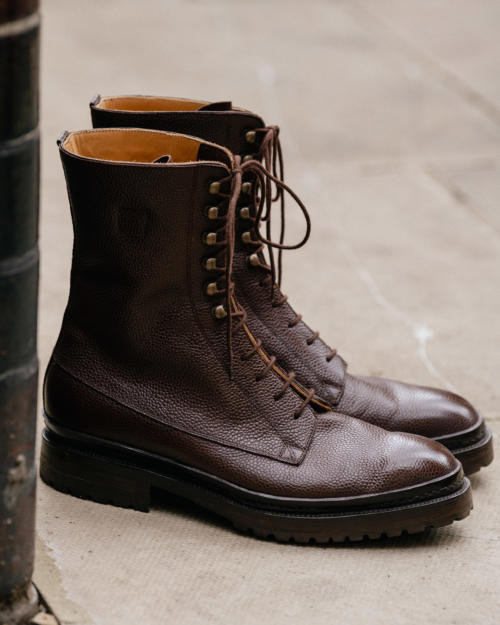 I think when craftsmen are doing remote fittings, they err on the safe side.
That's one consistency I can draw from my online bespoke over the past year.
Whether it's with WW Chan, Massura or Ferdinando Caraceni in tailoring, Carreducker, Carlino or Petru & Claymoor in shoemaking, or Stoffa in shirtmaking, they all seem to have stayed conservative.
In many ways that's understandable. After all, with most clothes it's easier to take them in than to take them out. Certainly with shirts and knitwear, and with shoes it's easier to add an insole that it is to start stretching the upper.
My 'bespoke manufactured' boots from Carreducker, recently received and pictured here, are really lovely, and the only fit issue is a similar, slight roominess.
With a thicker sock, they're perfect. There's enough room to wiggle my toes around, and the heel is held firmly in place.
Avoiding heel slippage was the biggest challenge of the fitting, as my slim ankles mean the boot had to be cut quite close - but couldn't be uncomfortable.
When I first got the boots I was worried the fit was much too loose, as the heel was slipping. But that turned out to be largely down to the stiff sole. Once that softened up a little - after a handful of walks - it stayed snugly in place.
I will wear the boots with thicker socks in the Winter, so the fit might be fine as it is. And they're fantastically comfortable with a chunky cotton sock, and then all that quality calf and suede surrounding the foot on the inside.
Realistically, though, I haven't worn the boots enough to tell. And if I do need them smaller, it's simple to add an insole. I'll make a decision when the weather turns cold again.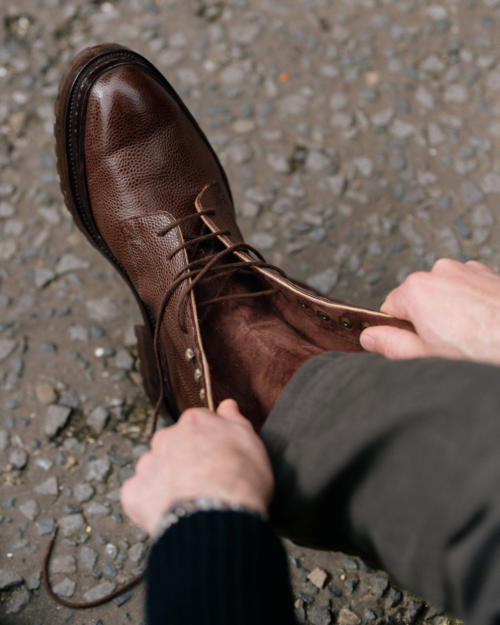 I mentioned suede surrounding the foot - that's the long, bellowed tongue that runs up the front, and might even be my favourite part of the boot.
It's very fine and soft, in contrast to the tough and rugged make elsewhere. And it's lovely feeling that fold around the foot as you lace them up.
Some of my Edward Green boots have that feature as well, and it's similarly pleasing. With the Carreducker boots it's exaggerated because the tongue is so long. A bit like enjoying more material in an extra-long overcoat.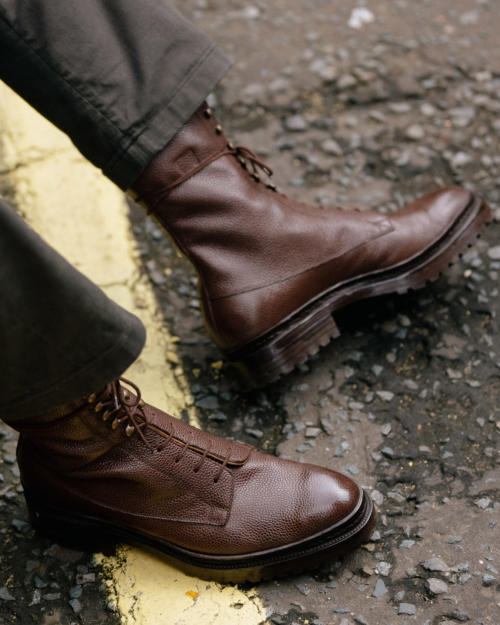 My initial reaction when I received the boots was surprise at how chunky they looked.
This is down to two things: the thickness of the sole and the height of the storm welt. The two build on each other, creating a tall dark barrier between the upper and the ground.
The sole is the same thickness as the example I picked, but appears thicker because I chose a dark rather than mid-brown edge. The storm welt, however, is definitely taller.
This I hadn't seen during the fitting process, as the welt wasn't attached, and James says he tried it as a style point that could easily be reduced later. As the stitching as it at the bottom, it's fairly simple to cut off a strip from the top.
I quite like the welt height though.
It's certainly not disproportionate to the rest of the boot, given its height. And it looks practical and only a touch unusual.
Still, I might have to trim it a little for another reason, which is that when I wear the boots there is a small gap in places between the top of the welt and the upper. This undermines the water resistance rather, as rain would get into that gap.
James had foreseen this might be a problem, but until the wearer has their foot in the boot and so pushes the upper out, it's impossible to know whether that will close the gap. Mine doesn't, quite.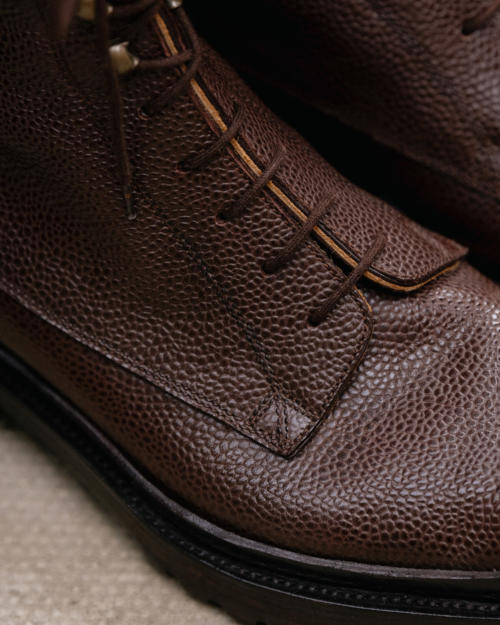 In places, even with thick socks on, the boots do lace up completely, with no gap between the facings on either side.
This is normally something you want to avoid, because as the leather softens with wear, those facings will want to go a little closer to maintain the same fit.
But actually, I find this happens much less with bespoke shoes than with ready-made.
The reason, another bespoke maker told me, is that a RTW shoe never fits precisely and so has little gaps in places between the foot and the shoe. It is these that close up as the upper softens and fits more closely to the foot.
A bespoke shoe should fit more closely, and so doesn't have these little gaps. Hence less change to the lacing over time.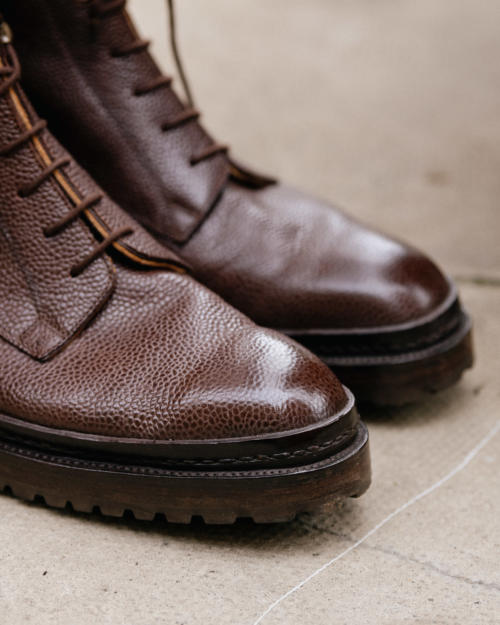 The Carreducker boots are generally well made. The only thing I would pick up is the stitching along the storm welt, which in one or two places could be more precise.
James held his hands up to this, and agreed it could be straighter. Going through the welt and the upper like this is not easy, and with handwork some variation is inevitable. But it's still something that could have been better.
It's also worth bearing in mind that Carreducker's style is not the same as other, finer and dressier makers. While not necessarily excusing that welt stitching, James's aesthetic is generally of a functional, strong shoe, more akin to his former employer John Lobb than say Daniel Wegan or Yohei Fukuda.
A comparison with those makers on making points wouldn't be fair.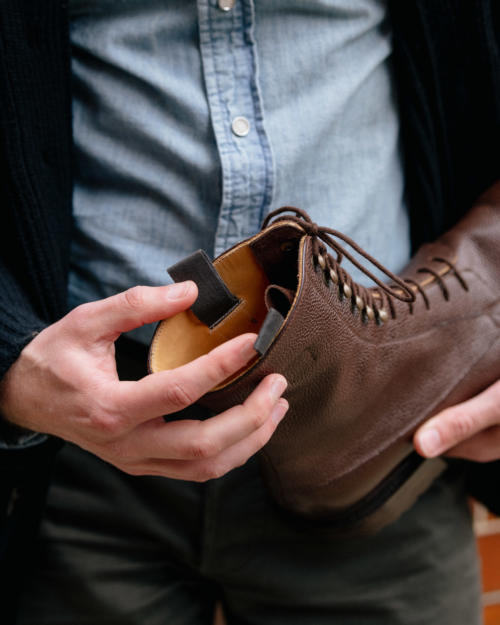 The boots were made under what Carreducker calls its 'Bespoke Manufactured' system. They are bespoke in every way, except that the sole is sewn by machine.
They were also measured and fitted remotely - James and I did not meet face to face - and they were my first pair of shoes from Carreducker. There was no existing last.
It's worth repeating that the fit was good, and particularly good given this remote process.
You can read more about these approaches from Carreducker, as well as many others they offer, on our introductory article here.
These boots cost £660 for the lasts (a one-off cost), £1745 for the make, and an extra £200 for being boots (more materials, more work). Total £2605 (including VAT).
The olive-green chinos are from Blackhorse Lane. On which more soon.
Photography: Alex Natt @adnatt