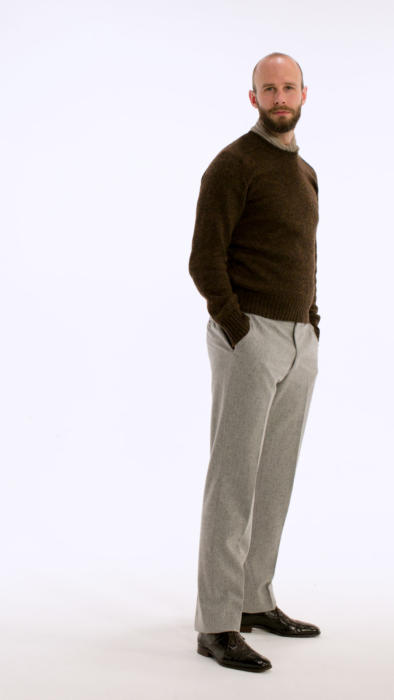 There are just 19 of our cashmere squares left – the beautiful collaboration we started a few weeks ago with Begg & Co. The colours have sold pretty evenly, with 9 navy and 10 'natural' (pictured above) remaining.
The squares are likely to go into Begg's full collection, but won't be available through retailers until next Autumn/Winter, so this is your last chance to get them until the end of 2016.
More details on the squares in the original post – as well as a piece on how to wear them. They can be bought on Begg's website here.

These pictures are from a video Begg and I have put together on how to wear a scarf.
The natural-coloured square is worn with a brown shetland sweater (from the Anderson & Sheppard haberdashery), light-grey flannel trousers (bespoke from Hardy Amies) and dark-brown alligator shoes (Gaziano & Girling).

I love pale-grey flannels. They might be the most versatile colour of trouser around, going with pretty every colour imaginable, including the kind of greyed or mid-tone colours that sometimes struggle with a classic mid-grey flannel.
In that way they are a modern alternative to cream – which was one of the most popular colours of casual trouser in the 1930s and 1940s. Both derive their versatility from their paleness and lack of saturation, but pale grey feels rather more modern.