Naples has the biggest concentration of high-end handmade menswear in the world.
Although not so much for shoes, for tailoring and shirtmaking this is the motherlode, with hundreds of tailors in the city and surrounding region, and thousands working in small factories or busily hand-sewing at home.
You come here for bespoke, not for shopping.
But there are still a few shops worth visiting, and we highlight them here alongside some groupings of the best tailors and shirtmakers.
Many readers will visit Naples at some point, for a fitting or just to see the atelier of the tailor they've been using for years – and give some context to those beautiful suits they wear every day.
So we include some of those we particularly like, alongside the handful of shops.
Please do bear in mind that there is no way to include all of those bespoke artisans – and that is not the role of this list. The bespoke listings below are necessarily partial and subjective.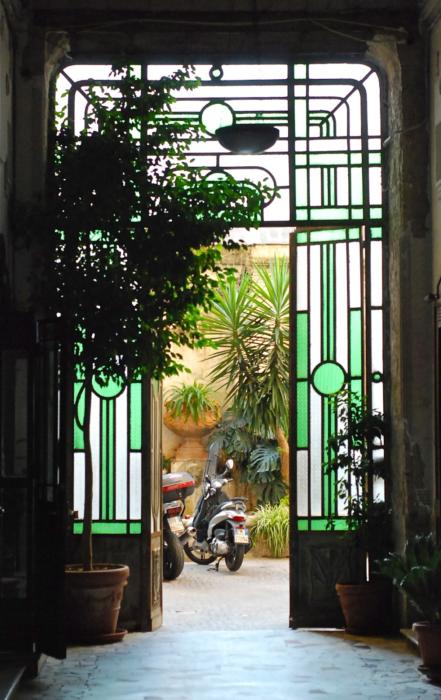 1 Rubinacci
Via Chiaia, 149
Historically the biggest tailoring house in Naples, and the place so many other greats have sprung from.
Rubinacci moved a few years ago from its old, curved-front shop into a much bigger space up on the hill. Here it looks down impressively on Via Chiaia, although the elevated position can also mean it is easier to miss.
There is a large, deep shop selling both Rubinacci ready two wear and a variety of accessories, and a bespoke space at the back with many bolts on display. If you can, try to also see the cloth archive, which is stored in an actual bank vault.
2 E Marinella
Riviera di Chiaia, 287
Perhaps the most famous shop in Naples, Marinella is shockingly small.
There is just about enough room for two people to come in, browse the ties that are stacked unceremoniously in plastic sleeves on the tables, buy one and leave.
Various Rubinacci spin-offs are also available around the shop, and upstairs, but is the ties and the charm of the tiny boutique that people come for.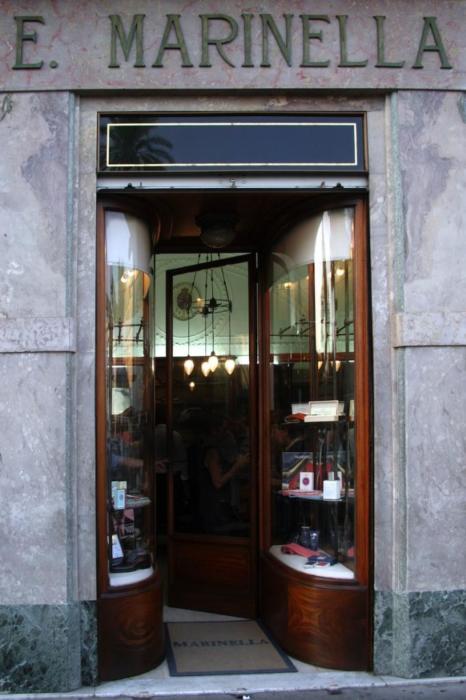 3 E&G Capelli
Via Cavallerizza, 37
The other internationally known Neapolitan tiemaker is bigger, but harder to find.
E&G Cappelli has its shop (and workshop) in the gated square at 37 Via Cavallerizza. You'll have to ring to get through the gate, though there is also the advantage that, once inside, you can also visit Sartoria Formosa – tailoring or shirts – on other sides of the square.
A tie brand that has recently opened a shop, and is worth a visit given how close and central it is, is Ulturale on Via Carlo Poerio
4 Barbarulo
Piazza Amedeo, 16/i – Passeggiata Colonna
Jewellery has been in the Barbarulo family for four generations, although they have gone through various retail strategies: the founder was a goldsmith, current owner Cristiano's father moved the shop to Capri and sold vintage jewellery.
Cristiano opened the new shop, in a lovely arcade next to Piazza Amedeo, in 2012. His international website is called Gemellidapolso (the Italian for cufflinks) but there are also pins, chains and other jewellery for sale.
Cristiano has also brought more of the craftsmanship from outside Naples into the studio, which is nice to see.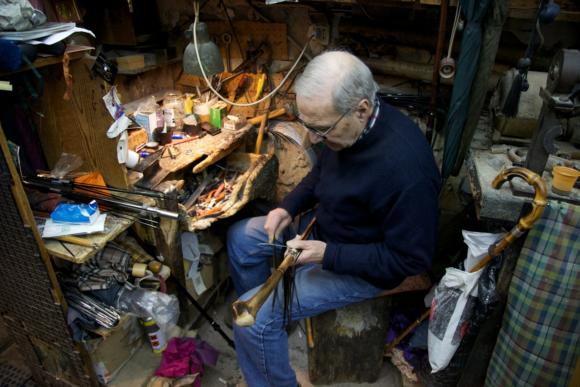 5 Mario Talarico
Vico Due Porte a Toledo, 4/B
Talarico makes some beautiful umbrellas in a tiny and ancient workshop off Via Toledo. He also offers some cheap brollies, but move those aside and look out for the solid sticks in chestnut or cherry wood, with hand-sewn canopies.
Mario Sr will likely be sat at his desk, which has been worn down so much it looks like a shark has taken a huge bite out of the top. And Mario Jr should be at the counter, tying on the little strips of silk or cotton that bind the umbrella's ribs.
A worthy souvenir of Naples.
6 Caccioppoli
Via Antonio Ciccone 8
There used to be dozens of cloth merchants in Naples, importing and stocking cloth from Biella and Huddersfield for all the tailors around the city. Today there is one: Caccioppoli.
The Caccioppoli office in the east end of Naples has a lovely atmosphere to it, with three floors covering most of the city block. Customers cannot buy cloth directly in the shop, but it is worth a visit to see the latest season's collections in full bolts, before ordering from a tailor, as well as to see the building itself.
7 Camiceria Piccolo
Via Chiaia 41
Far, far smaller than Caccioppoli, but worth a visit. Piccolo (not to be confused with shirtmaker Salvatore Piccolo) is a small shirtings shop just off Via Chiaia in the centre of town.
The range of shirtings is good, if not extraordinary. There are few rare or unusual bolts you won't find elsewhere (in contrast to, say, the Charvet range in Paris), but actual shops with shirtings on display in this volume are few and far between. Take the opportunity to reconsider shirt cloths, their textures and weaves.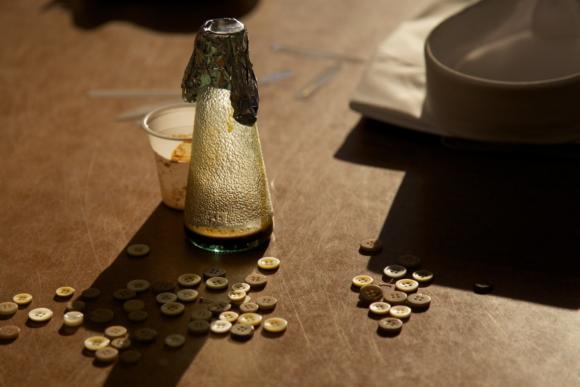 8 Milord, Mister Fox, Gutteridge etc
Visitors to Naples with an interest in classic menswear will welcome the number of small shops offering brands such as Incotex, Boglioli and other Italian smart/casual labels. There are no more than other large Italian cities, such as Rome and Milan, but far more than in the UK, US or Asia.
Most of these are relatively cheap or a little outdated – Mister Fox and Milord, on either side of Via Cavallerizza, are examples of each. But they can be interesting to pop into (even chains such as Gutteridge) on the lookout for a nice tie or chino.
9 Sartoria Melina, Sartoria Rifugio
www.alfredorifugio.com, Pompeii
@sartoriamelinanapoli, Serano
As you might expect among the hundreds of tailors in Naples, there are a few that specialise in leather work – either making for brands, for tailors, under their name, or all three.
The biggest and best-known of these is Sartoria Rifugio, and last year one of the top makers branched out on her own to found Sartoria Melina (which only does bespoke, fully handmade work).
Both produce a lightweight leather or suede jacket with no canvas, just a small shoulder pad and a thin layer of fusing. The handwork is beautiful, and the nubuck calfskin a particularly nice choice of skin.
Both are some way out of town and require appointments. Rifugio also has showrooms in Milan, New York and Palm Beach.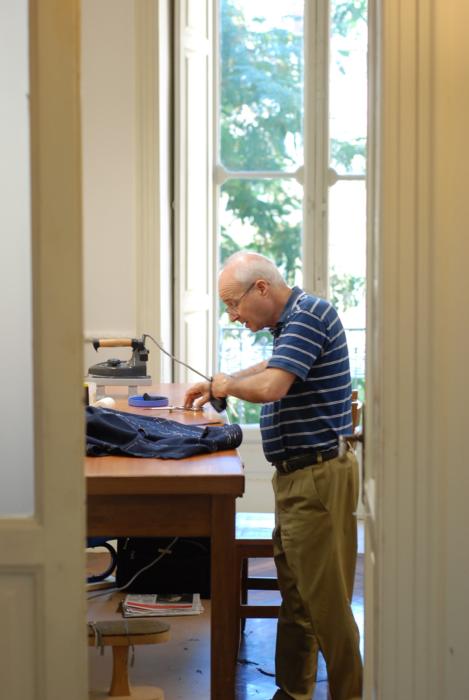 10 Tailors, big and small
Some of the great names of Neapolitan tailoring, such as Antonios Panico and Pascariello, Gennaro Solito and Gigi Dalcuore, are still around and working – and worth a visit if you can.
Of course, it's a lot easier if you are having something made, and commissioning a suit in Naples remains very good value for money (although it would require several return trips unless that tailor also travels).
The ateliers of the tailors are often steeped in history, with various awards and certificates of recognition on the walls. Places like Panico or Ciardi also have tailoring accessories such as old irons, and paintings on the walls that make the place feel more like a home than a shop.
Which of course, is exactly how they want it.
Smaller or younger tailors are more likely to travel, and among these it's worth seeking out Ettore de Cesare up in Vomero, and Elia Caliendo in the centre of town. Dalcuore also travels widely.
11 Trouser makers: Cerrato, Ambrosi etc
@cerratomarco, Via Emanuele De Deo 4
Ambrosi-napoli.tumblr.com, Via Chiaia 184
There are two young and dynamic men at the head of two of the trouser makers in Naples: Cerrato and Ambrosi. Ambrosi has become particularly well known around the world, both for bespoke and ready-to-wear, with Cerrato only starting to travel recently.
Both make great trousers, and generally offer a higher level of make under their own name than in those they make for the city's tailors. More bar tacks, more pick stitching.
Both are very welcoming and close by, Ambrosi on Chiaia and Cerrato on Toledo.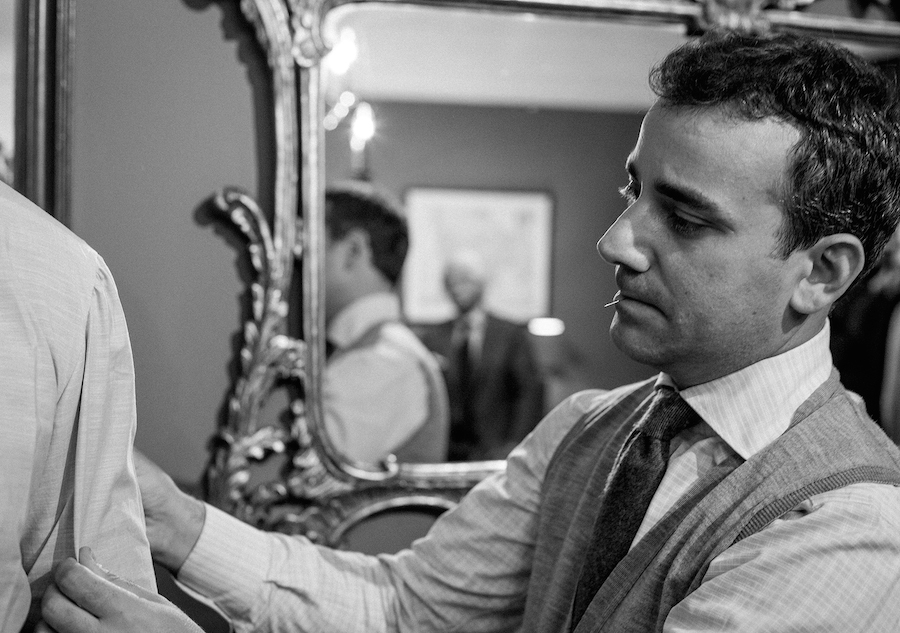 12 Shirt makers: Luca Avitabile, Anna Matuozzo, D'Avino
www.lucavitabile.it, Via Toledo 256
Anna-matuozzo.tumblr.com, Viale Antonio Gramsci 26
Davinoshirt.tumblr.com, Via Marigliano 72, 80049 Somma Vesuviana
There are a lot of shirtmakers in Naples, most of which are open to visits but tend not to have ateliers with the same history and atmosphere as the great tailors.
One worth highlighting is Luca Avitabile, who has built up a big international business for his bespoke and readymade polo shirts (designed with Permanent Style). In 2017 he also opened a large office on Via Toledo (same building as Solito) which is modern and welcoming. Lovely view down the long shopping street of Toledo.
Anna Matuozzo is more famous and uses more handwork in her shirts. Outside of town, meanwhile, is D'Avino bespoke (not to be confused with Avino, which does both ready-made and bespoke). If you fancy travelling out to the suburbs, the D'Avino atelier is a nice place to visit and is surrounded by the likes of Attolini and Borrelli, as well as many women finishing shirts at home.