(The book version of this series is going to press now, and will be out in a couple of months. It will feature extra content and tailors not included online. More on that soon.)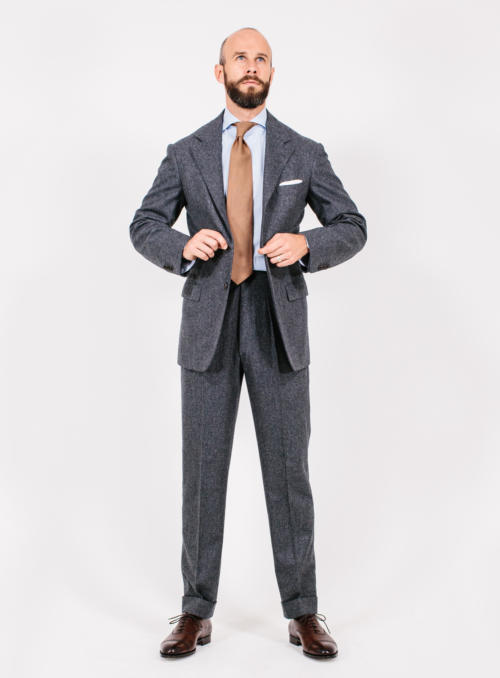 Sartoria Panico is known as one of the more traditional Neapolitan tailors. Which means a soft make, but not an overly tight or short cut.
As we'll see as we go through the dimensions on this suit, that's broadly true. The shoulder padding and chest canvas are light, while the shoulders are wider and the back straighter than most other Neapolitans.
But there are little idiosyncrasies in there too. The low gorge and high roll on the lapel, for instance, which both make that lapel rather small. Or the fact the jacket is actually fairly short, but looks bigger because of those shoulders, chest and back.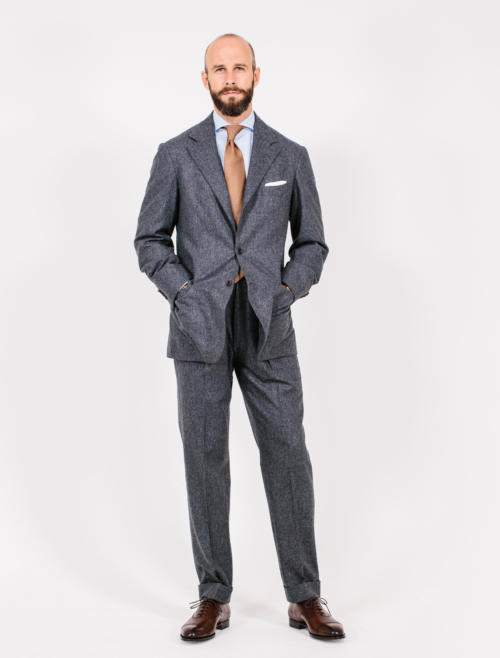 House: Sartoria Panico
Address: Via Giosuè Carducci 29, Naples

Site: www.sartoriapanico.it
Cutter: Antonio Panico

Price of suit (at time of writing): €3200 (incl VAT)
This suit was made for me fairly recently, in 2017, with measurements and a fitting in Naples, plus two fittings in Florence during Pitti Uomo. Panico doesn't travel much outside Italy, and not regularly to either the US or UK.
As with most of my tailoring, and certainly all featured in this series, I asked Antonio to cut his house style, with only the occasional interjection from me.
However, he was keen to make me what he considered to be an 'English' suit, particularly given I had selected a grey-flannel cloth. So this meant a couple of style points he wouldn't normally do, like forward-facing pleats and high-waisted trousers. And one point in the making: two darts in the front on either side, but no seam (so nothing running down below the hip pockets).
This last point is interesting, as it's a variation rarely seen today. Florentine tailors like Liverano use just one dart; most English tailors use a dart and a seam, with the seam further back (creating a 'side body'); and Neapolitans also use a dart and a seam, but usually the other way around, with the seam further forward.
It's a small, technical point and hard to describe with comparative images. But perhaps worth a separate post some time.
I really like this suit and find its slightly wider shoulders (6¾ inches) combined with drape in the chest and back, rather flattering.
It's a combination I've only really found at Anderson & Sheppard among other bespoke tailors.
However, I do find that the jacket also has a definite roundness to it – really only visible when standing stock still, as above (and not when moving, as in the top photo), but definitely there.
This impression is created partly by those wider shoulders with real no roping at the ends, and by the drape in the chest.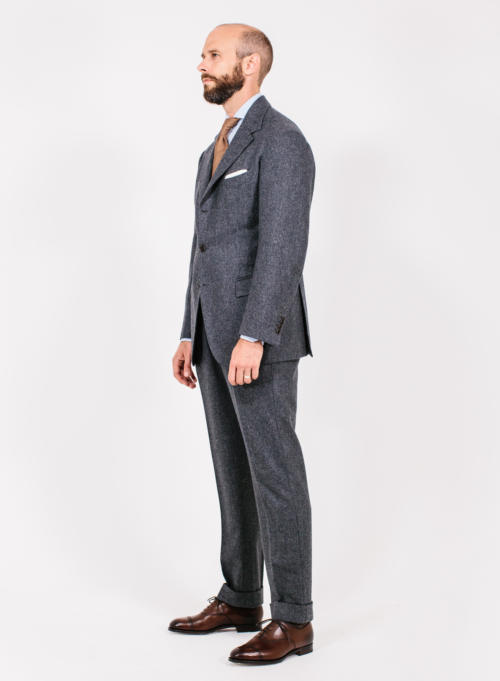 But it's exaggerated by the shape of the lapels. These are fairly wide (3¾ inches) and cut straight from the waist button.
That straight line, when folding outwards from the button, gives the impression of the lapel being convex, running out towards the shoulder (as with most Neapolitan jackets).
The lapel is also a little short, as a result of the relatively high buttoning point (18¾ inches) and relatively low gorge (4¼ inches). Together, they mean the lapel starts higher up, and finishes lower down.
The gorge line (along the top of the lapel) is also rather flat, adding to the impression of that notch shape pointing outwards rather than upwards.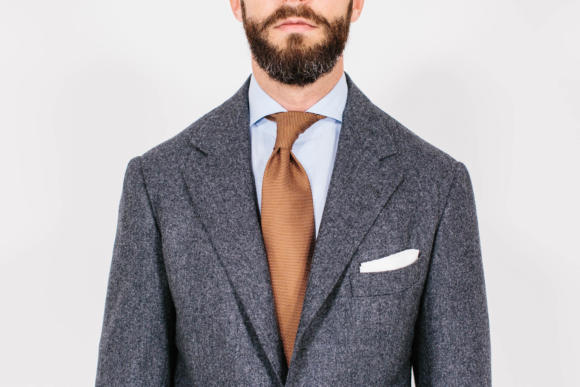 Other small things that make a difference are the fairly generous sleeve, and the slightly lower (and curved) breast pocket.
The opening of the fronts below the waist button helps too: the opening is not as big as with some Neapolitans (or indeed Anderson & Sheppard) but it starts early, from the waist button rather than the second button, and is rather curved.
Finally, the jacket is surprisingly short: only a quarter inch longer than the jacket we held out as the 'typical' younger Neapolitan cut, Solito.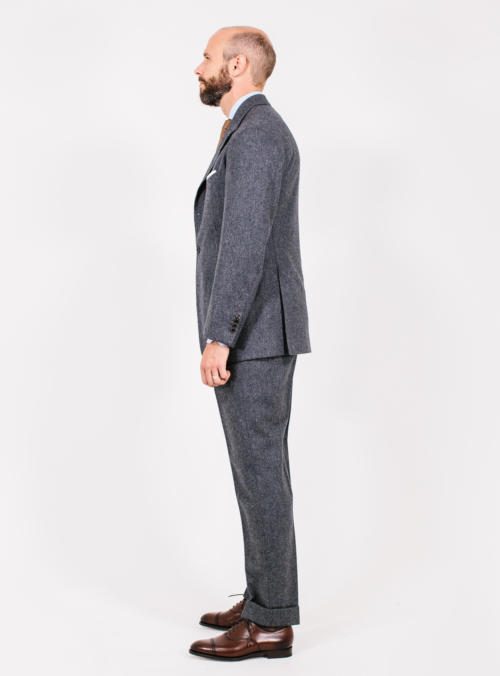 If this 'roundness' to the jacket is the most interesting aspect of the Panico cut, for me, then the most obvious point is its roominess.
As you can see in the image above, the back is very straight, with almost no suppression through the small of the back. This might be a little less flattering from that angle, but makes it extremely comfortable when combined with the drape above.
Also, it's significant that the waist is far more shaped.
If you look at the jacket from the front, it is quite suppressed through the waist. It fits as close as any other jacket there, and looks even slimmer because of the big shoulders and chest.
Yet if you pulled at the waist button, you would feel like there was lots of room – it wouldn't feel tight.
That's because there's room in the back instead, and it feels like a conscious decision to have the jacket cut like this, prioritising a flattering look from the front rather than the side.
I'll be interested to hear what readers think about this suit, now they've seen it broken down and shot from all angles.
It was very popular in the original review post, but that was in a glossy magazine production and setting. (See image below.)
I also rather feel that the reason it was so popular was the fact it had high-waisted trousers, worn with braces. This makes the legs look a lot longer and is flattering under a jacket.
But I don't normally wear trousers like this because I find them unflattering and rather antiquated without the jacket. More on that here.
The silk tie and handkerchief are from Anderson & Sheppard and the shoes from Edward Green, as throughout this series. The Edward Green model is the Berkeley in dark-oak antique.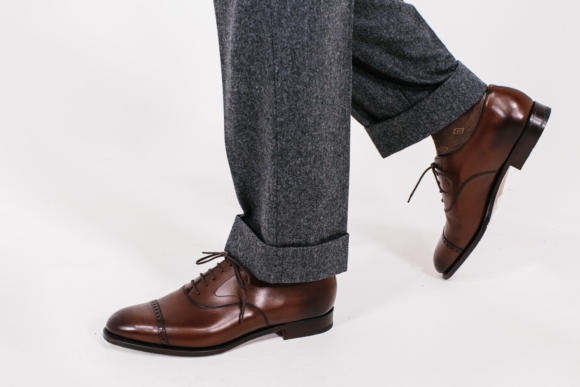 Style breakdown
Shoulder width: 6¾ inches
Shoulder padding: Light, just two pieces of domette
Sleevehead: Flat
Sleeve: Standard to roomy upper arm, taper from elbow
Cuff: 11¼ inches
Lapel: 3¾ inches, straight
Gorge height: 4¼ inches
Drape: Moderate
Outbreast pocket height: 10½ inches
Buttoning point: High, 18¾ inches
Waist suppression: Shaped
Quarters: Open, curve from buttoning point
Length: 30¾ inches
Back seam: Straight
Vent height: 9¾ inches
Trouser width at knee: 18¾ inches
Trouser width at cuff: 15¾ inches
Photography: Jamie Ferguson @jkf_man
The original review post, from which the image below is taken, is here.
What to know more about how Permanent Style is funded? Read here