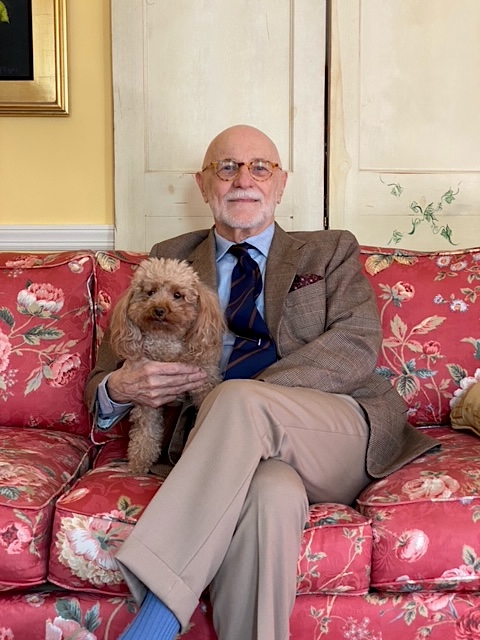 When Bruce read our article on Nicoletta Caraceni's 50-year-old jacket recently, he was spurred to send an example of his own: the Anderson & Sheppard jacket worn above.
And really, there are few people better placed to talk about how tailoring ages than Bruce. He's been buying bespoke on Savile Row and elsewhere for a little over 50 years, and for much of that time been paid to consider and write about it.
When he first started commissioning bespoke, however, Bruce was a long way from being an authority. He had only been travelling to London for a few years, and was feeling his way around the local tailors.
"I was a teacher when I first started visiting, and I didn't have a lot of money," he says. "I would buy one suit a year, perhaps two at the very most."
Bruce suggests that it was also cheaper to buy bespoke back then – with a good bespoke suit costing perhaps £500. Although an inflation calculator suggests that it depends a lot on which side this was of the 1970s, and how Savile Row responded at the time.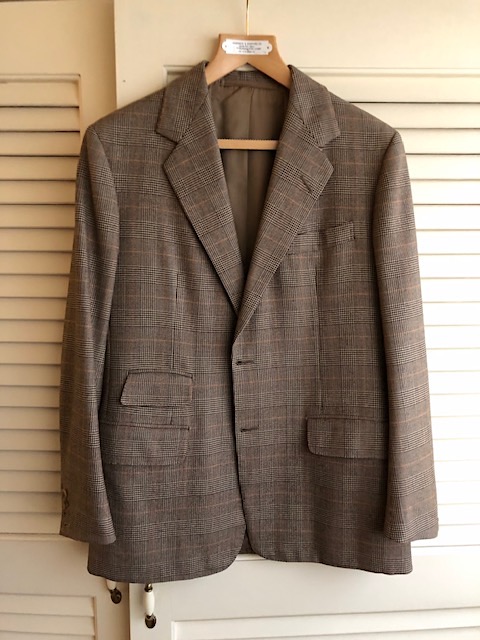 Still, this particular jacket has certainly proved its value. It was bought by Bruce a few years into his time at A&S, having decided to trade up to Savile Row after a previous tailor, Bernard Weatherill, passed on.
"I had used some of the cheaper tailors around town, and then Bailey & Weatherill for a few years, on Regent Street," he says. "I really liked what Mr Weatherill did, he was a real artist. He mentioned only in passing one day that he also made the suits for Patrick MacNee, from The Avengers, which put a real gloss on the experience for me.
"After Mr Weatherill passed away I moved to Anderson & Sheppard. I visited all of them to see what they did, but plumped for A&S because I liked their style – the combination of shape and softness. I find some tailors can do softness and some do shape, but few can do both. It also helped that they were a little cheaper."
Bruce – by this time a fashion editor for Town & Country magazine – summoned up the courage to go into A&S's corner shop, and was met by an exquisitely dressed Colin Harvey.
"The man was tall – certainly six foot, perhaps six two," remembers Bruce, "and very slim. He can't have weighed more than 170 pounds. Just the perfect figure for tailoring.
"He was one of my main mentors when it came to style. He had some dandy elements – a starched collar, satin ties – but the suit itself was always quite plain and simple.
"I remember I asked him once whether we should consider cuffs on the jacket. He smiled at me, thought for a moment, and said 'I think that might be a little studied, don't you?' And so of course I didn't have the cuffs.
"I still think this is a mistake men make today – being too extravagant with their cloth, rather than playing with the flexibility of accessories."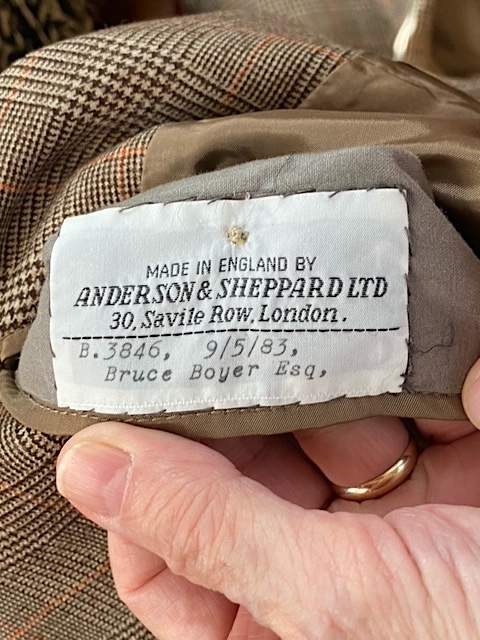 Bruce's first commissions were suits: a three-piece single-breasted grey flannel, and a brown/green tweed suit. There followed a half dozen other pieces – suits and tweeds, a navy blazer, "nothing outre" – before several years later, he commissioned this jacket.
"I was looking for something mid-season, for Spring and Autumn," he says. "Not a lightweight Summer jacket, and not a heavy heavy tweed. I can't remember whose cloth this was, but the weight and colour combination were perfect."
The cloth is an unmilled worsted, 14oz wool (perhaps considered Winter-weight today) and has a brown Prince-of-Wales check, with the overcheck a faint orange.
There are several reasons Bruce thinks it has lasted 37 years.
The first is the emotional resonance. Mr Harvey himself passed away a few years after it was made, and the clothes he cut will always have a particular significance.
The second is the conservative colour and pattern – it's a classic, which it's been consistently easy to dress up or down.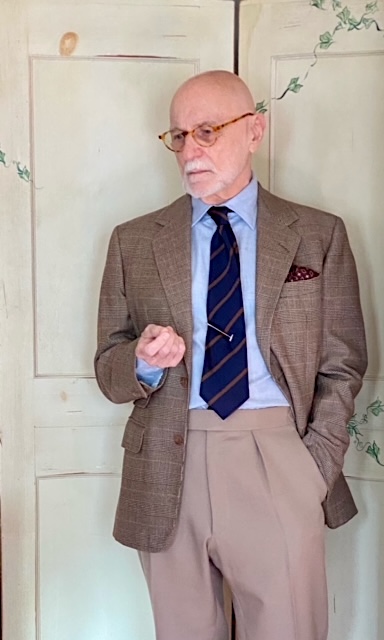 The third is the cut. The Anderson & Sheppard style, with its extended shoulder, draped chest and slightly closed foreparts, has proved very resilient to trends.
"I've given away lots of clothes over the years, bespoke and ready made," says Bruce, "but this has always held on. It's consistently been chosen from the wardrobe, and consistently been comfortable and reassuring."
It's certainly impressive that the A&S cut has felt relevant throughout. Of course, Bruce will be the first to admit that he's dressed like a rather ruminative professor since his twenties – his style hasn't changed.
But the jacket's longevity is still a testament to moderation in style – the length, the lapel width, the buttoning point are all far from extreme. Other more fashion-led things did not last as long.
"If I'm honest the jacket is perhaps an inch longer than I'd really like," says Bruce. "But that's the only thing I'd change."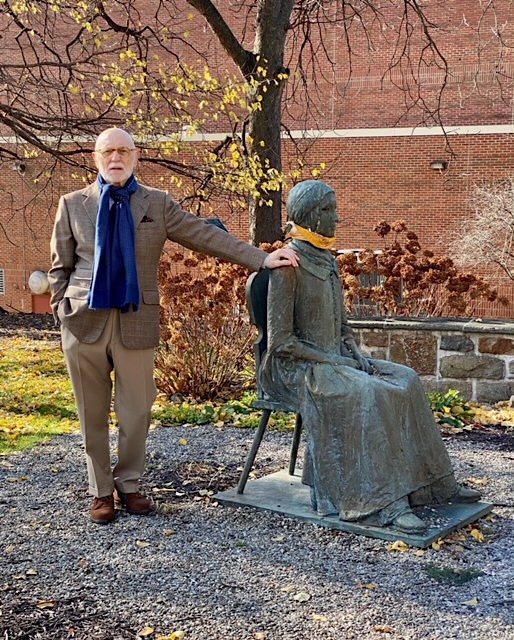 Surprisingly, the jacket has also needed few alterations. "I've maintained my weight well over the years," Bruce says, "and the only physical change really has been a certain 'compacting'. As you get older, you shrink slightly – I've probably lost a good inch in height."
That would explain the jacket being a bit long, and Bruce has also found that his shoulders have grown smaller, moving the sleeves further down his arms. As a result, the only alteration he has actually made is to shorten those sleeves slightly.
"I've also replaced the waist button several times. It's always the stress point, and it's not surprising that it would work loose over the years. But I'm a bit of a dab hand at making these alterations myself – replacing buttons, sewing lining when it comes loose."
Other than these changes, the jacket shows no obvious signs of fraying or wear, despite hundreds of outings. "In a few years it might need patches on the elbows, but they're still passable," says Bruce.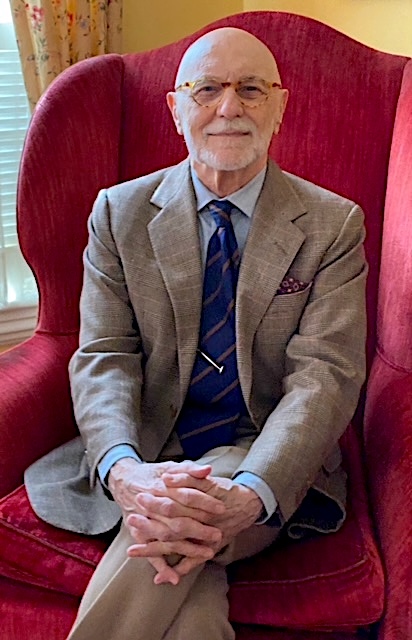 Just as impressive is the fact the jacket has stayed free from moths, and not suffered any other damage in storage.
"I'm quite careful with my clothes, cleaning out closets and so on," says Bruce. "I also dry clean them as little as possible. Americans have an obsession with cleaning things, and it ruins good clothing – it's the worst possible thing for a well-made suit." His daily routine is to brush down the jacket after it has been worn, and then hang it on a valet stand to air for 24 hours.
This is something I should personally do more – I even have a lovely valet stand for the purpose. But I often forget how useful this airing is, for allowing the cloth to dry properly, and for smells to evaporate away.
"I'm so glad it has aged so well, because I do think it's a beautiful piece," says Bruce. "What we call fit – but is really line, the silhouette of the garment – has always been perfect, and that's probably the single most important thing."
"That's why a good cutter is so crucial. You can have the best material in the world – a vicuna, perhaps – but if it isn't cut well, then what's the point?"
And in the long run, of course, such clothing is always less expensive. "You and I have always talked about this Simon, but people today just don't think about the long-term cost, only about that price tag in front of them," concludes Bruce. "That's a shame, because cheap clothes are so much more expensive over a lifetime."
Nice to hear someone with experience espouse the same things as you – and indeed have the evidence to prove it.
Next in this 'How great things age' series, one of my own beloved pieces of A&S tailoring.