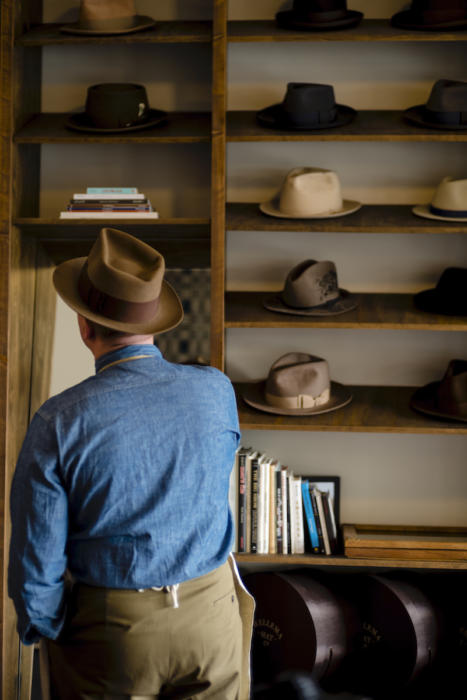 By Lucas Nicholson
I recently visited Los Angeles for the first time, and spent a very enjoyable week being proved wrong. Admittedly my hopes hadn't been high for menswear in the city, but what I witnessed was wide appreciation of craft and uniquely enjoyable retail.
My expectations, probably like many who have never visited, centred around hype and celebrities. What I saw instead, as I ran (well, Ubered) around the city was a series of stores where brands had the space to express themselves, some good multi-brand outlets, and craft where you wouldn't expect it – often small businesses making in LA with a strong local fanbase.
The aesthetic is not necessarily classic menswear, but the approach to craft and to running a brand can have a lot in common.
Below are my favourites, with reasons, thoughts and advice. Thank you to all those brands that made us welcome, and the menswear people that helped us with recommendations and introductions. As ever, please add your thoughts and experiences in the comments.
The list is broken down into areas, as that seemed to make sense given how spread out LA is.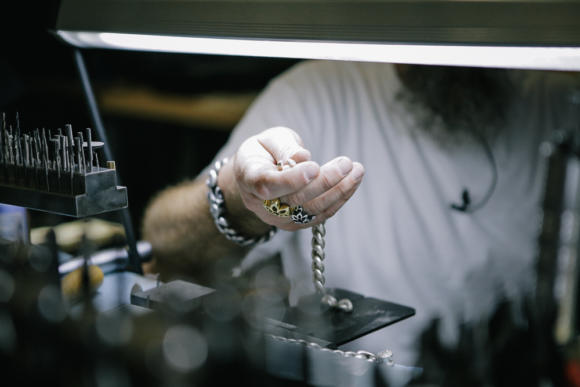 Downtown
Simon has covered Good Art previously on PS and explained their approach to jewellery, but meeting and talking to Josh, the owner, and having the opportunity to see the forge Downtown left me fully enamoured. What a great brand making fun, interesting, beautifully crafted items on site.
An amazing space, cavernous even. It was great to see a fuller collection of Visvim all together. The exposure we get in the UK is so limited, just a few pieces in the few stores I mentioned in a previous article. Each area is staged slightly differently and they use props to good effect, like a full Airstream caravan. It's an experience – like Visvim is in most places, but also as I was increasingly realising LA is more generally.
Brian the Bootmaker has a stellar reputation for his style of boot – engineers, boondockers and the like. Unfortunately I was unable to meet Brian as I ran out of time, but he's definitely worth a visit if you're interested in that style.
A great vintage store with outlets on both coasts. The owner cut her teeth sourcing and selling at the famous Rose Bowl flea market here in LA. Focused on the more military/workwear side of menswear.
The market itself. Held on the second Sunday of every month, this is probably the best vintage market in the US, bringing in a wide range of sellers. It used to be more focused on western clothing and workwear, but has broadened over the years. See Ethan Wong's (Socal local!) piece on it here
Melrose/ La Brea (this covers quite a large area)
A vintage eyewear shop that also supplies scores of high-end stores around the world, and featured in a PS pop-up in London. The LA shop has a big range of pristine vintage pairs, plus a small run of their own brand. The prices are quite high but the frames are good as new (not always the case with vintage) and often rare. If you were looking for a particular style from an old movie or something similarly period, this is the first place I'd go.
What an Aladdin's cave! Unassuming from the outside, it's big and broad inside, with vintage and a full range of their own brand. If you don't know Mister Freedom it's perhaps best thought of as a repro brand like Full Count, Real McCoy's and others, but US-based rather than Japanese.
The now rather famous eyewear brand is LA-based, and this is the fullest expression of what they offer. It's a beautifully designed space with lots of styles to try on and limited editions that are exclusive to the store.
This is more of a fashion store, so it may not appeal to many readers, but it's symptomatic of how good multibrands often are in Los Angeles. An incredible space (below), it's impressively decorated (20 ft Damian Hirsts) and has a really tight, distinctive offering of brands and products. Exactly what a multi-brand store should be.
OK this is a personal one. I've been looking for Elder Statesmen jumpers in the sales or on eBay for a long time, particularly the tie-dye cashmere. But I had no idea they were making in LA. After speaking to the team in-store I discovered they have a facility Downtown which they filled with vintage knitting machines to create unusual knits. They also work with knitting circles in places like Kentucky and Peru. I love the commitment to craftsmanship and retaining skills, while making a product that seems to feel both classic and modern.
A good vintage store – cavernous in nature, from pricey rare pieces to general Americana (trucker hats and tees). They also have some new clothing from a selection of brands, giving it quite a wide appeal.
If you like the aesthetic of Bode this should be one of the first places you visit, as it's a completely different level from New York. And even if you don't, it's a great space to see, one that reminded me of a cabin built for a kids camp in the Catskills (I've never been, just what I imagine). Plus their impact on menswear as a whole always makes them interesting.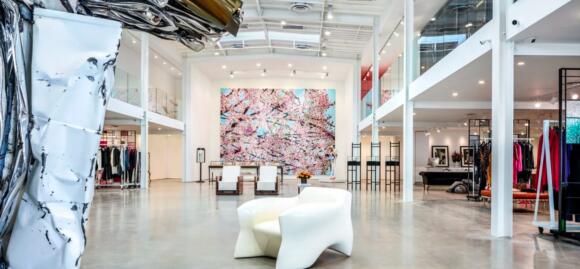 Pasadena
A great hatmaker covered on PS in the past, and featuring in our pop-up shops in London. Cody Wellema makes bespoke hats on site, often but not necessarily with a western style. Somewhere worth visiting if you've never thought hats were for you – just so Cody can try everything on you and work why they do or do not work.
Not just cashmere anymore but chinos, socks, sandals and much else, Ghiaia has a wonderful laidback luxurious style. Currently in the replica Burlington Arcade (which frankly is a bit unnerving visiting as a Brit) but soon to be moving, Davide showed me the new space in San Marino and if it has a tenth of the character of Burlington it will be a worthwhile trip out of the city. The product is beautiful, the styling exquisite and the hospitality generous. What more could you ask for?
Silverlake
This is a trendy area with a western feel. Lots of nice little shops and multi-brand stores.
The kind of store that I think you could easily overlook if you're European. The brand mix is slightly more fashion forward than some others here, with lacy shirts from Sefr, remixed classics from Lemaire and printed pieces from Dries. But as with Just One Eye It's a great multi-brand and the kind of thing we just don't get in London.
If you looked at Lady White Co online or on Instagram you would likely think, 'Oh that looks nice I guess, but I'm not sure if I will have time to go there, it's a bit out of the way'. And then you mention you're visiting a bunch of stores in LA and ask some locals, and everyone says go and check out Lady White. So you do. And all of a sudden you're deep in textures and subtle colour tones, and realise none of this can really come across on screen.
Lady White started as an idea to make a T-shirt entirely in California, down to growing the cotton (the kind of nerdiness I love). The business has grown and some of the initial ideas have had to give way, but it feels like the fastidiousness is still there. The colours take in deep indigos and murky browns, steely greys and rich aubergine. The cuts are considered and everything feels simple but elevated.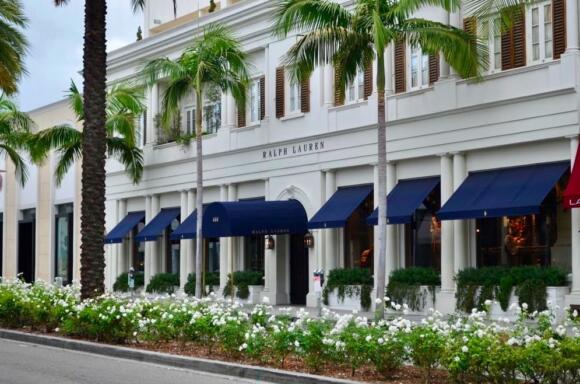 Beverley Hills
To be honest this was a pilgrimage, I think Beverly Hills has a case for being a protected menswear area like Savile Row, given its service to sartorial endeavours over the years. It was the location for the first standalone store for all the following brands in the US – which may surprise some Europeans. (All covered in the book Deluxe by Dana Thomas).
Ralph Lauren
The positive and negative of Ralph is his world building is so strong that the shops look very much the same, but at the same time if you're a fan you want to visit all the major ones. (On that basis, the RRL store that looks like an old gas station is also worth a visit.)
Giorgio Amani
The shop has had a refit, it doesn't feel like the period associated with LA, but it's still lovely and some of the collections are circling back to that 80/90s aesthetic they're famous for. The Gucci store, by contrast, feels like it has no real connection to that era.
Historic shirtmaker covered by Simon in the past – here with a profile of the store and its history, here with a review of a shirt. Bespoke shirts and some ready to wear, with a lot of the business being for the film industry.
Three biggies in the West Hollywood area – though staying in famous hotels is a bit like that adage "don't meet your heroes": no matter when someone has stayed it can always be said it was better 10 years ago.

The Chateau Marmont – an icon, definitely worth a stop, despite being intimidating to pull up to all the staff were very pleasant and welcoming. The Beverly Hills Hotel – background to so many Slim Aarons pictures, go for lunch in the unparalleled Polo Lounge (perhaps a Tom Collins and the steak tartare). Sunset Tower – where I stayed, better value and smaller than the last two but with no fewer credentials. Also a soft landing from LAX.
Honourable mention to The Los Angeles Athletic Club, which is a more fun place to stay Downtown. Certainly compared to the soullessness of modern hotels.
For further reading, have a look at Ethan Wong's piece here