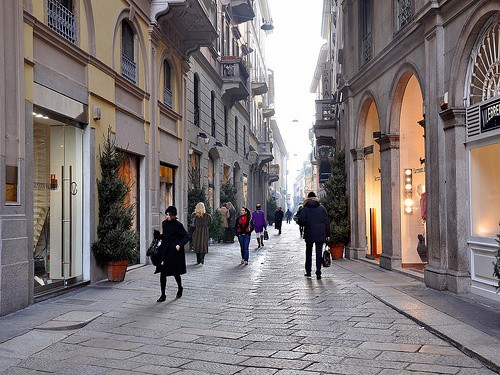 Milan is the centre of the men's fashion industry, yet as far as style is concerned, there are surprisingly few shops worth visiting.
Via Montenapoleone, Via Della Spiga and the roads that run between them are all pleasant places to stroll. But the shops are 90% fashion houses with the same offerings as any other major city.
In these guides we've tried to avoid such cookie-cutter chains. They're certainly no part of the joy of travelling. As a reminder, here are the ground rules, established in the first sartorial guide (to London):
These are guides to quality. Only top shops with well-made products are included
The guides only cover menswear, and largely sartorial menswear
Most importantly, they only cover shopping experiences that are pretty much exclusive to the city. (There are fewer and fewer of these, and they should be celebrated.)
With that out of the way, let's run through where to go if you ever find yourself in Milan.

1. Al Bazar
www.albazarmilano.it
Via Antonio Scarpa, 9
Top of the list not for its taste, which isn't always perfect (eg over-coloured double monks) but for the originality of the male clothing in a town sadly lacking it. Tailoring in original cloths, nicely made polo shirts, and some great knitwear.


2. M Bardelli
www.mbardelli.com
Corso Magenta, 13
Perhaps the best traditional menswear store in Milan. Originally started as a hat business in the 1940s, it has a great range of classic, beautifully made, luxurious clothing. Particularly good on accessories and knitwear.


3. Tincati
tincatimilano.it
Via Gesu', 7
Although it has branches in a few other major cities, Tincati is a Milanese shop with a bigger range at home and a strong local following. It is strong on tailoring, but also has casualwear, knitwear and accessories. Slightly brighter and holder than standard Milanese fare.


4. Tailors: Ferdinando Caraceni, A Caraceni, Musella-Dembech
www.caracenitailor.com; caracenimilano.com; www.muselladembechmilano.com
Via S. Marco, 22; Via Fatebenefratelli, 16; Via Celestino IV, 9
There are, thankfully, still some great bespoke tailors in Milan, with the two Caracenis (Ferdinando and A, for Augusto) on top of the pile. All are friendly and welcome people to drop by, but still best to make an appointment. If you're set on bespoke, also worth checking out Musella-Dembech and Sartoria Pecora among others.



5. Rivolta
www.calzoleriarivolta.com
Via della Spiga, 17
At Rivolta there are shoes made to very high standard (hand-sewn welts) and a bespoke service that attempts to use a digital scanner to model the foot. My experiences with the latter weren't great, but I'm told they have refined the process. Classic designs with a good range of exotics; made by a third party.


6. Caruso, Uman
www.carusomenswear.com; www.umanconcept.com
Via Gesù, 4; Via Gesù, 10
Caruso is a top-class tailoring factory that has expanded in recent years with its own line of ready-to-wear. Although shops are opening slowly around the world, this opera-themed store is worth a visit both for the stock and the interior decoration. The company also has a cousin, Uman, around the corner. Both are part of the project to turn Via Gesu into a dedicated menswear street.


7. Siniscalchi
www.siniscalchicamiciesumisura.com
Via Carlo Porta, 1
The best known of the Milanese shirtmakers, north of the centre. A nice, if formal make (floating lining in the collars) and extraordinarily expensive prices. Other shirt makers include Evgeniya Kiyan, Camiceria Barone and Alessandra Passeri.


8. Rubinacci
www.marianorubinacci.net
Via del Gesù, 1
Rubinacci has stores elsewhere, of course, and is not from Milan. But the new shop off Montenapoleone is worth a visit, if only because there is such a strong range of accessories and some strong ready-to-wear.


9. Bigi
www.bigicravatte.it
Viale Gian Galeazzo, 16
The tiemaker Bigi opened a small retail section in its central-Milan workshop recently, where visitors can see both the ready-made ties and commission bespoke ones. A hidden gem in a city like Milan.
10. Etro perfumes and discount store
www.etro.com
Via Spartaco, 6; Via Verri, ang. Via Bigli
A big fashion brand with a lot of similar shops, but there is only one Etro store dedicated to its fragrances, and only one discount store.


11. Armani
www.armani.com
Via Alessandro Manzoni, 31
If you do want to visit any fashion brands, the massive block of real estate taken up by Giorgio Armani is the one place not to miss. An experience, whether you love it or hate it.
Many thanks to all the Milanese (and Italians generally) that contributed their views on this list. Alessandro, Alessandra, Antonio, you know who you are.