Monochrome and concrete: Styling grey, charcoal and white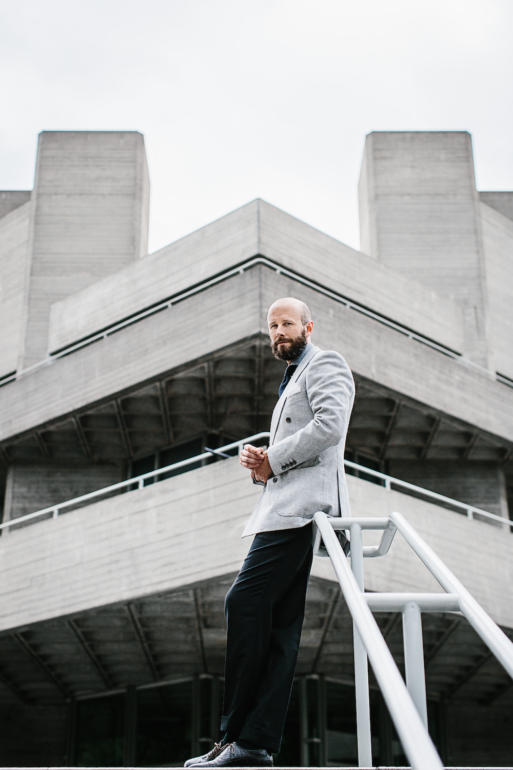 Although I love rich, natural colours (particularly in Autumn) I've always been fascinated by the subtleties of monochrome dressing.
It has such strong style, and yet there is so little too it. It's striking and unusual, and yet quiet.
These photos were part of a series in an advertising campaign for Cifonelli, the Parisian bespoke tailor that I've used fairly regularly for the past seven years, and certainly one of the best in the world in terms of fit and finish.
They were taken by photographer Jamie Ferguson around the National Theatre - one of London's best-known pieces of brutalist architecture.
The textured greys of the concrete, the metal railings and the shadows under the balconies reflected nicely the greys and charcoal in the jacket, shirt and trousers.
I find the key to monochrome outfits is to make sure there is enough contrast (in shade, texture or shine) between the tie and shirt or jacket.
The shirt and jacket can be similar (both perhaps greys in similar tones or textures) but there needs to be some contrast - and the tie is the most effective way to do that.
Here the tie is a navy grenadine, which I find adds much-needed richness compared to a charcoal or black. But still dark enough to seem part of the tonal whole.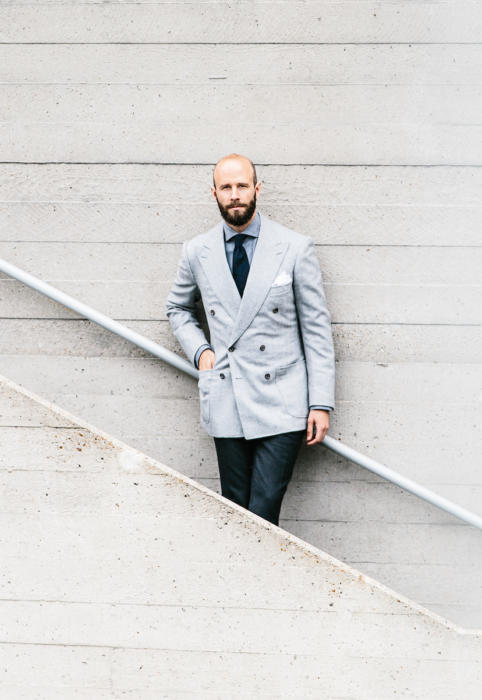 There must also of course be sufficient contrast between jacket and trouser, and so a charcoal worsted works well below the waist.
In fact these trousers contrast with the pale-grey cashmere herringbone jacket in all three of: tone (dark/light), pattern (herringbone/plain) and texture (smooth/fluffy).
A white handkerchief also helps with contrast, being particularly stark.
The alligator shoes meanwhile play a similar role to the tie: dark enough to provide contrast, but being brown rather than black, adding a touch of richness and depth.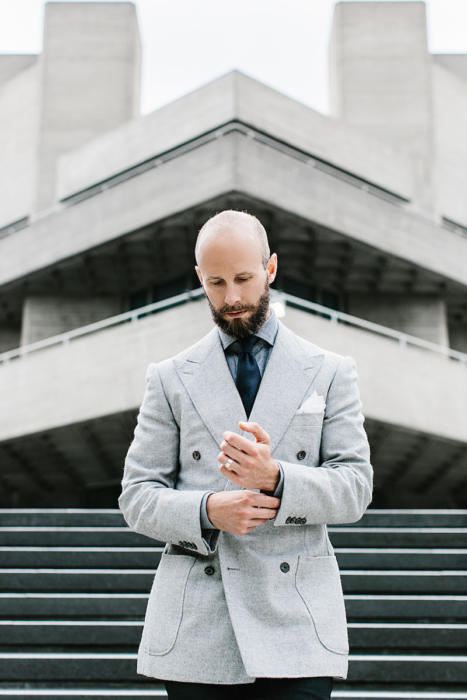 Anyway, that's why I like it and I how I think it through.
Not one for the office, but perhaps for an evening event - such as the theatre, in fact.
In terms of details on the pieces:
The Cifonelli jacket was covered on an old blog post.
The shirt is from Simone Abbarchi and was covered here.
The tie is a 9cm big-knot grenadine that I had made to order at Drake's.
The trousers are from Elia Caliendo, in a Loro Piana charcoal worsted twill.
And the alligator shoes are an old pair of Lodgers that Gaziano & Girling kindly re-made on my bespoke last.
Photography: Jamie Ferguson @jkf_man