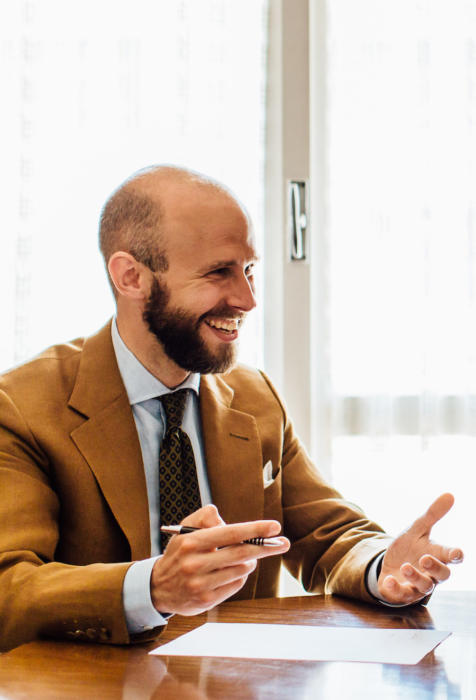 In recent years I've done an increasing amount of personal consultancy, meeting readers in person to answer their questions rather than just here on the website.
I don't really advertise it because I don't have much capacity, and most people have come through recommendations.
But I do find it extremely rewarding.
The aim of Permanent Style has always been to help those with similar tastes and passions to me, whether through recommending products, talking about my experiences, or asking questions directly.
And doing so over an hour or two, in person, is very satisfying. You could answer 100 questions in that time, and just as importantly, probe into why the reader is asking that question in the first place.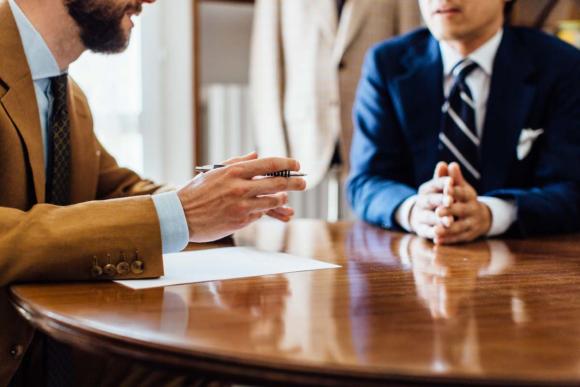 The point of this post is not to advertise that work either, but rather to relate the stories of a couple of those readers, as I think others might find them relatable.
The first I'll call Adam. We started working together at the beginning of last year.
Adam runs a construction company and spends his time either in the office or visiting building sites. He used to be a barrister and in the military, so he knows how to dress well; but since running construction he has largely worn the minimum required, which is jeans, a T-shirt and boots.
It was so long since he had worn a suit that Adam didn't feel comfortable wearing one. And because it was so long since he invested in clothes, he didn't feel confident in where to start.
Adam wanted to dress more smartly in order to reflect his senior position, and had money to spend – but he wanted to feel he was getting quality clothing that would suit his lifestyle.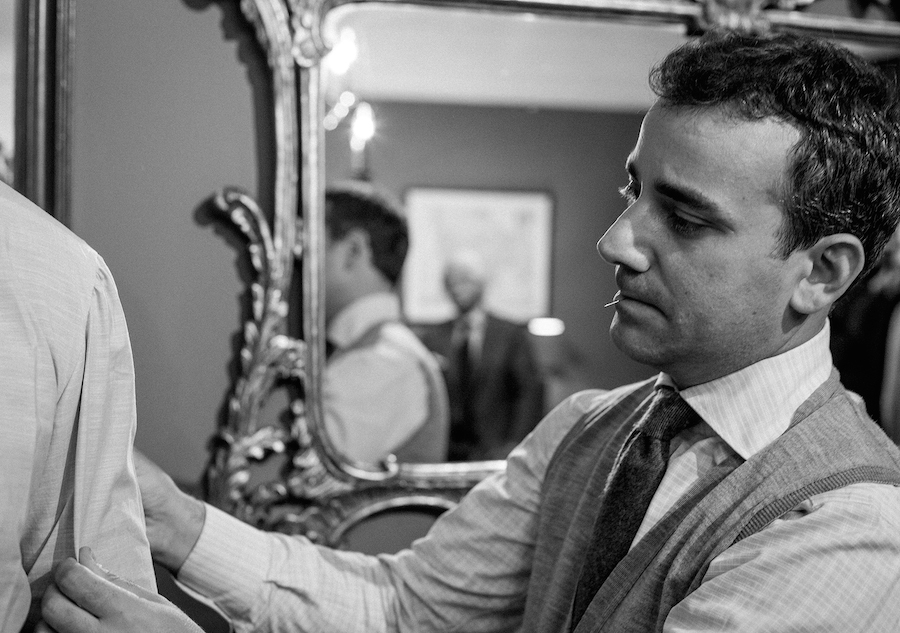 When I met Adam, he had already started by ordering some bespoke shirts at Turnbull & Asser. These were fine, but probably too formal for the kind of wardrobe he wanted.
Instead I recommended Luca Avitabile (above), and Adam had some button-down oxford and denim shirts made, as well as some smarter poplins.
We established what he valued was style and solid quality – so the hand-finishing of D'Avino, for example, was not something he wanted to pay for.
When it came to tailoring, however, Adam liked the frequency of Elia Caliendo's visits and the fact Elia would come to see him if he wanted.
He was prepared to pay more for this, just as long as he knew what he was paying for. The same went for the shoes – we compared Edward Green and Crockett & Jones, and Adam went for the former.
He started off by upgrading his boots into something that was still casual and very comfortable, but a lot finer quality – some unlined Shanklin suede boots from EG (below).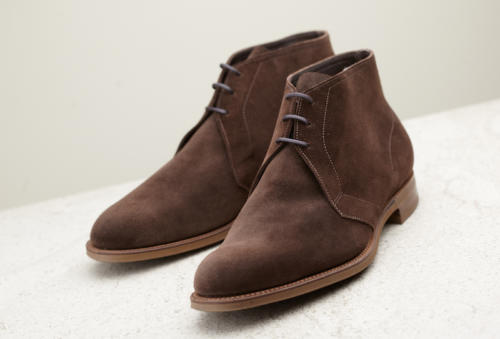 The Neapolitan tailoring will suit Adam's work and leisure environment, where anything structured or too formal would be out of place.
But if anything, the shoes have been the greatest success. They get regular compliments and can smarten up more things Adam owns, whether jeans or flannels. There have been other Edward Green purchases since.
One thing we established between us after a while was how particularly Adam valued quality. But this is hard to assess.
Unless you know how things compare, and what you're paying for, it's easy for someone like Adam to be put off by all modern fashion. It all seems like a rip-off, or aimed at someone else.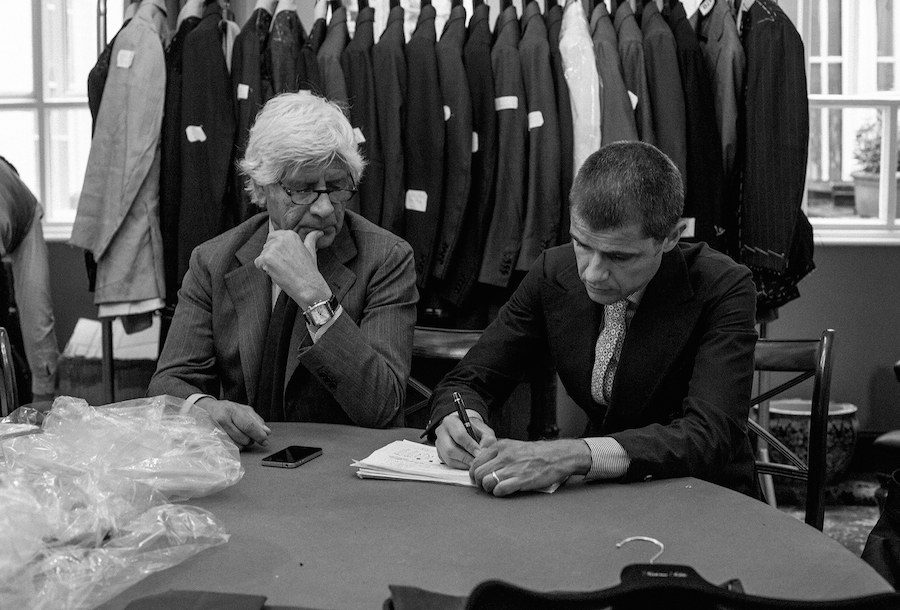 The second reader I started with more recently. And, although the artisans we went to were quite similar, the reasons were very different.
James had a lot of bespoke experience. He had been buying since 2011, beginning with a suit from Thomas Mahon, then jackets from Solito (above), shirts from Luca and trousers from Ambrosi.
His wife is Neapolitan and they went back to see her family regularly. So access was easy, as was the language, and as a result he'd just started a suit with Panico (below).
But if anything spurred the contact with me, it was the feeling that he had bought quite a bit, but didn't seem to have a 'core' wardrobe of pieces that all worked together, and could easily be combined day after day.
James runs a family investment firm. He can wear anything he likes, even if meeting bankers in Canary Wharf or having meetings in Zurich.
But he likes clothes, and wants to wear a jacket more – whether in the office or entertaining at home.
To that end he had bought brown and green jackets from Luigi, grey and dark-green trousers from Salva, and – one obvious extravagance – a pale-grey double-breasted suit fitted by Gennaro Solito in Naples.
We established fairly quickly that the makers suited him, in terms of style, physicality and budget. But the commissions had often been a little unusual.
Not much; but enough. They were the kind of things you should buy as a third or fourth commission, rather than a first or second.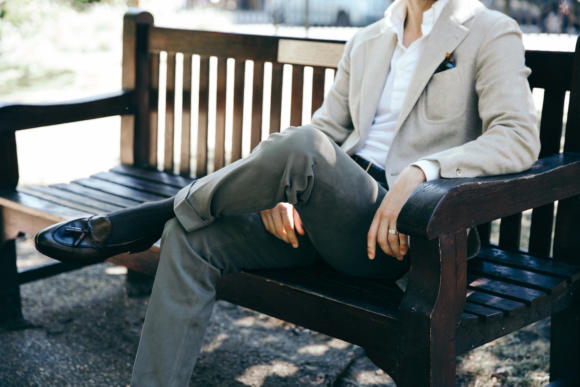 So we set out a plan for the next few months that focused on filling in some basics, with the occasional indulgence.
First on the list will probably be a navy wool jacket. Easy to wear with every colour of shirt and polo James has from Luca. And suited to every colour of trouser, except the darkest greys.
Next will be something in a cream or oatmeal, similar to mine from Elia Caliendo (above) or George Wang's pictured at Pitti (below). James particularly liked the latter, but we'll tone it down a little and do it in wool rather than silk.
And some grey flannels, which surprisingly James had never commissioned.
These will form the foundations of a wardrobe that can be swapped around into different combinations, and paired with lots of other things.
The sponge of the cake, perhaps, rather than the icing.
There will be room to experiment in the future.
James has always liked the idea of a Prince-of-Wales check, and he might commission a mid-brown cashmere jacket with a very subtle one.
It's the kind of thing he would have bought in the past, and worn a little but not enough. Once we've added some more versatile pieces, it will make more sense to go back to these.
He also likes the idea of tobacco linen (don't we all?).
But I suggested it perhaps as a pair of trousers, to wear with several great linen shirts he has – rather than a suit.
James is not the kind of reader who needs my help with fittings, or other visits to makers. But it will be great meeting up now and again to see how the plan is unfolding.
I hope other readers find something to identify with in both examples. Thank you to Adam and James for allowing me to share them with everyone.