Video: English and Neapolitan jackets compared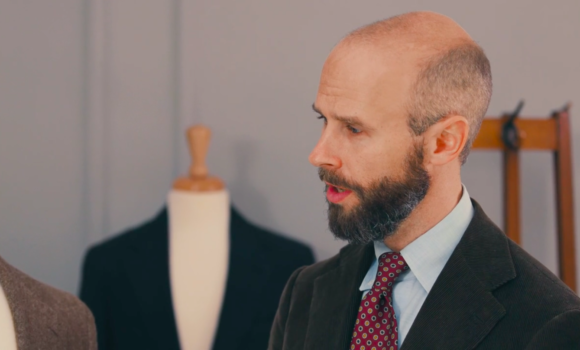 This groundwork for this video was laid two weeks ago, when we examined the various aspects of the cut of a jacket.
It might be worth watching that first, if you haven't already. It showed the most important points of cut and structure, from the size of the shoulder to the curve of the lapel.
In this second instalment we build on that, compared two cuts in particular: the structured English and the Neapolitan.
I deliberately started with these two because they represent relative extremes in terms of bespoke style. This cut - the most common in the UK - features larger, more padded shoulders, a longer jacket, closed fronts and a slightly bellied lapel.
The Neapolitan, by contrast, has a small, unpadded shoulder, is shorter with open fronts, and has a straight lapel.
Many cuts sit in between the two - as we've outlined in detail in the Style Breakdown series on the pieces I've had made over the years.
However, it's not all contrast. I also point out that some things vary both in London and Naples, and are more down to the tailoring house itself, such as the drape or buttoning point.
I hope you find it useful.
Although there will always be advantages to articles over video (easier to search for and then search within, for example), it feels like some topics such as this one are particularly suited to a moving demonstration.
Other recent videos include:
In this video, I am wearing a green corduroy suit from Ettore de Cesare (cut rather closer than most I have), with a chambray button-down shirt from Luca Avitabile and a printed-silk Drake's tie.
The two jackets on show are from Kathryn Sargent and Eduardo de Simone.
Many thanks to Fox Brothers, who made this mini-series possible. More on their new Fox Tweed bunch here.
Film by Itch Media