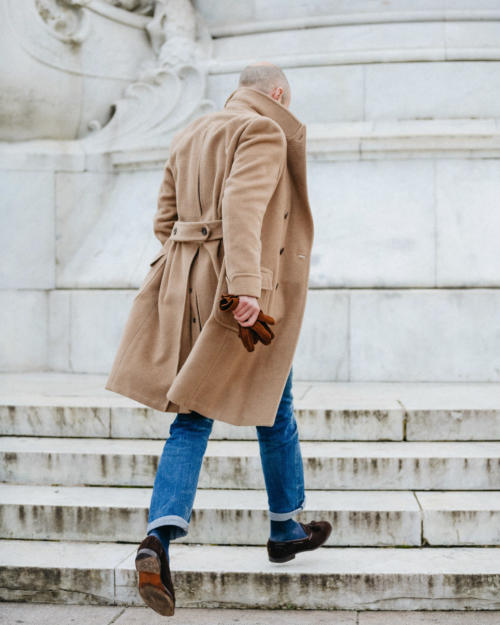 As with our previous article in this series – on bags – five coats might seem like a lot, but actually chances are many readers already have that in their wardrobe, if they account for smart and casual coats, for warmth and for rain.
And given the number of questions I've had about buying a coat this winter, clearly readers are looking to see what they should add, upgrade or replace in order to have a small but high-quality collection.
Below are the five categories I'd suggest, followed by one or two particular recommendations in each. We're not including anything short – whether suede blouson or horsehide leather – and nothing that reaches into warmer months. These are coats, not jackets.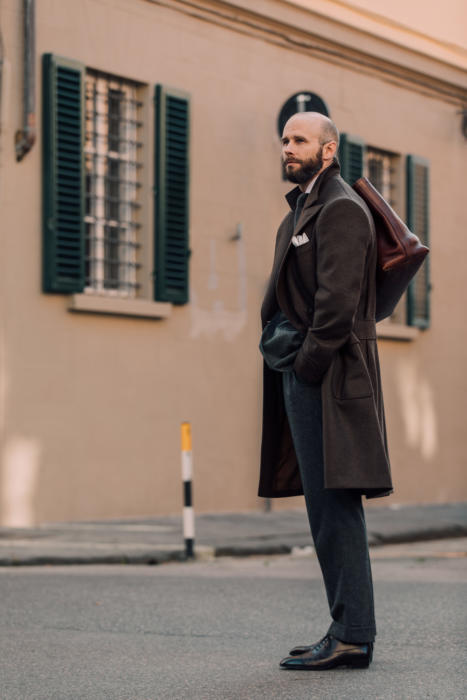 1 A double-breasted overcoat
The double-breasted overcoat might be my favourite piece of menswear. It's so dramatic, yet classic; so functional, yet indulgent. It never looks too dressed up and out of place, and yet it's an absolute joy to commission and wear.
There's an argument that you need a bespoke coat less than a bespoke jacket. A good argument. But I still recommend an overcoat as the second or third thing anyone has made bespoke, because it can usually be worn more often.
As to colours, navy will probably be the best choice unless you never wear a suit to work. If you don't, look at more casual colours like dark brown wools and tweeds, or a mid-grey herringbone.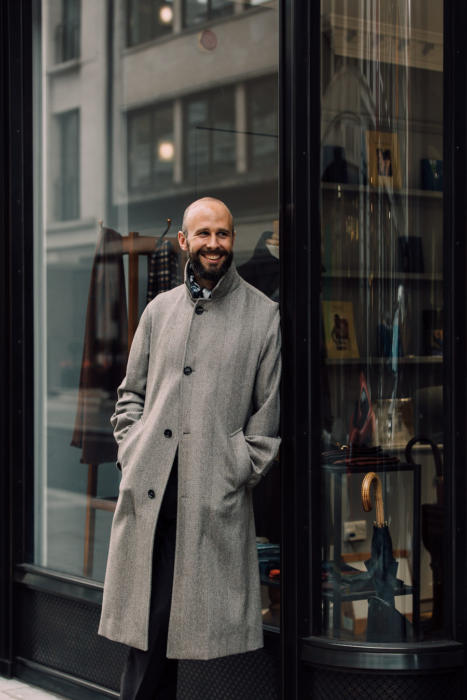 2 A raglan coat
I'm doing these in order of how important they seem likely to be, for most readers – rather than formality or anything else.
There will be some that dislike the sloping shoulders on a raglan, or its lack of shape in the body. In many ways it is the opposite aesthetic of a tailored overcoat.
But if you don't, a raglan can be a perfect bridge between formal and casual. In a dark and fairly classic colour, it can still be suitable for work. Yet it's much more likely to complement jeans or chinos than an overcoat.
Two good examples, which I'm referring to in the suggestions above, are the Permanent Style Donegal coat, in a grey herringbone this season, or something more like my Saman Amel coat. The latter is only a raglan at the back, but the spirit is the same. It's easier to belt something lighter like that too.
The traditional Loden coat also falls squarely into this category, even if it's not one I've ever liked so much as tweed raglans or balmacaans.
A pea coat is of course not a raglan, but I've included it in this section as it can do a similar job of bridging casual and formal. Particularly something long enough to go over a suit jacket, like the Bridge Coat.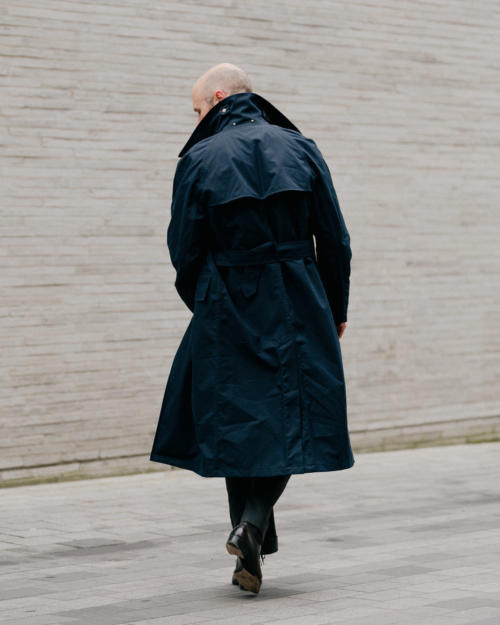 3 A rain coat with removable liner
I'm always banging on about the fact that we don't need rainproof coats most of the time. Wool is perfectly fine to get wet, even drenched. You just need to look after it.
But still, everyone will probably want a rain coat for when it's really chucking it down, and an umbrella is not an option. Ideally in Ventile, wax or some kind of treated cotton, rather a crinkly synthetic.
A removable lining is crucial, even if it makes the piece more expensive. It makes the coat something you can wear into winter, rather than just for spring or autumn showers.
And waxed cotton is a great option for anyone that is more active in their coat – perhaps walking the countryside, or looking after a dog – or for any other reason just wants something shorter.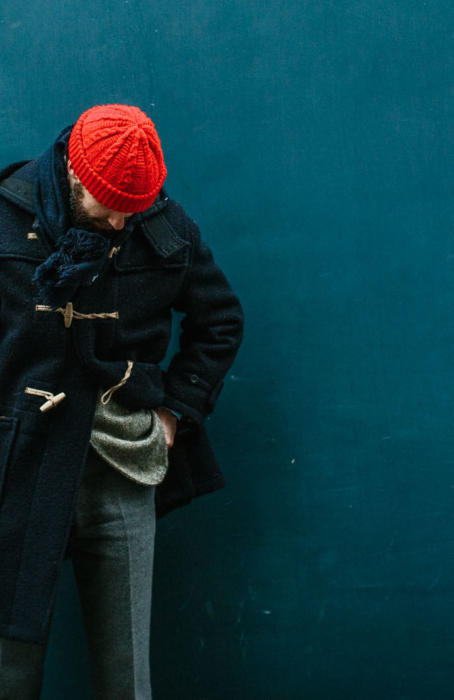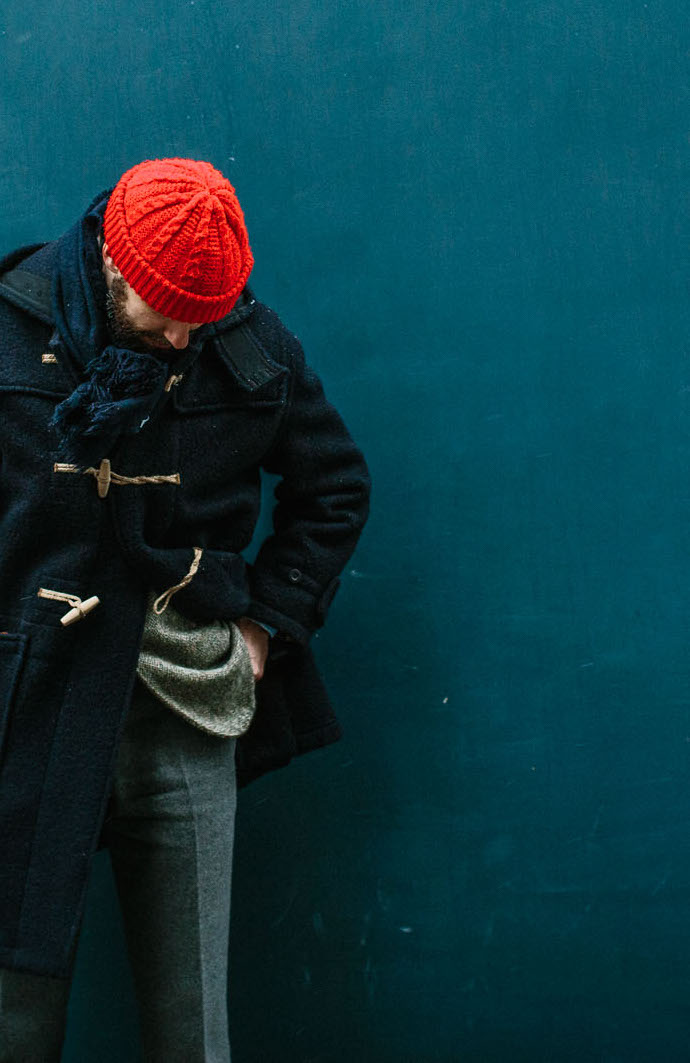 4 A casual coat
This is a broad section, encompassing everything you're always going to wear with jeans or other casual trousers.
A duffle coat, of course, is the smartest of these, and can look nice with tailoring too. Though really the appeal there is the contrast between the nice jacket and the thick frumpy duffle.
A down parka is a necessity for people that have very cold winters, whether in Scandinavia or North America. I've never found one I think works with tailoring, but I love my Nigel Cabourn Everest Parka (in navy), and it's been worn with casual clothing in snow in both those places.
There are also military parkas, vintage examples of which I think can look nice as a high/low combination not too far from a duffle coat.
Shearling coats, though often shorter, are worn for the same reasons of warmth, and usually look more elegant. But still I wouldn't really wear one over a jacket.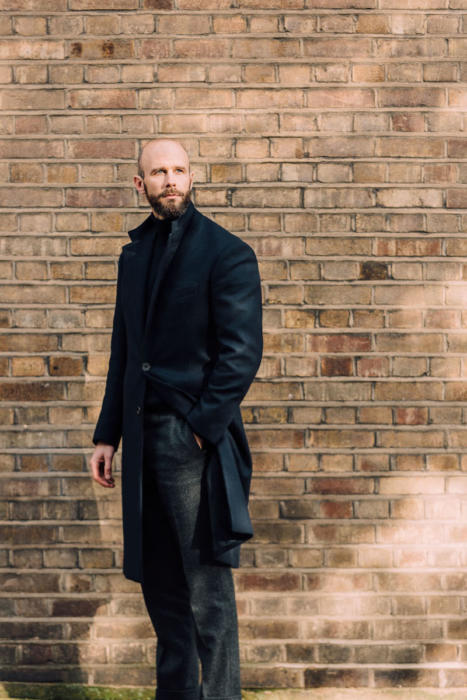 5 A top coat, or polo, or one more from the top
When we reach number five, it gets more and more likely that the choice will depend on lifestyle.
A top coat would be a great choice for anyone that dresses smartly for work. Whether a navy wool/cashmere or a velvet-collared covert coat, it will be worn as soon as it gets chilly, and until the cold makes a longer double-breasted absolutely necessary.
We haven't mentioned polo coats so far, and as mentioned in the article here, the great thing about a camel polo is how it looks great with jeans, despite its more formal cut and style. It might be too showy for a lot of guys to wear to work, but if you love DB overcoats and don't dress smartly, it's a great choice.
Or, double down on something from the list above. Have both a waxed and a cotton raincoat, because you like that practicality. Have a duffle and a parka, if that's your style. Personally I'd get two DB overcoats – such as my Ciardi 'British Warm' as well as my Liverano tweed.
Whatever suits you the most, a set of four or five coats like this should cover any eventuality. Any additions can be upgrades justified by a period of saving, and by finding a good home for the coat that's to be replaced.
All images taken from previous PS articles. If you don't recognise something, ask and I'll provide the source