Fox trousers (And everything else from Day 1 of the pop-up)
There was a really lovely atmosphere to the opening of our second pop-up shop on Wednesday night.
'A good vibe', James said, and he was precisely right.
Friendly, enthusiastic, interested. A lovely mix of people that all wanted to see and talk about what we were doing.
Thank you everyone (particularly Trunk for the flowers, and Alex and Jake for the champagne).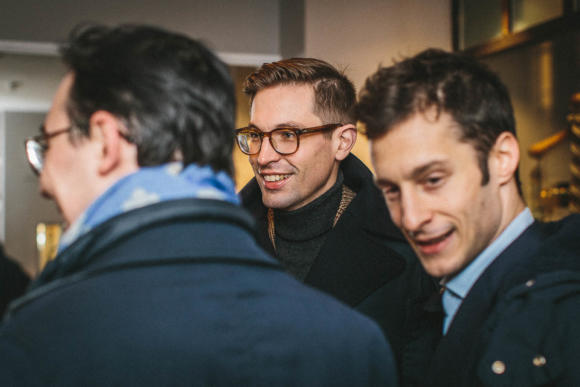 So, what's new in the 'Permanent Style presents' shop this time around?
Well the first three brands all featured in the Spring: Fox Brothers, Baudoin & Lange and Luca Faloni. (Plus James Girdwood and Permanent Style of course.)
Allan and Bo have their women's collection on display for the first time (more of that later).
James has his Coherence in stock (Fou Fou and Henri) but again, more of that later.
And Permanent Style has the one-piece Friday Polos we launched this week; the Suit-Carrier Holdall; all the books; and odds and ends of the Finest Knitwear and Everyday Denim shirts.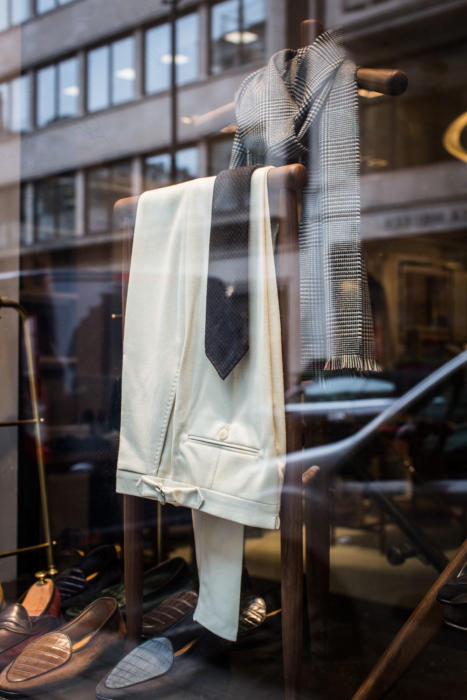 Fox Brothers has a few new things, however - the most unusual of which is a range of trousers.
Douglas and Gianluca, of Fox and Pommella respectively, were talking about this at the last pop-up, and it's nice to see it come to fruition.
The trousers are in cream Fox flannel (370-400g), waist sizes 30-38, and made up by Pommella in Naples.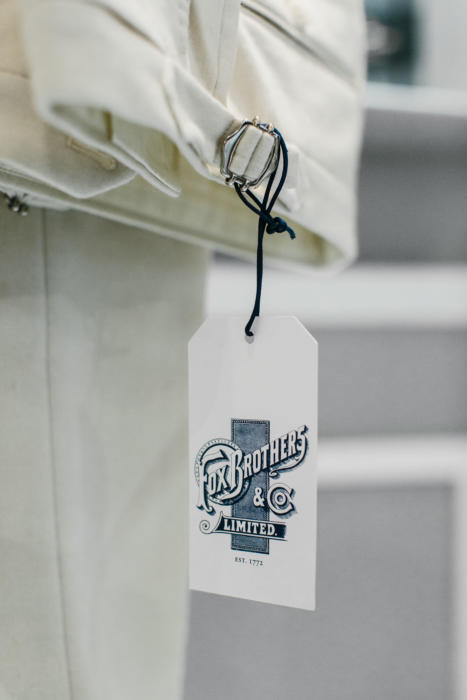 They have a mid-rise, a slim leg and side adjustors. There is plenty of hand work on display, although not pick stitching down the outside seams.
Inside there is a button fly and a double-buttoned French bearer; the hems are unfinished. Priced at £365.
Of course, cream is not the most practical colour in the world, but it is very versatile, and this has a nice handle for a lightweight flannel.
Elsewhere there are some nice handkerchiefs in silk (above) that has the matte texture and subtle patterns of a suiting.
All in muted colours - something I've been highlighting for a while (particularly at Christian Kimber) but now on display here and at Anglo-Italian.
Fox also has washbags, scarves and blankets (pictured below).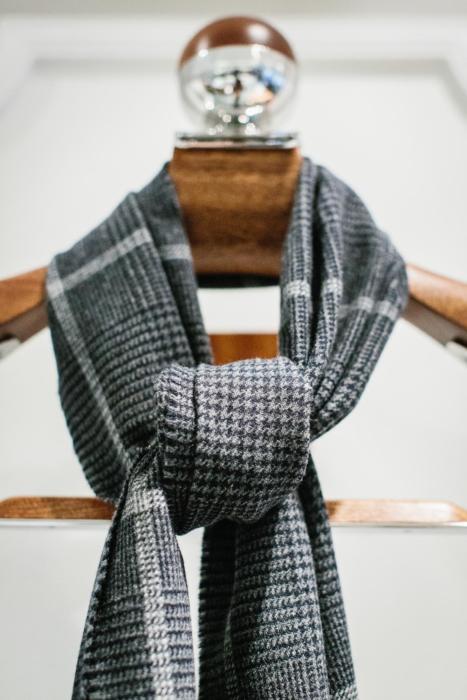 They have also brought a range of samples of limited-edition cloth - rather than the vintage bolts of last time.
By 'limited edition', Fox means cloth that was produced as samples, or as part of previous projects.
There is more than a few metres available (unlike the vintage bolts) but not as much as for the full current collection.
On the pop-up, just a reminder that we are open at 37 Savile Row on Wednesday to Sunday, for the next five weeks (until December 17th).
Every week or two the brands will be swapping round, so make sure you know who is on display, when. Timetable below.
Thank you all.
| | | | | |
| --- | --- | --- | --- | --- |
| Week | Dates | Brand 1 | Brand 2 | Brand 3 |
| 1 | Nov. 15-19 | Fox Brothers | Baudoin & Lange | Luca Faloni |
| 2 | Nov. 22-26 | Fox Brothers | Baudoin & Lange | Luca Faloni |
| 3 | Nov. 29- Dec. 3 | The Armoury | The Rake | Begg & Co |
| 4 | Dec. 6-10 | Drop 93 | The Rake | Edward Sexton |
| 5 | Dec. 13-17 | Shibumi | Codis Maya | The Workers Club |
Photography: Jamie Ferguson @jkf_man