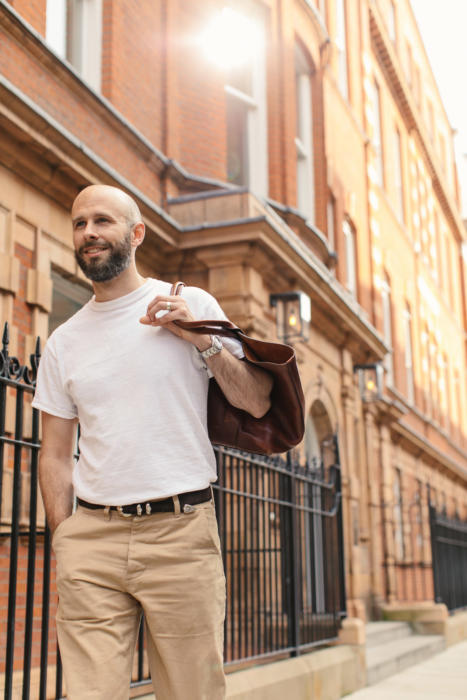 About a month ago, proper Summer started in the UK.
Now I don't define Summer by the solstice, the calendar, or even the moon. Summer, for me, is when it's so hot that it severely affects the clothes you can wear.
Anything consistently above 25 degrees, with bright sun, means shorts are an option and linen is a necessity. Sunglasses are a question of practicality rather than fashion. Headwear, if you're as follicly challenged as me, is essential.
It could seem like a restriction. But actually if you love clothes, it opens up a whole new wardrobe of things that are designed only for hot weather.
In the UK, unfortunately, these periods are unreliable and often brief. It's happening less and less, but there have been years where such weather never really arrived.
So when it's here, I revel in it. I get out the espadrilles and the guayabera, cream-linen trousers and white-linen shirts. I turn my face to the Sun and close my eyes.
This is also a professional exercise.
Because I'm aware that many readers around the world enjoy this weather more consistently, and for longer periods, than in the UK. If you're in New York or Spain, this is weather you can plan for.
During the first 12 days of our 'Summer', therefore, I posted a quick Instagram story every day of what I was wearing.
At the end, it occurred to me that there was a lot of consistency there. That it almost made up a Summer capsule wardrobe.
And so I thought I'd repost some of them, and comment on what that capsule could look like.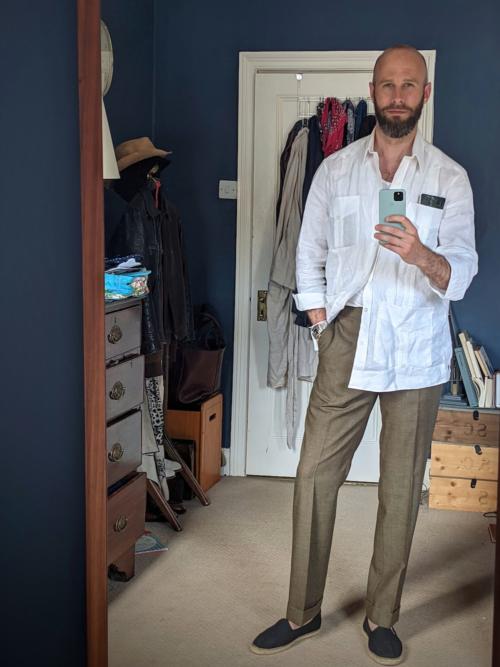 One of the first outfits I leapt to wear is this one.
I bought the guayabera from Anderson & Sheppard last year (imported from Ramon Puig in Miami) but only got to wear it a couple of times before the weather cooled off.
It is traditionally worn like a shirt, with nothing underneath; but I like something simple under it, like a vest or undershirt. I like the style because it manages to look both subtle but unusual, casual yet conscious.
It's worn with fairly smart trousers - Fox Air high-twist wool, made by Pommella - and black espadrilles.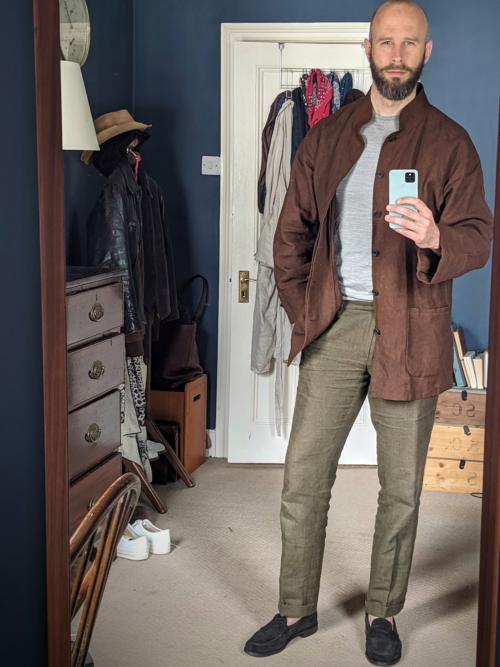 The guayabera works equally well with my olive-linen trousers from Paul Stuart, which are pictured above with a different outfit.
There, the shoes are still black but they're Alden LHS loafers (dyed black after I got an oil stain on a snuff pair). There's a grey T-shirt on top, but this could equally be a white shirt.
And over the tee is an equally unusual jacket - my hand-dyed Mandarin jacket from Prologue. More on that here.
The reason this starts to look like a capsule collection, I think, is all the pieces could be swapped around. You could wear the outfit above with the white guayabera (perhaps worn open) and with black espadrilles.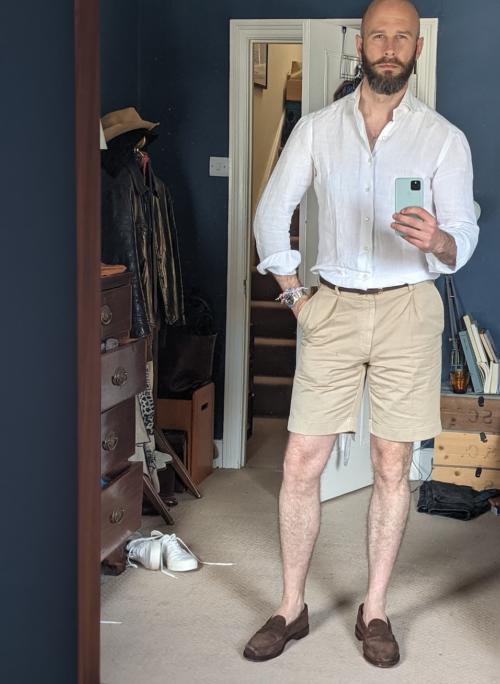 The next outfit is seemingly quite different: white-linen shirt, PS khaki shorts, brown-suede loafers.
But most things could again be swapped with the preceding outfits. I might hesitate to wear the brown loafers with a brown jacket, but it wouldn't look bad. The white shirt could be worn with either pair of the earlier trousers, while the grey T-shirt would look good too.
The key thing that makes all this easier is that the tops are all lighter, and the bottoms darker. Even though you wouldn't call the shorts dark, they are darker than the things above them: the white shirt, grey tee, and white guayabera.
The following day, it wasn't quite so hot but I kept the same colour combination, just in different styles: white T-shirt rather than a white shirt; khaki chinos rather than khaki shorts.
That's an old Flat Head tee, with my old Armoury chinos, vintage belt, white socks and still Alden LHS loafers. A rather Ivy look, overall.
The only thing that wouldn't fit with the capsule idea was the vintage jungle jacket I wore over the top (shown at the bottom of this article). But that could easily be replaced, if you were putting together a capsule like this for travel.
If you were travelling, and wanted a smart option too, then a cream linen jacket could be useful.
In the outfit above - worn when I was going into town rather than staying at home - there's the same principle of lighter top and darker bottom, just with different items.
Those taupe-cotton trousers could easily have been the olive linen or Fox Air wool, and the white guayabera would have been effective too.
In any capsule there are often compromises - unless you are very narrow with the colours and styles. And here while I prefer these smart Edward Green loafers with the jacket, the Aldens would be OK.
With tailoring, it's more usual to wear darker tops and paler bottoms. That's usually easier with jackets, when the shirt underneath doesn't matter so much.
But with a casual capsule, such as the one we're running through, it's usually better the other way around. Another of my favourite Summer outfits, for example, is the one above: brown knitted polo or T-shirt with white or cream trousers.
The trousers can be cotton or linen (as here, from Ambrosi); the shoes can be loafers, deck shoes or espadrilles (as here, Diego's). But you can't wear the white shirts or T-shirts we've shown higher up.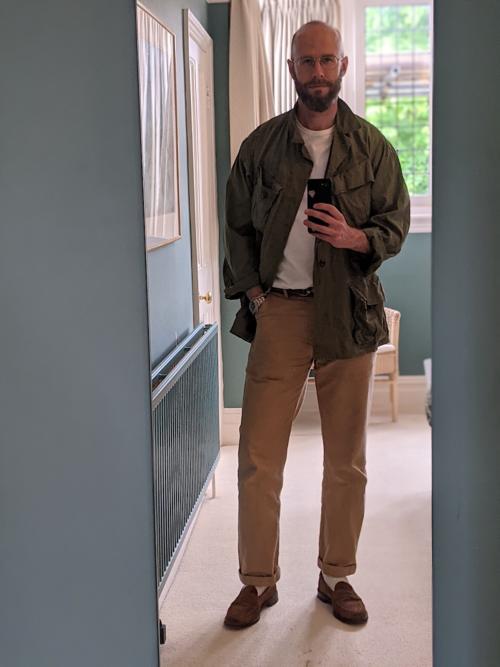 A casual capsule collection - whether for travel or for a guy just building a wardrobe - could therefore be something along the lines of:
Khaki and/or olive shorts and trousers

White and/or grey T-shirts

White shirt and guayabera

Black and/or brown loafers and espadrilles

White or cream deck shoes

Navy knit or sweatshirt (could also be cream or grey)

Brown overshirt or jacket
The tricky area for clashing is really just the outerwear and the shoes. So I might only take black shoes if my single overshirt were brown.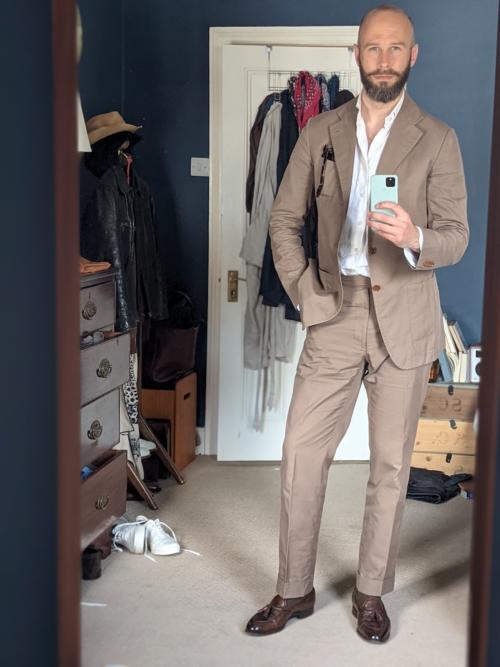 There are other colours you could happily throw in, such as the navy knitwear I've included in that list, or something brighter or patterned like a Breton top.
If you need more smart options, you could take taupe trousers rather than the khaki, and add a taupe jacket, to give you a suit (shown above). If you need sportier ones, add dark patterned swim shorts and maybe something in towelling, to wear around the pool.
There are lots of ways to tweak it depending on your circumstances. But the foundations are to have dark and light one way round, and to make sure the shoes, bottoms and outerwear all work with one another.
I hear it's going to hot again next week. Enjoy.
Below, the shoes. Top to bottom: black Diego's espadrilles, black Alden LHS loafers, brown Edward Green Piccadillys, brown Alden LHS loafers, and two canvas shoe options - white, new, linen 45R oxfords and cream, old, cotton Doek derbys.