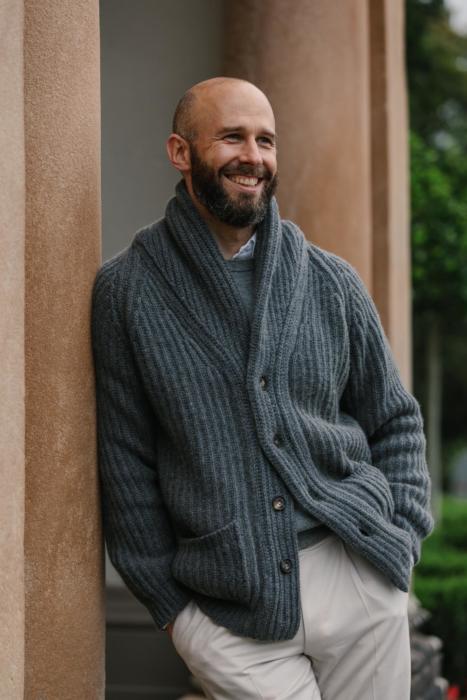 Our Indulgent Shawl Cardigan doesn't need much introduction.
Indeed, since this new grey colour was released to the waiting list yesterday, half have already sold. Quite a list had built up. Thank you everyone for your patience, and for riding out the delays last year.
All sizes in the grey are still available, though, as well as smaller ones in the original navy. You can see them here, and I've included a summary of what makes the Indulgent Cardigan different from other shawl collars at the bottom of this article, for anyone that's unfamiliar with it.
In the meantime, I wanted to use this photo shoot of the cardigan - at Rockhill House in Ireland - to talk about tonal looks and pops of colour.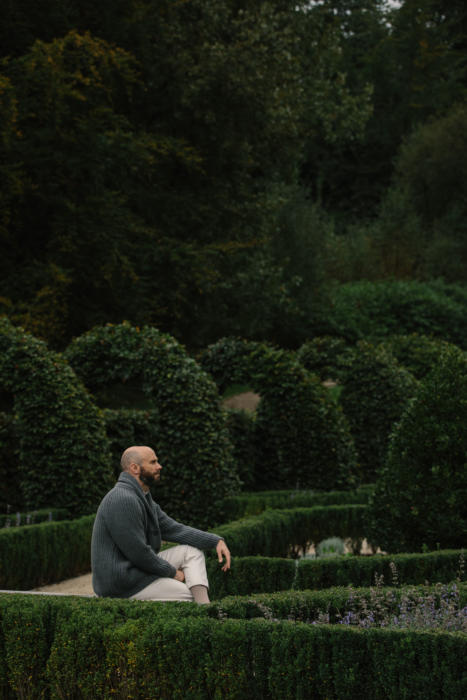 Anyone that has worn a navy polo under a navy jacket will know that a tonal look can be both elegant and unusual. Non-corporate but non-showy. (For me, perfect.)
Grey on grey can be just as nice. In the outfit here, I'm wearing a slightly lighter grey crewneck under the new flannel-grey cardigan. A white shirt sits in between the two, which makes it less striking, but it would still look good without. More casual and relaxed, but also more characterful.
Other tonal colour combinations are harder - shades of green, brown or beige - because it's difficult to find tones that work well together. It's not impossible (lovely RL look here) but you will probably end up buying one piece of clothing just to complete the look. The opposite of versatility.
My grey-on-grey look would have been great with brown-suede shoes, and indeed still very classic with paler colours of shoe, given the white shirt and the lightness of the trousers.
But given how much of a blank canvas it is, I really like adding a touch of strong colour.
It's something I showed in a look last year, with tailoring (above). In that combination a blue-striped shirt would have looked great under the grey-on-grey of tie and suit. But it was also an opportunity to use a more unusual colour, such as lilac.
That shirt is pretty pale too. The colour could easily have been stronger or it could have been a brighter colour entirely - a yellow or green perhaps.
With the Indulgent Cardigan outfit, I thought I'd wear my tobacco-suede oxfords from Stefano Bemer to add a similar touch of colour.
I find the result quite satisfying. It's far from ostentatious, but also not what a classic-menswear guide would normally recommend.
I'm sure I've seen Ralph Lauren doing a similar thing with a suit and tie, adding strongly coloured suede shoes beneath otherwise tonal grey. When I looked for the image this morning though, I couldn't find it.
Of course, it's easier to do the look with knitwear, given how few opportunities there are today for a chalkstripe suit. It's arguably more relaxed and comfortable too.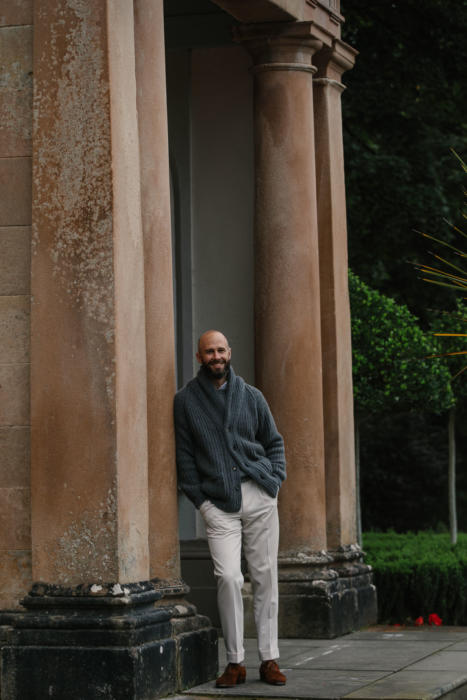 Personally, I think part of the effectiveness of this is using just one colour. As soon as you add more than one - a bright tie and bright shoes, for instance - it becomes too much.
The same goes for using textured materials. Suede shoes are better than leather, because bright leather is so much stronger (and can look cheap). Flannel, linen or cord is better than superfine cotton, superfine wool, or silk.
When an outfit is described as 'tonal', by the way, it usually means more than just a similar shade of shirt and jacket, so my navy-on-navy example above isn't quite right.
But today's grey-on-grey is closer, because the white shirt is also a similar tone to the bone-coloured trousers. (And to the socks, though of course socks usually make a tonal combination with trousers anyway.)
That shirt is a PS white oxford, and the trousers are from Pommella in Zegna Woollen Denim, also shown here. That material isn't available normally by the cut length, but I know Gianluca has his own roll of it if anyone is interested.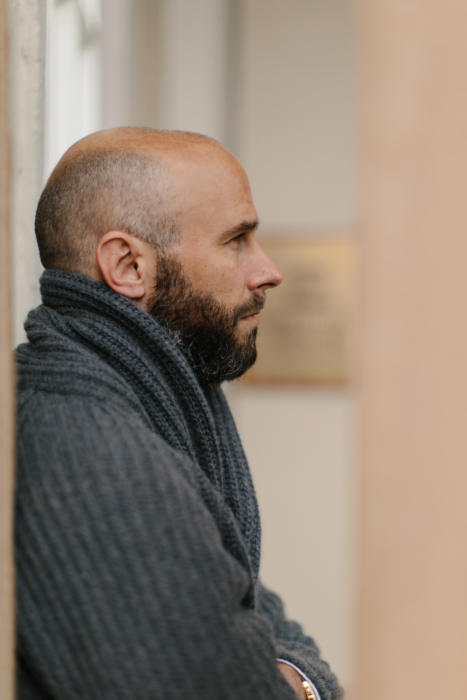 So, after that brief style tangent, let's return to the Indulgent Shawl Cardigan.
If anyone wants to read the full genesis of the knit - made in collaboration with Anderson & Sheppard - it is on the original launch article. For everyone else, here's a brief summary.
The cardigan is a piece A&S used to sell in their Haberdashery shop, but discontinued. I had one, and loved it so much that I asked if we could bring it back, together.
It is different from other shawl-collar cardigans by virtue of its indulgent volume of cashmere - 12 ply of it - still knitted in the dense manner preferred in Scotland. Hence the name.
It is also large in size, in body and length, requiring more cashmere still. I'm wearing a Small in these images, but I have the original navy colour in Medium (below). You can compare the fits if you look at the grey in this article and the navy and in the launch article here.
Other details:
The cardigan is knitted in Scotland, from the finest 12-ply cashmere, also spun in Scotland

Uses unpolished horn buttons (always my favourite)

Has a button on the chest, and a hidden loop, in order to enable it to be buttoned up to the chin

Doesn't have the last button at the bottom of the placket many do. Because no one does that one up. It looks weird

Has two hip pockets, but they come loosely sewn up, so you can keep them closed if (like me) you prefer them not to become baggy. But just snip out the thread if you do want to use them

Can be worn open or closed, collar up or down, casually or formally (see above)
Anderson & Sheppard sell several other shawl-collar cardigans, but not this one currently.
It is available in flannel grey and dark navy, price £785 plus taxes. Size chart below.
Measurements
| | | | | | |
| --- | --- | --- | --- | --- | --- |
| | Extra Small | Small | Medium | Large | Extra large |
| Chest | 51cm | 53 | 55 | 57 | 61 |
| Length | 63 | 65 | 69 | 70 | 71 |
| Sleeve | 76 | 78 | 79 | 83 | 85 |
(Chest is pit to pit; length is centre back neck to hem; sleeve is centre back neck to end of cuff. Do bear in mind that sizes might seem a little large as well, given the thickness of the material.)
Photography: Jamie Ferguson (grey) and Milad Abedi (navy)