Introducing: The olive overshirt (and Summer restocks)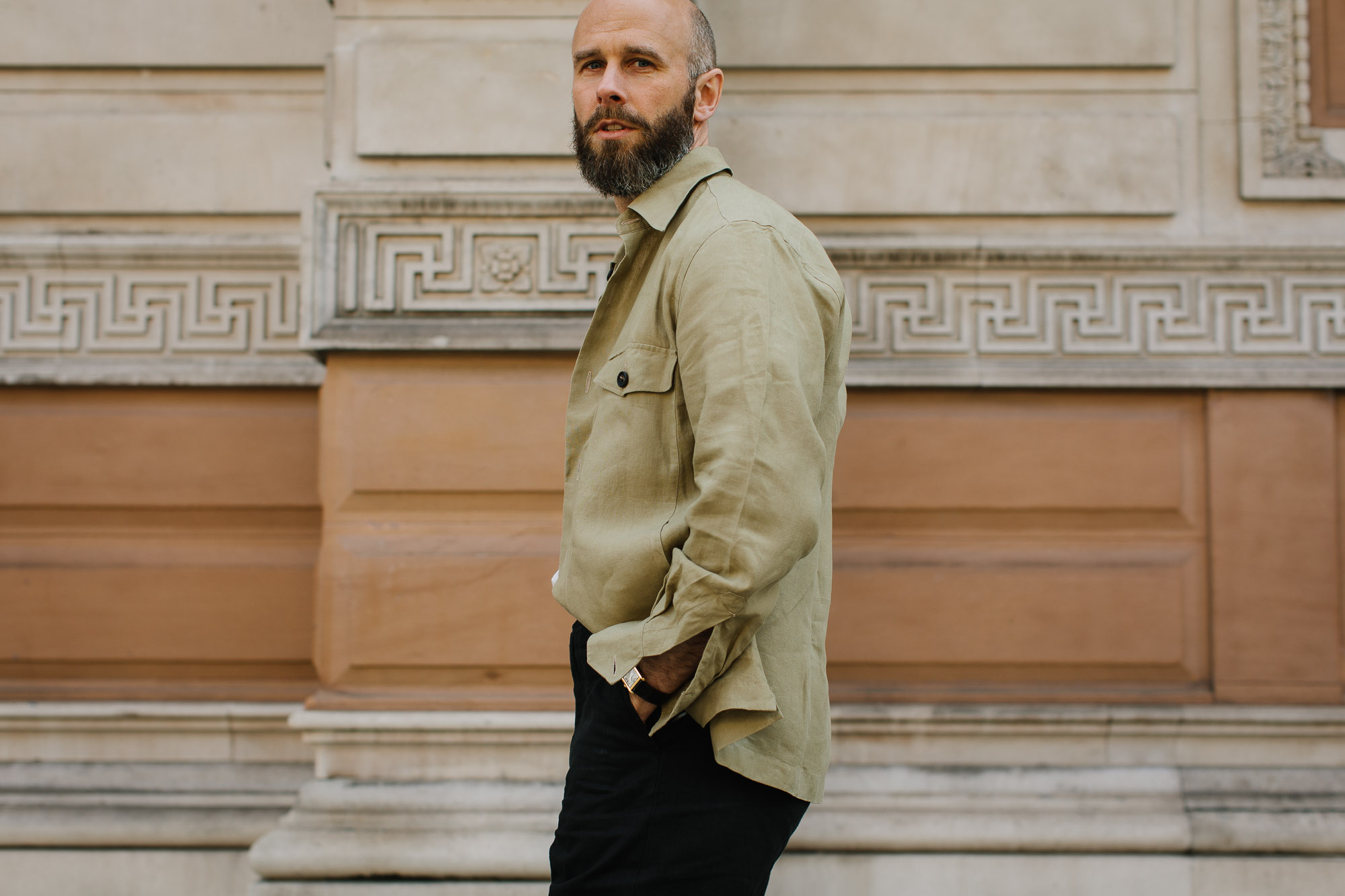 This is the new colour of the PS Linen Overshirt - a pale olive green. I love it, but it is a touch unusual so I thought it was worth shooting with different colours, just to illustrate how I think it can work particularly nicely.
The overshirt is available on the PS Shop, having just come into stock alongside the navy we launched with last year. The dark brown from that launch will be arriving in a couple of weeks.
The overshirt was the most popular thing in 2021, so I know there will a lot of demand, particularly given how nice the weather is in the UK at the moment. I didn't want to wait another two weeks to launch everything together.
While we're on the subject, three other products were restocked in the past fortnight: the PS shorts, which were just behind the overshirt last year in terms of popularity, with the navy colour now in the same washed style as the khaki and green; the selvedge chambray shirts from 100 Hands, and corresponding fabric; and the shirt that started it all, the Friday Polo, in white, navy, black and green.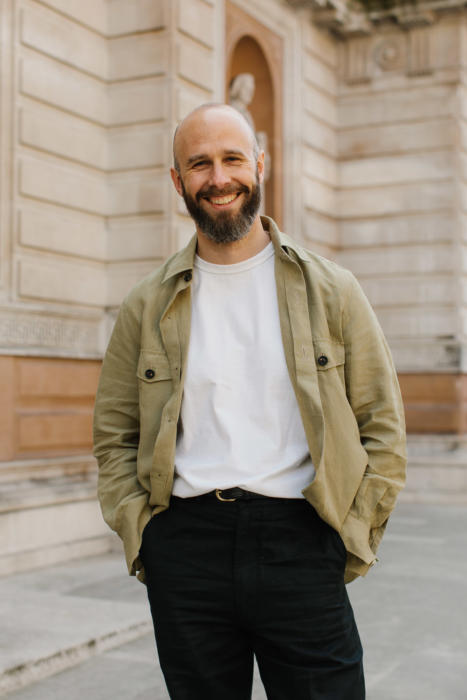 Right, with that out of the way, let's run through these olive overshirt options.
Above I'm wearing it with a white T-shirt and black cotton/linen trousers from Casatlantic (El Jadida model). The shoes are classic Sagans from Baudoin & Lange in black suede, the belt is black alligator from Rubato.
The olive is really good at softening these stark, high-contrast colours, and I like the fact that the result is not typical classic menswear. It has little in common with what I would normally default to - i.e. navy shirt, cream trousers and brown shoes.
The black and olive seems more modern to me, and a nice alternative to that navy and cream while still being pretty smart.
The second option is similar, but loses that black element, for those that don't really wear the colour and so have little of it in their wardrobe.
The trousers are dark brown - a very dark brown, so not that far from black, although any dark brown works. They're the trousers from this Dalcuore suit, so high-twist wool, Holland & Sherry Crispaire.
That dark brown is nice with the same black accessories, the suede Sagans and a white T-shirt. But a grey underneath the overshirt is also great, and softens the contrast. I wore white with all these outfits for simplicity.
Last combination - a much more casual one, the overshirt with my old light-blue vintage Levi's.
I think you can see how great the pale olive is with denim, and it's nice and relaxed with the sleeves rolled up, the T-shirt untucked.
This last combination captures the flexibility that I think readers might be afraid olive would lack. I was a little too, if I'm honest. I wanted a third colour that was more unusual than the navy and brown (though of course those two were very particular shades) but was a little unsure whether the olive would be versatile at all.
It does appear to be, and I've loved wearing it in recent weeks in these combinations - as well with more obvious things like cream or white trousers, or something smarter like a mid-grey wool trouser and a white shirt.
Many things work, as always. I'm sure readers will find plenty more of their own.
In case anyone asks, by the way, no I don't have a new Cartier watch. We shot this during the recent pop-up with Rubato, and I was wearing a different suit during the day, with a different watch.
That had a tan strap, which wouldn't have worked particularly well here. So I borrowed Carl from Rubato's - both he and Oliver have little Cartier Tanks for dress watches. (You can see Oliver's in this piece in Stockholm.)
So thank you Carl, your watch complimented these outfits beautifully. The strap is actually a very dark brown, flat and gloss alligator, which made me realise how much I regret my decision to have a domed, matte strap for my Reverso. I also prefer the larger scales on Carl's strap. Oh well. It's a cheaper thing to change than the watch.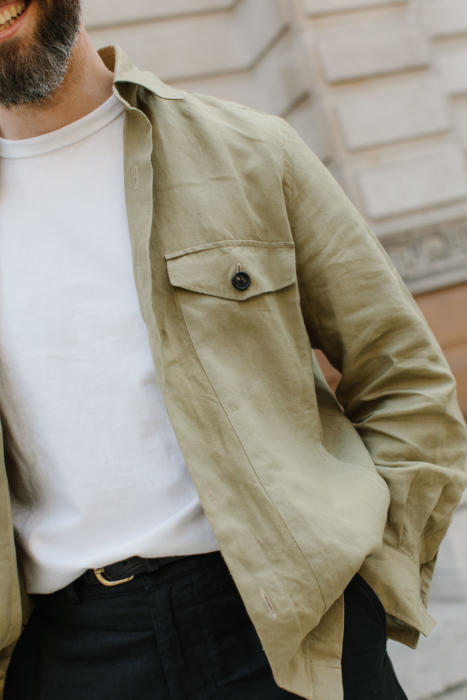 Those restocks together with shop links are:
Note there have been some small changes since the last iterations:
The overshirts have sleeves that are 1cm longer, following feedback last year
The navy shorts, as mentioned, are now in the washed, sports make, like the khaki and green models
The selvedge chambray shirts no longer show the selvedge on the placket, as we felt this was cleaner and more in keeping with the aesthetic of the shirt, focusing on the beauty of the material
Also, note that while some other mills have started offering selvedge chambrays, they are not woven on vintage shuttle looms and so don't have the same texture
Photography: Jamie Ferguson @jkf_man