My favourite outfits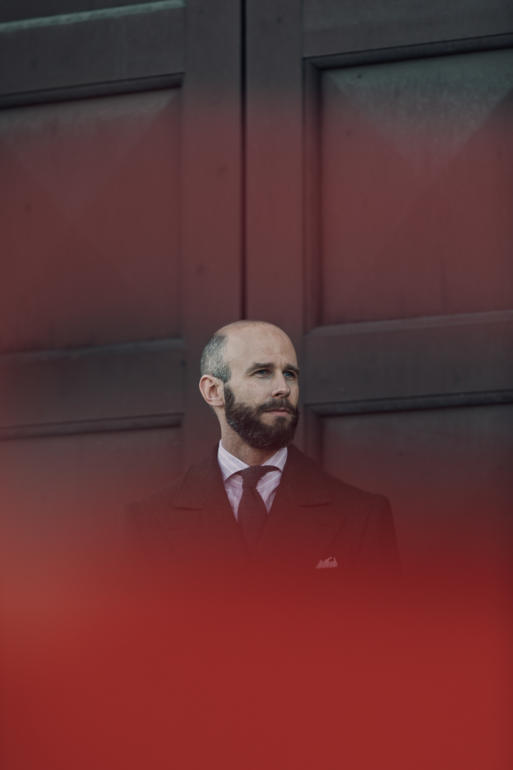 In our recent article 'Outfits that I got wrong', a reader commented that he would be interested in the opposite post. Not outfits I got right - hopefully there are lots of those - but ones I got the most right, or I like the most. Perhaps, those that define me the most.
I think those criteria all go together. The outfits that I really like are also the ones that feel the most personal, and that I am most comfortable in.
There are lots of very sharp, dressed-up looks that I love as well, but they tend to be more specific to particular events (eg Pitti) or circumstances, and not everyday looks.
The thing that gives me the most pleasure, in other words, is what I've always espoused: simply being well-dressed.
The outfit above is a good example. Taken as part of the campaign shoot for the first launch of our Bridge Coat, it features a dark roll neck under the coat, with dark-green flannel trousers and brown-suede boots.
I guess green flannel is quite unusual, but it's so dark that few people would notice the colour - they just look like dark wool trousers. What's more striking is the simplicity of the whole, and the emphasis on cut and proportion.
I'm carrying a tan-leather doctor's bag, which is pretty striking and luxurious. But there's no reason I couldn't just have a simple tote, or no bag at all.
And the same goes for the tobacco-coloured suede cap. The colour is beautiful with the rich navy of the Bridge Coat. But it also stands out, and without it everything is much simpler and subtler. A grey or cream watch cap would be almost anonymous.
So a look that I love for its impact and versatility - that can be photoshoot-worthy or very everyday.
Another thing these outfits have in common is that they've been frequently referenced by readers - on the website, on email, and in consultancy sessions.
I think the reason is that most readers have the same aim of looking simply well dressed. They might follow more unusual dressers on Instagram, and find what they wear interesting, but most of the time they just want to have good clothes they can put on every day, and look good, without having to think about it too much.
The outfit above is a perfect example of that. It's essentially just a suede jacket with a blue oxford shirt and jeans. There's nothing loud about it, or that would make you do a double-take if you saw it on the street.
But there's so much more going on. The jacket has a lovely colour and heft, being reverse horsehide, and there is the vintage detail of the rounded collar. The jeans are beautifully worn in - vintage, but they could just as easily be a very loved personal pair.
And the shirt is made in the PS Oxford fabric, with its old-fashioned slubbiness and washed-in comfort. Plus it's cut with a collar that stands up and frames the face.
I want to go and wear that outfit again tomorrow now. It feels so me, and every item in it makes me happy.
The next outfit is much more dressed up, yet has many principles in common with the two above.
It's my grey-flannel suit from Panico, worn with a lilac shadow-stripe shirt and grey knitted tie. Over the top is a Cifonelli overcoat in dark-brown Tengri yak cloth.
It's smart but subtle. There is a lovely feeling to being dressed up and buttoned down like this, with a good tie cinched into the neck, and everything from shirt to jacket to coat cut to function together. I love doing it whenever I can.
But the combination isn't showy, as it's all dark, muted and textured. There are no bright colours, no windowpane checks or tie pins. Yet it's unusual too. You're unlikely to find many people wearing a tonal suit and tie, with a lilac stripe underneath.
And this gives it character. Simple, subtle things can often be boring; but they don't have to be. This isn't, and I don't think any of those outfits are really. It's that character that makes them feel very personal, very me.
Outfit number four is more casual, but continues all these themes.
Yes, it's just jeans, a grey sweater, a raglan coat and a cap. But the white jeans are a little unusual, as is the combination of smart shoes, coat and shirt, with a baseball cap.
The colour palette gives it personality. It's mostly neutrals, with the coloured elements dark and cold. Which as above makes it personal too.
Best of all, it passes what I call the bus-stop test. Basically, I can wear this wandering around Mayfair, but also not feel self-conscious standing at the bus stop in East Dulwich.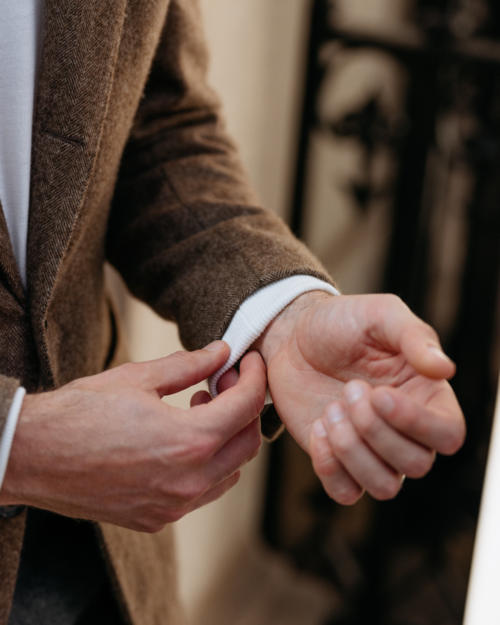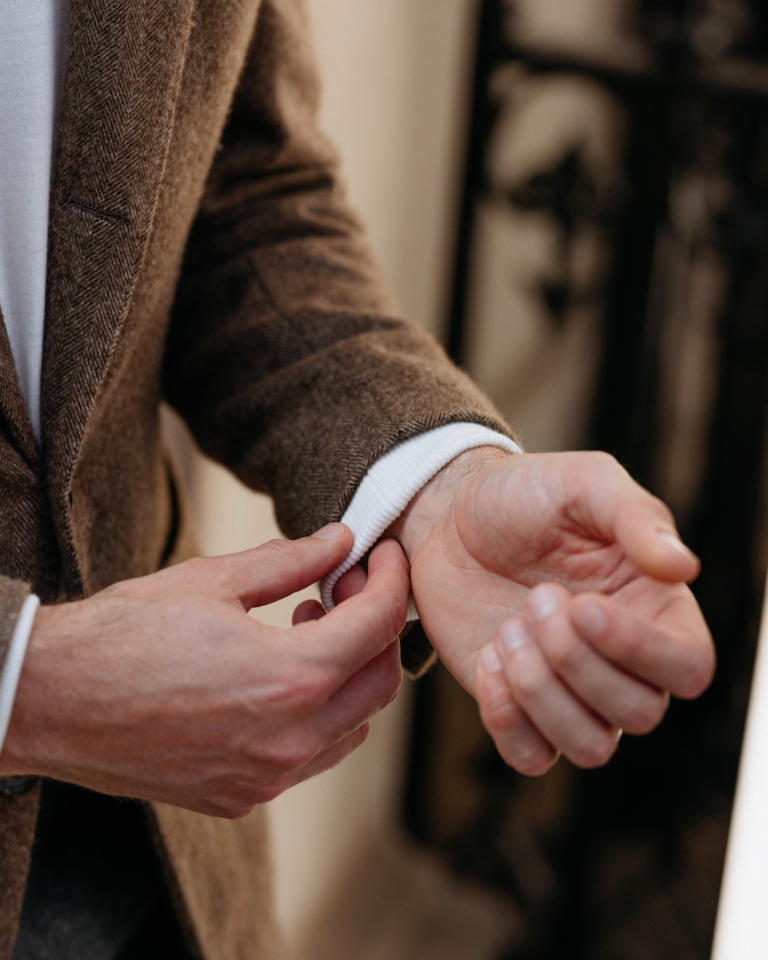 The last outfit passes that test too I think, even though I might remove the pocket square.
It fulfils all the common criteria: subtle not showy, everyday yet characterful. It has something to say but it is not shouting.
It's a tailored jacket (from Eduardo de Simone) and trousers (from Whitcomb & Shaftesbury), but doesn't look anything like business/corporate clothing. This is down to the soft brown cashmere of the jacket, the cream underneath rather than white, and the suede loafers.
The character comes from it being collared knitwear, rather than a shirt, and black suede rather than more conventional brown.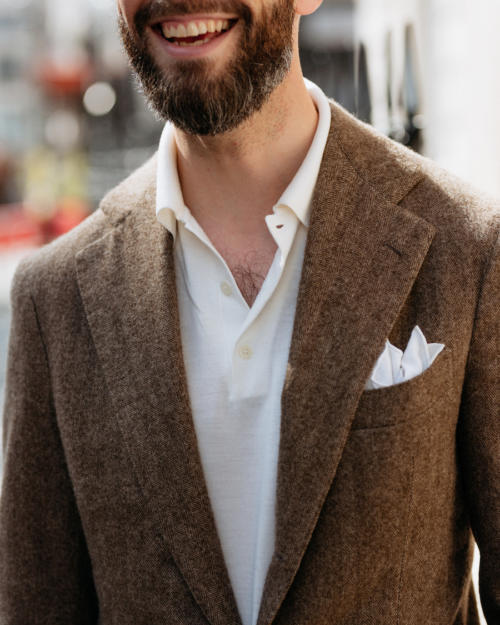 Interestingly, most of these outfits are from the past three years, which I think indicates I'm improving, which is nice if true.
These and all the other outfits can be seen on the Lookbook, together with links to the articles they came from - which include details on all the clothes.
Below, I've added five more outfits that could easily have made it into this list. Making a Top 10 overall I guess.
Thank you to the readers that suggested this post - I found it interesting and useful in thinking about what I enjoy in clothes, and in style.
Photography: Jamie Ferguson, Alex Natt and Clutch Cafe